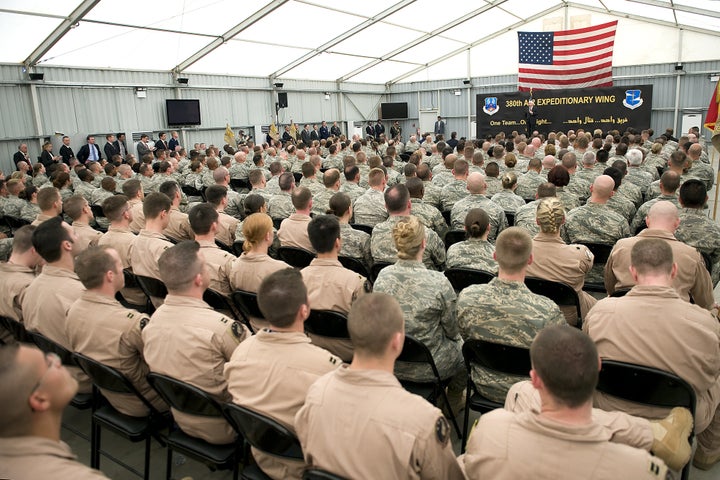 Yesterday a federal appeals court granted an injunction sought by our government against the lower court's order abolishing the armed forces' "Don't Ask, Don't Tell" policy. The injunction was sought by our Justice Department. Although much will be written about the fact that our president (elected after campaigning with the slogan "Change You Can Believe In"), had the ability to instruct the Justice Department not to challenge the ban and did not, there is an issue at play here which it seems, little has been said about in recent weeks, despite all of the sympathetic press over the issue of teen bullying and gay suicides.
In the face of these suicides, a movement of sorts has begun. In the past two weeks the issue of these suicides has landed front and center in the media, and all over the Internet. We have seen celebrities come out to make statements supporting teens who are struggling with issues of coming out and bullying. We have seen a nationwide campaign arise to provide support as well, as the campaign to wear purple, which spread all over the country via the Internet, has demonstrated. We have seen politicians taking up the cause, most notably, Fort Worth City Councilman Joel Burns with his heart-wrenching speech made last week before the City Council, which has been viewed now millions of times on the Internet and replayed in numerous television news programs. Despite this groundswell of support from the public in an effort to stop more young people from taking their own lives, what is clearly missing from the dialogue is the ongoing sanctioning by our government of lesser treatment for gay people. Is it any wonder then, that in this so-called enlightened day and age, young people continue to be tormented by their peers because of their sexual orientation?
What does any of this have to do with "Don't' Ask, Don't Tell", you may be asking? It has everything to do with it. The machinations of Congress, the proceedings in our courts, and the challenge to the latest ruling, are front and center in the media these days. While it may be easy to think that teenagers, walking around with their ears plugged by music player headphones exist in their own worlds, reality is far different. As a parent of two teenagers, I often find myself ensconced in discussions about the news of the day and these subjects have certainly not been off the table in my household.
In the forefront of our news we have our government seeking to uphold a policy which clearly discriminates against gay people. That policy states that gay people are not like everyone else. That policy states that gay men and women are not worthy of service in our armed forces. In the few days which unfolded between the ruling finding the policy unconstitutional, and today's stay of enforcement, we saw in the news multiple examples of gay people attempting to enlist in our armed forces and being turned away. We heard the warning to gay people seeking to enlist issued by the Servicemen's Defense Network that they should not disclose their orientation as they could be subject to expulsion from the armed forces if the stay were overturned. What we saw, in actuality, was a government sanctioned policy of discrimination brought right into our living rooms and on our computer screens, making it clear that our government feels gay people are not worthy of serving in the armed forces. It is a policy which indicates that gay people are lesser beings, people who must be the subject of intensive study and scrutiny to determine whether we can repeal this policy, notwithstanding the fact that numerous other countries allow gay people to openly serve in their military forces.
If our own government practices this kind of disparate treatment toward gay people, is it any surprise that the same message is carried down to our young people? Why would anyone be surprised that gay teenagers are being bullied, when our own government is bullying gay adults? Is it any surprise that some teenagers think it is acceptable to rough someone up or harass them for being gay, when our own government seems to think is acceptable to kick someone out of the armed forces for being gay? Is it any wonder that teenagers, some of whom are contemplating military service themselves, think it okay to demean their gay peers, especially now that they see our own government doing it on a daily basis in the media?
If we want gay bullying to stop, and if we want teenagers to live without fear, then we need to start sending the message to them that we are all truly equal. Until our government takes the lead in demonstrating it, change is not going to happen.

Calling all HuffPost superfans!
Sign up for membership to become a founding member and help shape HuffPost's next chapter