Undeniably good-looking and unquestionably charming, Mark Miller and Ethan Hethcote have captured hearts around the world. With close to half a million subscribers to their YouTube channels, Miller, 23, and Hethcote, 20 are changing perceptions and challenging the norms of gay relationships.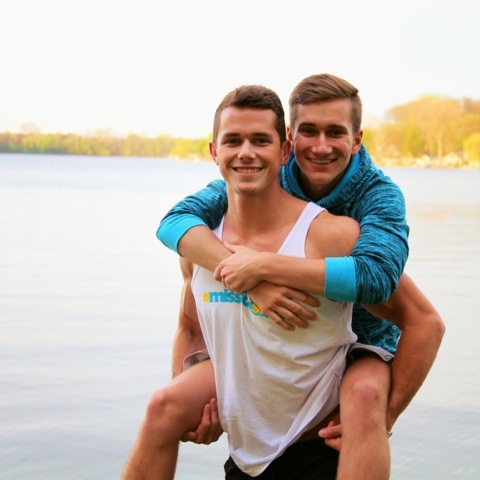 Documenting their day-to-day life together in Bloomington, Indiana, they have videos ranging from "If We Were Straight" to "Reacting To High School Pictures." The couple, also referred to as "Methan," have cultivated a fan following of unprecedented proportion. Simply Googling "Mark and Ethan" will bring up thousands of photos, GIFs, and drawings - all posted by adoring fans.
"We didn't go into it expecting anything. It just evolved into something that's really fun for us and beneficial to others. It's great to see how many people are inspired," Ethan says.
Mark had already created a YouTube channel before meeting Ethan. It wasn't, however, until they started dating each other that Mark knew the tone and style he wanted for their creative, whimsical look at Millennial gay life in a collegiate community.

"I wanted to create content," says Mark, "that I felt passionate about. I already had a gay theme going and I thought adding Ethan would bring a fun dynamic to the channel."

Their first video together, "The Perks of Being a Facebook Stalker," details the beginning of their romance when they met on Facebook. Now, almost a year-and-a-half into their relationship, Ball State graduate Mark has moved in with Ethan, who is a junior at Indiana University.

"We knew we wanted to - and were ready - to move in together. When I was still at Ball State we would travel to see each other almost every weekend," said Mark.

With new videos coming out multiple times a week, Mark and Ethan share their lives living together, occasionally throwing in a high-spirited weekend adventure. They say that a lot of the genuine enjoyment instantly begins as they turn on the camera. They, along with their viewers, are not sure what will happen next. No scripts, no blocking.

They receive almost daily mail. "We recently received a letter from a very conservative, straight, Christian girl. She says we have completely redefined her perception of homosexuality. Before she saw our videos, she considered herself homophobic. Now she realizes that homosexuals can be in a loving, committed relationship."

She is not alone. Through their let's-not-take-ourselves-too-seriously video series, Mark and Ethan are changing straight perceptions that gays are over-sexed and irresponsible. Successful gay relationships can be as joyful and loving and devoted as heterosexual ones.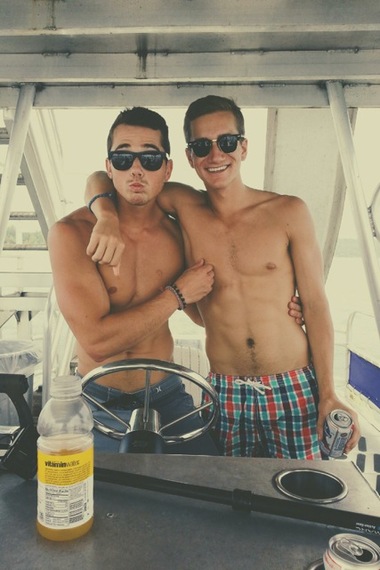 Ethan and Mark are endlessly creating new material and numerous other videos are in the thinking-out-loud-stage. Ethan says, "It's really cool that our love can inspire other people to want to set a standard of happiness for themselves. It makes me appreciate so much what we have together. People, from Europe to Australia, appreciate our relationship and offbeat humor. It really puts things into perspective."
As for the homophobic naysayers on the Internet, Mark and Ethan pay no regard. "We love each other. We're going to do our damn thing." Each video, though, clearly has more positive reactions than negative. If you were to look at any video, the "thumbs up" will be in the thousands, while the "thumbs down" may not even reach 100. "We've been doing it for over a year now. People know us and who we are. Anonymity gives people so much more confidence to speak their mind. You just have to laugh about it - you're putting yourself out there and there will always be people critiquing you," they say.
What can their fans expect in the months to come? Even they don't know. "We just live our lives. And the fact that other people would think it's never possible for two gay men to do what we do makes it even better."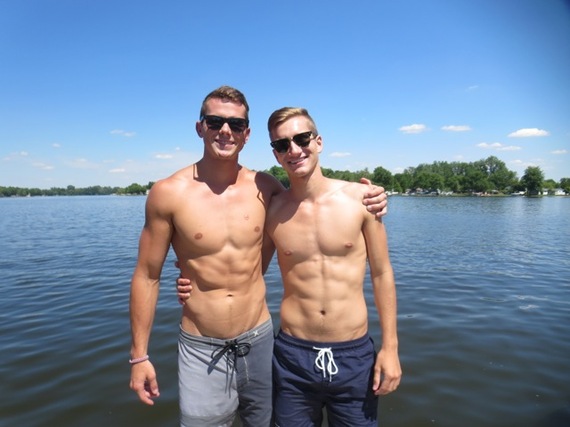 REAL LIFE. REAL NEWS. REAL VOICES.
Help us tell more of the stories that matter from voices that too often remain unheard.