Their emails always begin innocently enough -- Dear Mihal, I hope you are well today! -- followed by the pitch: Secret Hot Designer Collab with H&M! or Lucy Liu Loves her Ash Wedge Sneakers! And so on. They usually relate to style because that's all I really write (or care) about.
But this day was different.
"The harshest weather is just weeks away" -- this email cautioned -- "your readers should invest in a sturdy Darin* umbrella today." OK, I should mention here that a) my readers don't care about umbrellas, and b) I lose umbrellas every time I use them, so "investing" in one is probably a terrible idea. Regardless, an unidentifiable force within told me to keep reading: "Darin makes a different kind of umbrella. Engineered for strength and guaranteed to last, the sleek, elegant designs are a sharp compliment to any coat." Oh, okay! Elegant designs, coats... I see the relevance now.
Then Lady Publicist concluded her email the way most textbook press releases do - offering to provide me with "any additional info, images, samples, etc."
In my grand naiveté as a writer/blogger I thought, "hm, free umbrella, coolwhynot" -- and accepted Lady Publicist's offer for a free, indestructible umbrella (that's what she meant by sample).
A week later the umbrella arrived in a shiny black elegant box with a nice little note inside -- I felt like a somebody. I looked up the gift on their site -- retail price $100. YOWZA. In my mind, an "investment" umbrella resembled something like $30... maaaaybe $35. But OK, this umbrella was pretty, compact enough, and it seemed sturdy. But the weather was still nice so I stowed it away.
A few days later Ms. Publicist followed up: "Hi Mihal! Did you get the umbrella? Please let me know if you need any additional info, pics, etc." I thanked her for the gift and let her know I did not need anything at that time.
A couple of weeks later I received another email: "Hi Mihal! Hope you're well. Had a chance to use the umbrella yet? Let me know if you need any additional images for a Fall Essentials piece, thanks!"
It was at this point when I realized that this unassuming, pretty umbrella was a loaded one. Trying to avoid writing the "I would never ever ever endorse your client's $100 umbrella" email, I proceeded politely and told her I had not yet used the umbrella, nor would I be writing a 'Fall Essentials' piece, but thanks for checking in on me.
Thanking her for checking in was probably a bad move, as she continued to do so three more times within a month. Finally, though, after it seemed the publicist's emails would never ever end, I got real. I had to.
I offered to return the gift, as I wouldn't be inclined to spend $100 of my own money on an umbrella, and it felt inauthentic to suggest the product to my readers. (Read: In my opinion, spending that much on an umbrella is the dumbest possible thing, like ever). Lady Publicist declined the send-back and instead responded:
I can understand your concern and appreciate your honesty. I think of it more as an investment that just a simple umbrella. All of our umbrellas are guaranteed for life and are essentially the last umbrella you'll ever need. It really is a lifelong accessory and instead of buying several, less expensive umbrellas that are not as strong and reliable, this one costs a bit more but is designed to last throughout the years. Let me know what you think!
Ugh, this woman was not about to give up. I replied, thanking her again, and offering to send the gift back -- again -- but she only wrote back linking me with other articles I had written, suggesting I do a similar piece on her umbrella.
We exchanged seven more emails over the course of the next five months -- Lady Publicist checking to see if I used/liked/was going to write about her client's umbrella, and me, eventually cutting off communication -- like a tragic breakup -- to a relationship I didn't even know I was in.
See, the blogger/publicist relationship is a multifaceted one, and sometimes, a bit tragic. It basically resembles a high school movie wherein the super hot girl asks the nerdy guy to do her homework in exchange for a kiss, or even a lunch in the cafeteria together. The hot girl (blogger) wins because she gets free stuff, and the nerdy guy (publicist) wins because it helps his reputation on the chance that they're seen together, or the hot girl mentions his name to another high school hottie.
Unfortunately, in this particular scenario, it was too early into my blogging career for me to realize the nuances behind publicist-to-blogger "gifting", and so Ms. Publicist was left to be the nerdy guy giving out free homework to the hot girl.
But don't go thinking that I got my free homework and went on with my life. Blogger karma caught up with me, and the $100 indestructible umbrella broke: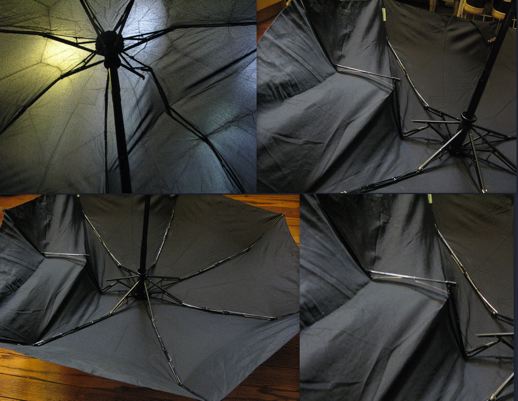 So remember bloggers: If you want free stuff, be aware that that stuff comes with expectations, and may force you into promoting stupid crap. If you accept and don't promote, you might just be getting handed some completed homework with all the wrong answers.