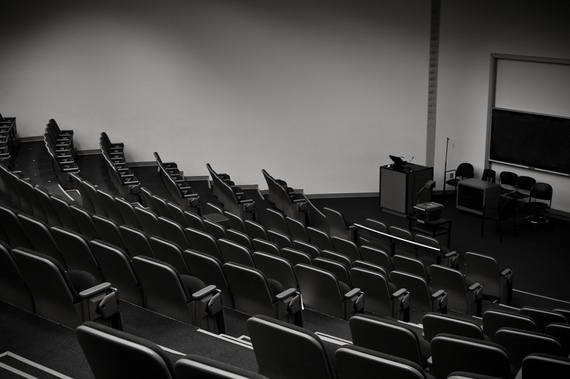 The naysayers have long been shouting from the rooftops that law schools are losing relevance and point to low bar passage rates, unemployment statistics, declining enrollment, and the shuttering of law school doors across the country. This commentary has been repackaged ad nauseam in various forms.
And while it is not completely inaccurate to say a number of traditional law schools are losing relevance, many (including myself) argue that this is actually not a bad thing. This problem is exclusive to archaic and subpar law schools that have failed to meet the demands of a 21st century legal marketplace. Economics determine the survival of the fittest and relevant market forces are driving the change.
We do not want law school "factories" churning out lawyers -- ones worried more about filling seats to make payroll and perpetuating outdated tradition for tradition's sake rather than developing leaders.
In response, innovative law schools that are proactive and visionary have begun to answer the demands of this new legal arena. Staying relevant is rooted in meeting the marketplace where it is. For this, law schools are balancing the Socratic method with market-driven, practical approaches. These approaches include: intentionally small class sizes, required experiential learning, competencies beyond lawyering skills (such as business development, emotional intelligence, and financial literacy), exposure to international and transnational law, specialized coursework, and practical training to equip students to pass the bar and work in diverse career settings.

This is what has become the "new normal" in legal education, or at least the "normal" that prospective students should demand. Some tips to successfully navigate this "new normal" include:
1. Law school hopefuls must conduct extensive research about the legal profession before, during, and after graduation (i.e., top law schools, courses, legal market, costs with the goal of incurring as little debt as possible, professional development, employment statistics, bar passage rates, etc.) since everything is subject to change as demonstrated by what is going on in the legal field. Becoming forward thinking is a must or prospective students risk their own relevancy.
2. With this research, possible admits, law students, and graduates should be able to make informed decisions based on reality and be flexible enough to change with a backup plan if necessary. In addition to their research, they must also utilize their career service offices and networks to assist with their job search.
3. The law field is changing due to the market forces that are coming into play. For instance, there will be an increase of non-traditional and J.D. Advantaged jobs. In addition, a vast majority of hiring will be done by small and mid-sized law firms as well as government entities. The National Association for Law Placement's (NALP) most recent Annual Update on the Legal Employment Market underscores these points:

a. From 2007-2013, the percentage of J.D. advantaged jobs obtained by law graduates have increased while the percentage of bar required jobs have decreased and remained flat from 2012-2013.

b. During this same time period, private practice employers have largely decreased. On the other hand, employment in business and the public sector has increased.

c. Based on the data, NALP predicts for 2015 and beyond that there will be fewer law grads working as lawyers and more grads will be employed in business and law related jobs. In addition, law graduates will need more business skills than their predecessors and technology will play a significant role in law graduates' lives than before.

d. Similarly, the ABA's 2014 Law Graduate Employment Data actually shows that while there has been an increase in bar required jobs for 2014 graduates from 2013 graduates, the same holds true for J.D. advantaged jobs. In addition, there has been an increase in the number of 2014 graduates employed not only in law firms but business/industry and the public sector.
This is a "buyer's market" for the legal field. In order to keep seats full with quality candidates prepared to handle the rigors of the profession, employers engaged, and the ever-important alumni base satisfied, law schools can no longer stand squarely in line with tradition. The loss of relevancy is a real threat but a great opportunity for positively changing the future of the legal industry.
Calling all HuffPost superfans!
Sign up for membership to become a founding member and help shape HuffPost's next chapter