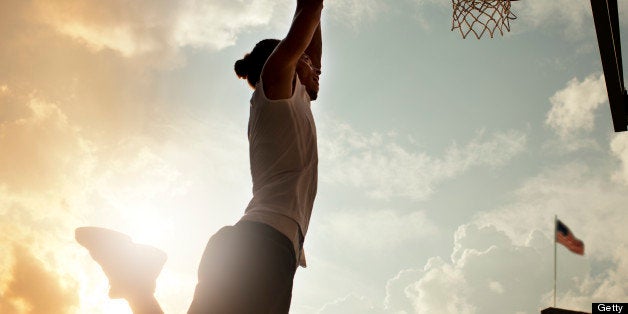 Streetball, basketball in its rawest form, has held a storied history with New York City for the last twenty plus years. Players beaming with ambition and big dreams could make or break their careers on local courts including the legendary Rucker Park in Harlem, and athletes from all over the city yearned for the day when renowned hype-man Duke Tango would christen them with a new moniker. Based on their stature, or the skill they brought to the court, legends such as Julius "Dr. J" Erving, Kareem "The Big Fella" Abdul-Jabbar, and Wilt "The Stilt" Chamberlain were born. Streetball at its core provides free entertainment for thousands of New Yorkers and basketball enthusiasts alike, where players can showcase their potential on the court. Though today's NYC streetball is a bit of a departure from the streetball that molded me as a player, it's important to compare and understand how far the sport has come and changed so players and fans alike can get an idea of where the New York City streetball will go next.

When streetball began exploding onto the New York City scene, local courts were to be a place where players would come out and leave it all on the blacktop, ultimately hoping to pursue a college or professional career. As the local streetball talent and ability grew, courts around the city began to play host to scouts looking to recruit players. In recent years, the demands on high school athletes and the AAU circuit have evolved to often include the top players flying around the country playing in camps and tournaments, with little time to go out and play in local games. Partially due to this reason, New York City, which was once considered the mecca of streetball, has seen an overall decline in talent and passion for streetball in recent years.

As players brought life and energy to the blacktops, the courts served as the place to realize dreams. With big audiences including players' friends and families taking notice of the passion and skill evolving before their eyes, it was only a matter of time until big corporations began exploring business opportunities. A look into today's streetball will reveal sneaker giants and clothing brands that have become sponsors for players and courts alike. With flashy new scoreboards, shiny wooden-floored courts, and special VIP seating arrangements some veteran players feel that local courts are losing their unfiltered magic that was cultivated with the sweat and spirit of basketball legends for years and made New York City courts among the most fabled basketball spots in the country. Though sponsorships have boosted athletes to new levels, they have hindered the raw, "diamond in the rough" feel that the streetball in New York City always had. Even with the odds stacking against streetball, there's still untapped talent out there, and the spirit of the game has not been extinguished.

Ball Up has created a huge resurgence in the popularity of streetball. The "Search for the Next" summer tour, going into its 5th season in 2015, is a nationwide tour where the Ball Up All-Star team travels to major cities, including New York City. Untapped talent is given the opportunity to take their dreams of going pro and make them reality by trying out for the local team and facing off against the Ball Up squad. One MVP is selected in each city, and the MVP squad faces off against Ball Up in Las Vegas at the end of the tour. At the conclusion of the game, one player is selected to join the Ball Up All-Star roster and a contract worth $100,000. Ball Up is providing an opportunity for players that might have fallen through the cracks to still have an opportunity to become professionals for what they love to do and what many people do as a hobby. This opportunity provided by Ball Up has ignited the passion and excitement for streetball, in New York City and all over the country that veteran players feared was dying out. With the Ball Up brand growing, different cities being reached, and tournaments being held, it's only a matter of time before the heyday of streetball is back.

When the Ball Up tour comes to New York City, there is a certain magnetism and energy about streetball that resonates throughout the entire city. For a sport with such rich history and a rekindled excitement that a national tour like "Search for the Next" brings, streetball fans and athletes look to New York City to reclaim its title as the fabled mecca of the sport.
Calling all HuffPost superfans!
Sign up for membership to become a founding member and help shape HuffPost's next chapter