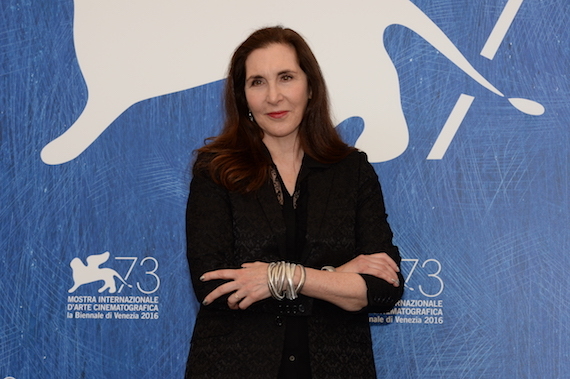 While I do believe that talking too much about the lack of diversity and woman-power in Hollywood only helps perpetuate the stereotypes, it's undeniable that we are outnumbered in the movies. Yet, as all things and people born out of adversity usually turn out to be, when a film by a woman does come along, you can bet the farm on the fact that it will be noteworthy. If it's fantastic, sublime, a cinematic treat and absolutely charming as Laurie Simmons' My Art turned out to be, well that's just icing on the cake.
My Art premiered at this year's Venice Film Festival, a perfect place for this combination of art and cinema to land.
From the looks of how violently male critics reacted to this delightful, heartfelt and visually beautiful film, Simmons has got it right! One critic accusingly called it a "gently feminist" film, while also moaning about the fact that Simmons famous daughter, Lena Dunham, only appears in the opening scene. But he missed the point completely, because Simmons is not talking to Girls -- pardon the pun -- and their fans. The successful American visual artist makes a case for women over forty with her alter-ego Ellie, played perfectly by Simmons herself, a woman not afraid of being over sixty. In My Art, Simmons explores her art -- of course -- but most striking is how she doesn't apologize about how comfortable Ellie is around people, food, life, what a well-rounded, joy-filled existence she has, how good looking she is, and how sexual a woman of a certain age can be.
Don't think for a minute that a full grown woman happy in her own skin makes men comfortable. She doesn't. Young, pretty girls do not apply, but when you can no longer be called toots, chick or any of those below-the-belt diminutives, you are supposed to become invisible to the world. The sexuality of an over-forty woman is never to be on display and being pretty or feminine, while also possessing that wonderful inner strength that comes with age, becomes a threat bigger than ISIS to grown men the world over.
I sat down with Laurie Simmons in Venice, for what I expected to be an insightful interview with an intelligent, talented woman. Our talk turned into one of the highlights of my festival, complete with inspiration and a connection that moved beyond her art, her film and her gift. It's a talk that I will recount whenever I need a boost of creativity, and courage.
I'll start by gushing a bit. To me, you've made a film that's like nothing I've ever seen before! A strong woman who is not a bitch, she's cool, she's surrounded by people who love her and yet she's not married -- she's not your typical Hollywood film character. And she connects to everyone. How do you come up with this film, since filmmaking is not in your roots?
Laurie Simmons: No, I'm an artist. I think I can break it down into two parts. I became increasingly frustrated in the way women my age were being portrayed on screen. It became my personal issue. Like all artists, I'm a complete cinephile, I see everything. I see past movies, present movies, indie movies, experimental movies. I'm not frustrated with the actresses, they are beautiful actresses, but I'm frustrated with the writing. And I don't want to offend writers, but that became a sort of personal thing for me, like "are you kidding me?!" And the second thing for me was the way that artists are portrayed on screen, this melodrama, like now I'm going to cut both my ears off and I'll put on a beret, get drunk and punch people out. And really really really this film is based on what I know. This is based on women I know, this is my life. Ellie is another side of me. It's like the absent artist and Ellie are two sides of me. And I know her well, I know everything about her life, I know what will happen after the movie ends, I just know her. She is a real person.
That's why we connect to Ellie so much!
Simmons: I should preface this by saying so many of my best friends are single. People think that we have what I call the "Sam complex". People think that women are either going to sleep with Sam Waterston, Sam Elliott or Sam Shepard. The Sams. But really what happens is the nice guys, with a little bit of a belly and a genuine person like Frank will come along and that's OK. It doesn't have to be the guy with the big cowboy boots and the mustache.
You kind of know from the beginning that Frank will end up in her life...
Simmons: Yeah, you know from that first garden scene, but I think subliminally, anyone around my age, we read Lady Chatterley's Lover and we know it's gotta be the gardener. And that was my joke. It's so interesting, my friends who saw the movie, they knew exactly which person she was going to sleep with. Not the younger guy... Not the lawyer...
How did you write My Art?
Simmons: There is one road that I walk down, the road where Ellie is carrying her dog in the film, and I would go for a walk every day on that road and the story kept telling itself to me. And I kept thinking, I'm not sure I want to tell a story. And the scenes would come to me, they were really vivid, and I started to write them down and I ended up having so many disconnected scenes. Then I met a young guy that was in film school, 21 years old and recommended by someone, and he taught me how to use Final Draft. So I started writing, putting it all together and couldn't believe the script was happening. No one was more shocked than me. I did not set out to write a narrative film. This character started to burn a hole in my brain, and there were points where I thought "Stop it!" You have a day job. And then I decided to call it my hobby. And then I decided to call it my mistress, because it was like this thing that I wanted to finish my day's work so I could sit with my character.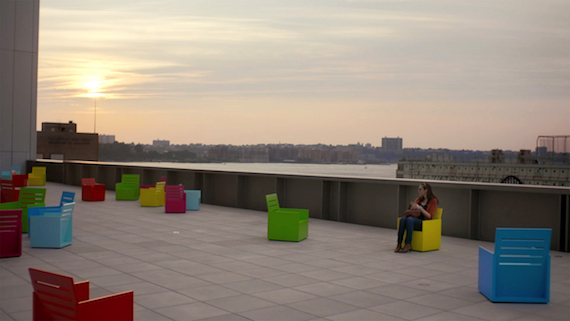 Wasn't it natural all along that you'd eventually tell a story on the big screen?
Simmons: I think that I came of age in the 1970s with my own work and it was a time of conceptual and process art and it was very important not to tell a story. If you told a story when I was a young artist and first came to NY, it was like an embarrassing way to make art. So I've followed this path. My work is visually very rich and very full of clues but I just think that -- and I don't want to say I regret because that's a big issue for me -- but I think now it's OK to tell a story and I have more stories to tell. That was the big revelation, because I've kept away. I've always written, about other artists or I write my thoughts down but I've never written a story.
How do you feel about premiering your film in Venice?
Simmons: This was my dream place. I feel comfortable here, I have spent a lot of time in Italy, I went to art school in Rome, I come here all the time, so this was like if I could have "magic-ed" a situation where the film could premiere and I would feel comfortable, it would be Venice.
Is it possible for a woman to be a successful artist and also be a wife and a mother?
Simmons: There was a recent article in Artsy about it. This is a big issue right now and I was liberally quoted in the article as were a number of other women artists. I think the art world is one of the last bastions of this kind of sexism, where there is a mythology about a woman not being able to be both and artist and a mother. That some very important creative crystal inside a woman would be shattered by the idea of having a child. I can't even believe I'm saying this in 2016 but there is a lot of prejudice in my world against women artists with children. I know, because young women artists come to me and talk about it with me. I had very few role models when I decided to have a child, and I think partly when I decided to have a child I understood that it was a little bit frowned upon in my world and I thought "F**k You!" No one is going to tell me what to do.
Another legend is that if we're feminine women, girlie girls at any age, then we are not taken seriously. We should be frumpy and wear our hair grey, no color. It's only young bad boys and old women in the art world, as you say in the film.
Simmons: That's a quote from my friend the artist Marilyn Minter. I give her complete credit for that. They like old ladies and young bad boys and nothing in between. As a woman artist everyone jokes, if you miss your opportunity now just wait, if you can make it until you're ninety. But I don't want to wait.
The other thing is that the women I know, the married ones, the single ones, they really care. Their clothes don't have to be expensive but they put themselves together, they're feeling really good about the way they look.
Don't you think that women need to learn to be supportive? This whole controversy about how few women are in Hollywood, the first thing I think when I hear that is we're not really supportive of each other.
Simmons: That's a big discussion too. I think that it's frightening to women because they're feeling like there is such a small piece of the pie available to them at all times and it creates a kind of desperate climate. But I think every woman I know and every woman that I respect we all know that women have to help other women. Everyone is aware of that. Whether that's a reality we can enact in our everyday life I don't know. I think women are struggling with that. Everyone is trying to do the best job they can do, and constantly weighing everything. I really believe in my lifetime I'll see so much change. I see comfort in the younger generation, and perhaps they aren't even aware that the numbers are not that great.
The younger generation of women, they are creating jobs for themselves!
Simmons: So true, and they are my biggest inspiration. I really believe the reason I can make a film is because I saw that the younger generation was completely unafraid to go across platforms. They are so fluidly moving. The world is so different -- it used to be you got a job, you were there for fifty years, you were given a gold watch and you said goodbye. That's not life anymore and the inspiration is so much in the younger generation. I really think that's been a huge influence on me.
All images courtesy of La Biennale, used with permission.
Calling all HuffPost superfans!
Sign up for membership to become a founding member and help shape HuffPost's next chapter