What sets artists apart from stars and competent actors is originality and authenticity. Patricia Neal had these and other rare qualities in spades. Like some of her contemporaries who achieved greatness, she rose above mediocre or even bad material and delivered performances that ranged from elegant and understated to bold and breathtaking. Her unique talents carried her from the traditional styles of post-WWII Hollywood through the enormous influence of the cutting-edge, New York Method on film acting.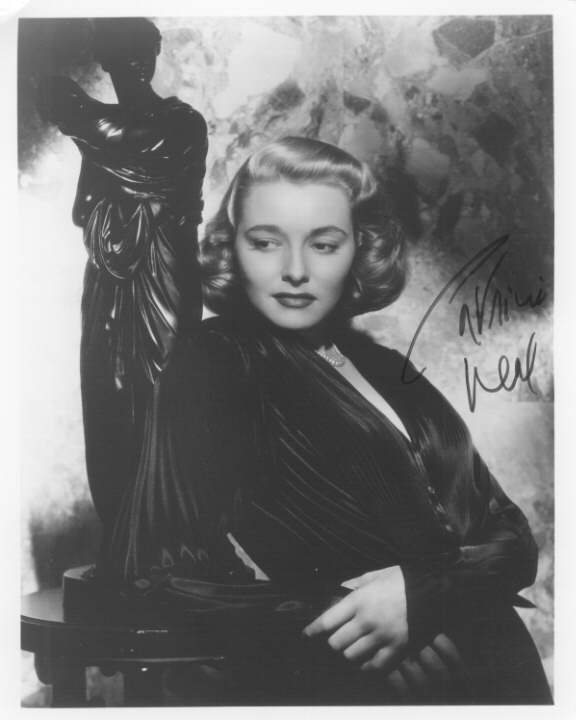 Think of her tempestuous performance (further fired up by off-screen chemistry with Gary Cooper) as Dominique Francon in King Vidor's The Fountainhead (1949, novel and screenplay by Ayn Rand) and her subtle portrait of Alma Brown opposite Paul Newman in Hud (1963). Neal's art reflects a stunning collection of cinematic performances from an actress who also conquered the stage and overcame a series of debilitating strokes and tragic losses. She bounced back from adversity in The Subject Was Roses (1968), which garnered another Oscar nomination.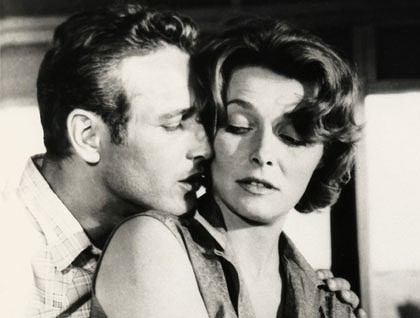 Neal made an indelible mark in all three mediums. Television brought her interesting roles and three Emmy nominations. On Broadway she shared the stage with Anne Bancroft and Patti Duke in The Miracle Worker. At age 20, she won both the Tony and Theater World Awards as Best Featured Actress in Lillian Helmann's Beyond the Forest (1946). The British Film Academy (BFTA) named her Best Foreign Actress for Hud (1963) and Harm's Way (1965). She was also honored by The New York Film Critics Circle, National Board of Review, and Foreign Press Association (Golden Globes) and earned numerous lifetime achievement awards.
And then there was the voice: a unique amalgam of her Tennessee birth, Kentucky upbringing, speech and drama training at Northwestern University, and working in the theater in New York City. Her signature cadence was striking; her lovely face with its unique expressiveness was never less than honest.
Patricia Neal even survived comparisons to Garbo--who never had to age onscreen nor face the challenge of crafting characters--and held her own in an unsympathetic supporting role with the darling of the late 50s and 60s, Audrey Hepburn, in Breakfast at Tiffany's (1961) and miraculously return as a leading lady and win an Oscar as Alma Brown, her portrait of a sensuous, soulful working woman juxtaposed against Paul Newman's sexy, selfish rogue in Hud (1963).
Apart from Blake Edwards, King Vidor, and Martin Ritt, the actress was also directed by the likes of Robert Altman, Robert Wise (The Day the Earth Stood Still), Delbert Mann, Elia Kazan (A Face in the Crowd), Otto Preminger, Michael Curtiz, Douglas Sirk, and Henry Hathaway.
Besides Cooper and Newman, she stood shoulder to shoulder with screen giants such as John Garfield, Van Heflin, Tyrone Power, Van Johnson, Victor Mature, John Wayne, Jason Robards, Andy Griffith, Raymond Massey, Michael Rennie, Anthony Quinn, James Mason, Kirk Douglas, and Ronald Reagan.
Other glittering co-stars came from classic Hollywood as well as current film, theater, and television: Lauren Bacall, Glenn Close Rip Torn, Dorothy McGuire, Burgess Meredith, Ian Holm, Richard Thomas, Eva Marie Saint, Blythe Danner, Cloris Leachman, and Valentina Cortese.
She portrayed Senator Margaret Chase Smith and narrated The American Woman: Portraits of Courage, starring Celeste Holm, Frank Langella, and Lois Nettleton, among other seasoned actors, while Glenda Jackson played Neal in a TV biopic that focused on the tragic events she endured in the 1960s.
An actress of Neal's caliber deserved nothing less than to play among such a distinguished milieu of actors and directors through an extraordinary career that spanned 63 years especially when the films and television productions were often so lackluster.
And the fascinating company doesn't end there. Some of her lesser known films which starred other screen legends include: An Unremarkable Life (1989) with powerhouse Shelley Winters; Cookie's Fortune (1999) with Julianne Moore; and Ghost Story (1981) with Fred Astaire, Douglas Fairbanks, Jr., John Houseman, and Melvyn Douglas.
Whether playing a tempestuous blonde, earthy brunette, or subtle redhead; taking direction from Kazan to Curtiz; adapting her style to Garfield or Power, Patsy Louise Neal was always unforgettable. Film critic Roger Ebert keenly observed her performance in The Subject Was Roses, "Miss Neal, who knows the movies, is better suited to the medium. She holds back, she suggests more than she reveals, and when all three actors [Martin Sheen, Jack Albertson, Neal] are on camera her performance makes the other two look embarrassingly theatrical."
Patricia Neal's views on acting, the secret of her memorable voice, and rare reminiscences of Hollywood are preserved in Robert Osborne's 2004 Turner Classic Movies' interview with the actress who was just as wise, gracious, and lovely as you'd expect she'd be. Her broad legacy is testimony to the heights an actor can reach in the performing arts, survival through unimaginable tragedies, and a steadfast devotion to social and charitable causes. Her passing is an enormous loss, but her life should be celebrated as a gargantuan triumph of the human spirit.
Popular in the Community