This is the eighth in a series of interviews. While working last summer in Dharamsala, India, I talked with leading members of the Tibetan exile community about the freedom movement and the future of Tibet.
Rinchen Khando Choegyal is the director of the Tibetan Nuns Project (TNP) and a founding member of the Tibetan Women's Association (TWA), a Dharamsala-based NGO devoted to empowering Tibetan women and preserving Tibetan culture. The sister-in-law of His Holiness the Dalai Lama, she has served as president of TWA, Minister of Home and Health, and Minister of Education, all the time working to improve the situation for Tibetan refugees and raise international awareness of the Tibetan cause.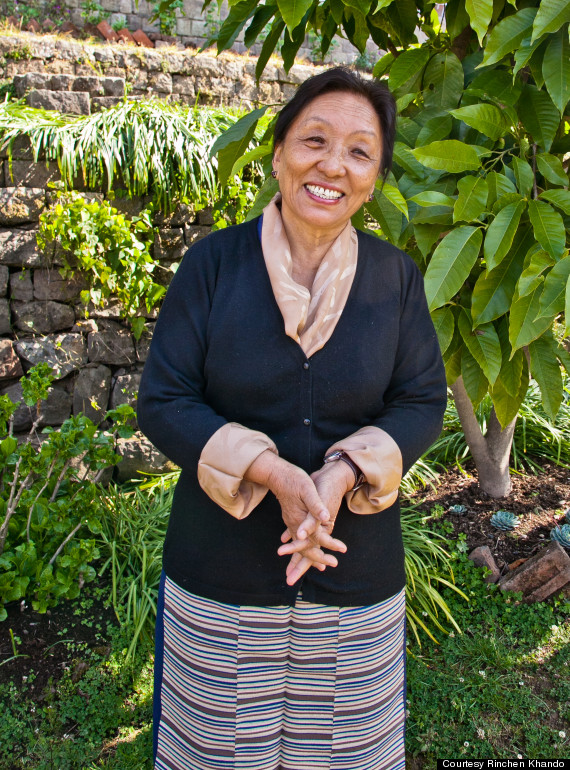 "If you are wanting to do something for the cause, you have to sacrifice a lot," Mrs. Choegyal told me as we sat down to chat in her office on a bright morning at the TNP complex in lower Dharamsala. "From when I was a young girl, the responsibility and desire to do something for Tibet never went out of my mind. My youth was wonderful but there was always the heaviness of being a Tibetan in the free world and wanting to do something."
Can you tell me about yourself?
I was born in Kham, in eastern Tibet. What I remember most is that it was so open and full of nature, with a stream and lots of wildflowers. I was brought to Lhasa when I was about 8 and then to India to be educated. Luckily, we left Tibet in early 1958. My parents went to India for a pilgrimage, planning to leave me behind at a school in Kalimpong and return to Tibet. But one day in 1959--I can never forget that day -- I came back from playing outside and saw everyone so solemn. So I asked the cook, "Why is everybody so solemn?" He said, "Keep quiet. We've lost our country."
How did you become involved in the Dharamsala activist community?
When my children got older and didn't need me in the house all the time, I started volunteering. That's when we founded TWA, in 1984. We encouraged women to come out and contribute, not just be stuck at home. Our message was that it was very important to be a mother and a homemaker, but it wasn't the only role women could play. There were many other important things they could do, and as time permitted they should also do those things.
What led to the establishment of the Tibetan Nuns Project?
While we were working at TWA, we saw that the nuns had no education, no proper facilities, and we felt very badly for them. Around 1985 we started trying to help them, under the umbrella of TWA. In 1987, there was a huge influx of nuns from Tibet after they'd been imprisoned and tortured, but TWA had no means to take on such a big project. We then decided to form TNP. I've now spent more than 27 years with this project.
How can people abroad, especially young people, support the Tibetan cause?
Now, in exile, there are many NGOs. If people could help these NGOs achieve their aims, that would be good. For example, the richer people could help TNP build something, and even the poorer people could help by sponsoring a nun. That costs 30 dollars a month, and carries a nun through her studies and helps with health care, as well as pays for food and shelter. It is this kind of support that people should look into.
What's the situation for Tibetan teens in exile?
In exile, our children are given the best of education according to what the exile administration can afford. Having a separate school just for Tibetan children gives the children a strong sense of identity, because you grow up with people who all say, "Tibet is my country. We are Tibetans." But at the same time, our young people see many things done by the young people of free countries and feel the frustration of wanting to do something for their country, asking themselves, "Why should we suffer this? Tibet is our country. How dare they say it's not ours."
I sympathize with the young people. Sometimes as a member of this community I also get frustrated. The very best tool we have is to be a good Buddhist. I don't mean that everybody should be monks or nuns, but that we should have Buddhism as a way of life and be guided by Buddhist principles.
What can we learn from Tibetan Buddhism as we face the problems of today's world?
Tibetan Buddhism helps us to handle the problems in a more positive way. It also helps us to look for a better day, and work for that. You believe that if you do something, there has got to be a good result. That concept is very important for Tibetans because we are refugees right now, but even for people who have nothing to worry about country-wise or family-wise, the concept is universally beneficial.
At the same time, Buddhism is the spice in the dish and His Holiness the Dalai Lama is the main dish. He has helped unify the six million Tibetans and give us an identity. I don't think Buddhism alone could have gotten us to where we are.
What is your greatest accomplishment?
In life, what you do has to be based on very good motivation. When I was working for TWA, I was never thinking of myself, that I must become famous by starting this organization, that it must be known as my project. My pure motivation was that I could see the women having so much strength and wanting to do something. I also saw that being together, bringing all of the energy together, could make us do much better, so that was my main role.
In terms of the Tibetan Nuns Project, I'm not a teacher but my friends and I -- encouraged and inspired by His Holiness -- have given the nuns a facility to study. My greatest joy was just recently when some of the nuns sat for the Geshema exam, which is to obtain the highest degree in Buddhist philosophy. I hope they will go back into the community and serve as teachers and Tibetan doctors. And as a cabinet member, all I can say is that I did my best. Not having egoistic pursuits really gives you peace of mind and when you finish, you cannot pinpoint a certain achievement. You don't want to. Yet you know that you have tried. I have very good feelings about my life as I look back.
Related
Popular in the Community