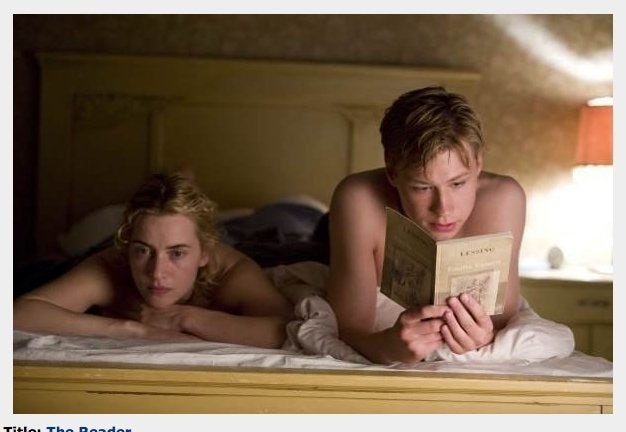 It's Oscar season again. By this point, the litany of objections are almost a parody of a self-parody: the show's too long, the jokes are terrible, the self-congratulatory preaching to the choir gets harder to swallow every year, they get all the nominees and winners wrong, the endless celebrity gawking is existentially repugnant, the bean dip should have been heated longer so the cheese would melt completely. But everyone wants to know who'll win. Here are my predictions and my comments on whom I'd prefer.
* - my prediction for the winner
Performance by an Actor in a Leading Role
Richard Jenkins - THE VISITOR
Frank Langella - FROST/NIXON
Sean Penn - MILK
Brad Pitt - THE CURIOUS CASE OF BENJAMIN BUTTON
* Mickey Rourke - THE WRESTLER
I didn't see The Wrestler, but it got deafening buzz over the summer. Penn is probably equally likely to win. My dark horse, and preference, is Langella, who did a masterful job of evoking Nixon without any of the standard parodic cues. Frost/Nixon was an enjoyable, slight movie that rested entirely, utterly, on his shoulders. He won't win, but it's nice he was recognized. Pitt really didn't do anything for me as Benjamin Button.
Performance by an Actor in a Supporting Role
Josh Brolin - MILK
Robert Downey Jr. - TROPIC THUNDER
Philip Seymour Hoffman - DOUBT
*Heath Ledger - THE DARK KNIGHT
Michael Shannon - REVOLUTIONARY ROAD
Ledger has this in the bag, and would have deservedly won even if not for his tragic death. Here, the Award is virtually assured as a posthumous lifetime achievement award. Downey's a surprise nomination, but it may be in large part a pat on the back for regaining his star power after a lost decade of substance haze. He's extremely gifted, and may well deserve the hardware, but he didn't deserve it for the puffball Tropic Thunder, a modestly engaging, gargantuan-budget comedy that was less than the sum of its parts. Frankly, he was better in Iron Man.
Performance by an Actress in a Leading Role
*Anne Hathaway - RACHEL GETTING MARRIED
Angelina Jolie - CHANGELING
Melissa Leo - FROZEN RIVER
Meryl Streep - DOUBT
Kate Winslet - THE READER
A loaded category (I didn't see the movies.) Hathaway was praised to high heaven for her performance, but she's also much more beautiful than Melissa Leo, a terrific actress who has nowhere near the glamor of Winslet, Streep, Jolie, or Hathaway. Streep's always formidable, and Winslet's been an Oscar bridesmaid an astonishing 5 times already; both have a good chance of winning the category, though it would be nice if Winslet's first Oscar came from a movie in which she played something other than a Nazi. It's about time the Academy stopped rewarding Holocaust movies with guaranteed acclaim. (See: Defiance and Spielzeugland, below.)
Performance by an Actress in a Supporting Role
*Amy Adams - DOUBT
Penélope Cruz - VICKY CRISTINA BARCELONA
Viola Davis - DOUBT
Taraji P. Henson - THE CURIOUS CASE OF BENJAMIN BUTTON
Marisa Tomei - THE WRESTLER
Impressively, Doubt garnered 3 nominations in the 2 women's categories, and one more for Hoffman in Supporting Actor, a guaranteed also-ran. It's hard to imagine the Academy will shut Doubt out completely. Davis garnered her nod on the basis of just one scene, and it's not likely she'll get the Judi Dench 5-minute Oscar (which she won for playing Queen Elizabeth in Shakespeare in Love for exactly one scene). Henson is a fine actress, but her performance -- like everything in Benjamin Button -- was nice, but the movie was a showcase for effects, not acting. She deserves further recognition, hopefully in a movie that better uses her talents than to cast her as a black mammy of a white baby.
Best Animated Feature Film of the Year
BOLT
KUNG FU PANDA
*WALL-E
Really no competition. Kung Fu Panda was, at best, okay. Bolt was made by Disney animation, which is now overseen by longtime Pixar boss John Lasseter. WALL-E proves why Pixar stands head and shoulders above every other studio in Hollywood. It's simply the best movie of the year, and it's frankly unfair that a weaker film will win Best Picture.
Achievement in Art Direction
CHANGELING
*THE CURIOUS CASE OF BENJAMIN BUTTON
THE DARK KNIGHT
THE DUCHESS
REVOLUTIONARY ROAD
It ought to be Dark Knight, but it'll probably be Button, a decent movie that was inexplicably nominated for everything. Still, it's a movie that is all art direction and effects, and it certainly is gorgeous to look at.
Achievement in Cinematography
CHANGELING
THE CURIOUS CASE OF BENJAMIN BUTTON
THE DARK KNIGHT
THE READER
*SLUMDOG MILLIONAIRE
Slumdog will probably win it all, but the best part of the movie is probably the whirlwind, colorful cinematography, that candifies slum India into a dangerous, alluring, beautiful dreamworld. The movie has been justly criticized for blithely minimizing the hardship of the life of India's massive underclass: all the ugliness is in the picture, but it's in the background. The beauty stays permanently in focus. It may be bad sociology, but it makes for entertaining moviemaking.
Achievement in Costume Design
AUSTRALIA
THE CURIOUS CASE OF BENJAMIN BUTTON
THE DUCHESS
MILK
*REVOLUTIONARY ROAD
Every time Baz Luhrmann sneezes, he gets nominated for Best Costume Design. It's too bad he makes overwrought, crappy movies, like his epic, unwatched bomb Australia. Sam Mendes (also known as Mr. Kate Winslet) is similarly artsy, but Oscar loves retro revisionism like Revolutionary Road -- remember Far From Heaven? Benjamin Button's a dark horse, just because, again, it got nominated for everything and it has to win something.
Achievement in Directing
David Fincher - THE CURIOUS CASE OF BENJAMIN BUTTON
Ron Howard - FROST/NIXON
Gus Van Sant - MILK
Stephen Daldry - THE READER
*Danny Boyle - SLUMDOG MILLIONAIRE
The winner ought to be Andrew Stanton for WALL-E, but that movie's stuck in the animation ghetto, so Boyle probably gets it by process of elimination, unless the anti-Slumdog backlash gives it to someone like Van Sant. Fincher's a fine director, but neither he nor his movie deserved to sniff this category; Ron Howard made a better movie, but the same applies to him.
Best Documentary Feature
THE BETRAYAL (NERAKHOON)
ENCOUNTERS AT THE END OF THE WORLD
THE GARDEN
*MAN ON WIRE
TROUBLE THE WATER
I didn't see these, I'm afraid. Man On Wire's the documentary sleeper hit of the year, which usually bodes well come Oscar time. Everyone likes a winner.
Best Documentary Short Subject
THE CONSCIENCE OF NHEM EN
THE FINAL INCH
*SMILE PINKI
THE WITNESS - FROM THE BALCONY OF ROOM 306
Haven't seen any of the shorts. Smile Pinki's a fantasy set in India, though, so in a year like this, it has a pretty good shot.
Achievement in Film Editing
THE CURIOUS CASE OF BENJAMIN BUTTON
*THE DARK KNIGHT
FROST/NIXON
MILK
SLUMDOG MILLIONAIRE
The Dark Knight was the rare case of an action movie that achieved a greater purpose. It was, frankly, better than There Will Be Blood and No Country for Old Men, the bleak giants of 2007 that evoked a world of greed and cruelty. And it did so while posing as a comic book action movie. That it netted hundreds of millions despite the switcheroo was extremely impressive. It got snubbed for Best Picture/Best Director, and deserves to make up some ground in the technical categories.
Best Foreign Language Film of the Year
The Baader Meinhof Complex
The Class
Departures
Revanche
*Waltz With Bashir
Didn't see any of these. (My favorite foreign film of the year was Jean-Claude Van Damme's JCVD, and it didn't take a genius to see that wasn't going to get nominated.) Waltz With Bashir has gotten the most ink spilled, though in the current political climate the Academy may be a little wary to give the award to an Israeli film about an unpopular recent Israeli war. Still, it's anti-war, and it was a sleeper hit, especially thanks to its signature visual conceit: a rotoscoped, animated documentary that looks like Richard Linklater's Waking Life. That may be enough to win it.
Achievement in Makeup
THE CURIOUS CASE OF BENJAMIN BUTTON
THE DARK KNIGHT
*HELLBOY II: THE GOLDEN ARMY
One of the secretly most enjoyable movies of the year, Hellboy II ought to get some sort of recognition for being good. It's an upbudget monster movie that does everything right, from the action sequences to the lame one-liners. And what kind of world is it if a fantastic monster movie can't win the makeup Oscar?
Achievement in Music Written for Motion Pictures (Original Score)
THE CURIOUS CASE OF BENJAMIN BUTTON
DEFIANCE
MILK
*SLUMDOG MILLIONAIRE
WALL-E
Slumdog Millionaire is practically its own Stuff White People Like entry, but it probably ought to actually win this category. It doesn't play the Bollywood card till the end credits, but its use of Hindi music throughout the film, from club tracks and bhangra to more classical fare, legitimately works.
Achievement in Music Written for Motion Pictures (Original Song)
"Down to Earth" - WALL-E
*"Jai Ho" - SLUMDOG MILLIONAIRE
"O Saya" - SLUMDOG MILLIONAIRE
Jai Ho's the showclosing full-stop Bollywood number, in which the cast members come out on the train platform of the final scene, flanked by rows of dancers in full costume, and break into a riotous dance catchy enough to keep most charmed audiences from leaving the theater. It'll win. It should.
Best Motion Picture of the Year
THE CURIOUS CASE OF BENJAMIN BUTTON
FROST/NIXON
MILK
THE READER
*SLUMDOG MILLIONAIRE
Exactly the same nominees here as in the best director category. Hard to imagine they'd split the winners, and it's hard to imagine there's a better choice than Slumdog in a weak category.
Best Animated Short Film
La Maison en Petits Cubes
LAVATORY - LOVESTORY
OKTAPODI
*PRESTO
THIS WAY UP
Presto was the Bugs Bunny homage that screened before WALL-E, which means this is a category of 4 shorts no one has seen and one cartoon everyone saw. Plus, it's hysterical. It'll win.
Best Live Action Short Film
AUF DER STRECKE (ON THE LINE)
MANON ON THE ASPHALT
NEW BOY
THE PIG
*SPIELZEUGLAND (TOYLAND)
Haven't seen any of these. Spielzeugland, of course, is a Holocaust film, so it has pretty good odds of winning. I wish they would stop making movies about the Holocaust, and stop rewarding them with automatic nominations.
Achievement in Sound Editing
THE DARK KNIGHT
IRON MAN
SLUMDOG MILLIONAIRE
*WALL-E
WANTED
One key difference between animated films and live-action films is that, since none of the characters have a real-life counterpart, the sound mix must be built from scratch, from a voice cast, score, and incidental sound effects. This is all the more true for WALL-E, with a nearly silent first act, and two leads with about 15 words of vocabulary between them. And yet from a palette of beeps and boops and voice modulation of words like "Wall-E," "Eva," and "Directive," the film finds 360 degrees of emotion. The sounds for the film were created by the brilliant Ben Burtt -- the same man who did the sound for Star Wars in his late 20's, and every laser blast and Vader breath owes its life to his brain. He outdoes himself here. He should win, and will.
Achievement in Sound Mixing
THE CURIOUS CASE OF BENJAMIN BUTTON
THE DARK KNIGHT
SLUMDOG MILLIONAIRE
*WALL-E
WANTED
The nominees here are nearly the same as in the Sound Editing Category, and the winner should be the same. The awful Wanted really doesn't deserve to be anywhere near here, even for a technical Oscar, but every year there's a token bad action movie that gets a couple of technical Oscar nods.
Achievement in Visual Effects
*THE CURIOUS CASE OF BENJAMIN BUTTON
THE DARK KNIGHT
IRON MAN
I'd rather see this go to Iron Man, which was more fun than it had any right to be, or failing that, to Dark Knight, which was a far better movie than Benjamin Button. But Button's nothing if not an effects-driven epic, and if the Academy's convinced that it's one of the 5 best movies of the year, and Pitt and Henson don't win their respective categories, then it would be hard not to reward the effects. I had a lot of problems with the way they handled Blanchett's aging -- that is, they really didn't seem to do anything to her skin for about 20 years of her character's life -- but it's certainly a very beautiful, impressive-looking movie.
Adapted Screenplay
THE CURIOUS CASE OF BENJAMIN BUTTON
*DOUBT
FROST/NIXON
THE READER
SLUMDOG MILLIONAIRE
This is the one category I wouldn't mind for Button to win, if only because the source material's so wretched and the movie itself is above average. But avoiding mediocrity is hardly a compelling reason for an Oscar. Doubt and Frost/Nixon are both adapted from plays by Oscar-friendly authors, John Patrick Shanley (won for Moonstruck) and Peter Morgan (nominated for the Queen), and both have a very good chance of winning this category if the Academy decides it would prefer not give Slumdog a Ben-Hur-like haul.
Original Screenplay
FROZEN RIVER
HAPPY-GO-LUCKY
*IN BRUGES
MILK
WALL-E
In Bruges was one of my favorite films of the year. The feature debut of Irish playwright and writer/director Martin McDonagh (who won an Oscar two years ago for best live action short), it's a masterful character piece, ostensibly a comedy-drama about hit men in Belgium but really a showcase for Colin Farrell and the Brendan Gleeson to act off each other. The script is simply remarkable, hilarious, profane, and moving. The nomination for WALL-E is a bit of a joke -- it is, after all, about half a silent movie -- but, hey, stranger things have happened. (See: Judi Dench's 5-minute Oscar.) Gleeson's one of the best living actors, but he's rarely had a better vehicle, or been given better words, than in this one.
Popular in the Community