The way many children feel on Christmas Day was the way I felt during the course of this July's Haute Couture Fashion Week. Every thing was bigger and more elaborate than I could have ever dreamed- especially in terms of silhouettes. The reason for this was due to inspiration emerging from fashions of the Northern Renaissance. Since few garments have survived from this era, designers had to use portraits, etchings, carvings, and manuscript margins to derive inspiration from this period. This matter was not an issue for designers since models looked like they had stepped out of a Lucas Cranach canvas, or should I say one of Viktor and Rolf's garments.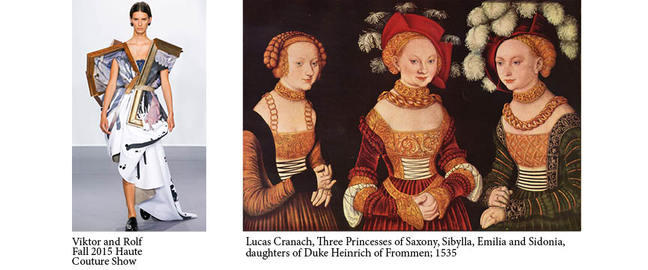 Fashions of the Northern Renaissance, which spans from 1500-1600, had three major influences. The first of these influences was the transition from Medieval to Renaissance times. Dior's collection was highly influenced by men and women's medieval attire, and attains similarity to illustrations from French manuscripts. Medieval aspects are visible from their chemise-like dresses, long gathered cloaks, wide long sleeves and the look of chain mail created from trims. Another designer that dabbled with medieval aspects was Giambattista Valli. The design group whimsically draped a few of their garments, giving the appearance of Byzantine artwork. Square and deep V necklines were other medieval traits that appeared on clothing throughout the shows. These aspects of renaissance attire were beautifully applied to gowns, rompers, skirts, and shirts across the board.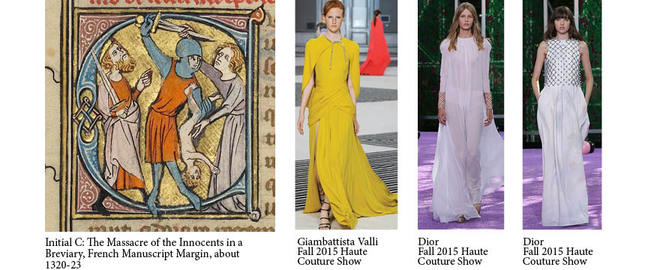 Styles from Germany also influenced clothing during the Northern Renaissance. A trait of clothing specific to this region was softly gathered skirts- similar to the ones found in the Armani Privé and Valentino collections. Another fashion trend from this region that stayed prominent throughout the Northern Renaissance and the Alta Moda shows was tight fitting bodices. During the 16th century bodices were filled in with chemise; however, designers of today modernized this look and filled necklines in with lace and mesh.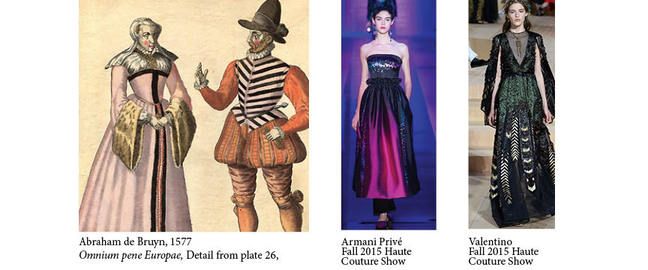 The elaborate ensembles of the Haute Couture shows can be attributed to Spain's influence during the Northern Renaissance. Spanish dress design reigned in Europe from 1530-1600 and during that time silhouette grew in width; especially in the hip region. This style feature was called the farthing gale and its size and shape was created through a petticoat with sewn in whalebones and steel hoops. This style formed a cage around the body- similar to a skirt from Stéphane Rolland's collection. This look was highly visible throughout the couture shows; however, designers were able to manipulate fabric instead creating this apparatus. Design houses accentuated this feature through the use of pleats, tucks, and gathered crinoline. An additional feature of Spanish style skirts was that they were floor length and had the look of an inverted cone with a 'V' opening in the front. Fendi and Giambabtista Valli created garments that fit this description; however, they modernized this look through textiles.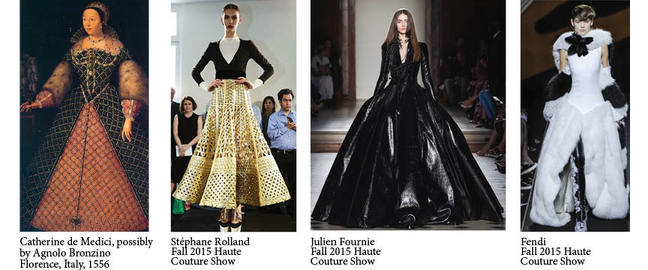 Another 'V' shaped clothing feature found during the shows and the Northern Renaissance was the pronounced V at the base of bodices. Dolce and Gabbana, Ralph and Russo, and Julien Fournie created bodices with this appearance. The houses of Julien Fournie and Ralph and Russo took a more traditional approach to the look, whereas Dolce and Gabbana put an oriental twist on the garment shown by its Mandarin collar and embroidery. During Spain's reign on fashion bodices were filled in with chemise and had necklines up to the throat. Jean Paul Gaultier, Ralph and Russo, Valentino, as well as Chanel took a liking to this style and used it among their pieces. One bodice feature that caught my eye during the Haute Couture shows and Northern Renaissance paintings was sleeve crescents, or the appearance of them. During the 16th century this design feature was used to conceal fastenings that separated sleeves from the bodice. Today this feature is primarily used to make designs more elaborate.

From Roman times to the 17th century capes and cloaks were popular for men and women. This trend ended when the tailored jacket became standard for society. However, these articles of clothing underwent a rebirth on the runways of Italy and Paris during July's Haute Couture Week. Almost every designer presented his or her own take on the garment. This look can be seen through modernizing it- Jean Paul Gaultier created a trench coat like cape, using embellished textiles- Elie Saab used embroidered chiffon, or keeping its traditional appearance- Ralph and Russo's embroidered cloak.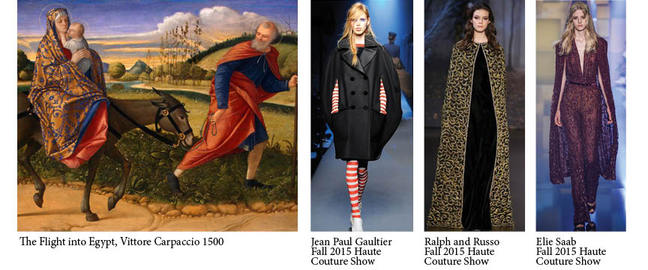 Interpreting the past can be perplexing at times; however, the men and women designing for July's Couture Week were able to reinvent fashions of the past better than I could have imagined. The rebirth of fashion is about to occur, and I couldn't be happier than to see the past materialize in the present.
Reference:
Tortora, Phyllis G., and Keith Eubank. A Survey of Historic Costume. 5th ed. New York: Fairchild Publications, 2010. Print.