There are shows you walk out of, not knowing what you're going to write. You don't know what you're going to write, but you do know you'll have to figure it out - you've promised so-and-so; you've promised yourself; it's a show you really "should" cover. Although they make you a better writer, they wear you down, come often and have you working for days just to come close to what you would have liked to say. But there are also shows you think about, riding the subway home, that fill you with an unmistakable and enduring light -- you might not know why exactly, but you know you've spent the past couple of hours doing something good and affirming for yourself (and your eyes). These are the shows that make you both a better writer and a happier one.
Samuel Stabler's A Long Way from Dixie is that kind of show. The kind you feel compelled to write about in your notebook, with a couple stops to go on the C train.
I was introduced to Stabler's work last spring -- my first real studio visit -- and I remember feeling filled with a similar light. Gallery 151's A Long Way from Dixie presents a tighter series of works than I had seen a year ago, but their identity and make-up remains intact. In his neon's, as they are called, rigorous pen and ink drawings of Old Master paintings (and images that simply appear as old and hallowed) are cast in his trademark neon. Nearly monochromatic, they feature subtle gradations of color, which call our attention to details typically minor or mere in the originals -- they also occasionally use a touch of gold, when a detail is particularly irresistible to note. Here's "Untitled (Neon Floral Still Life)" -- gold fly and all.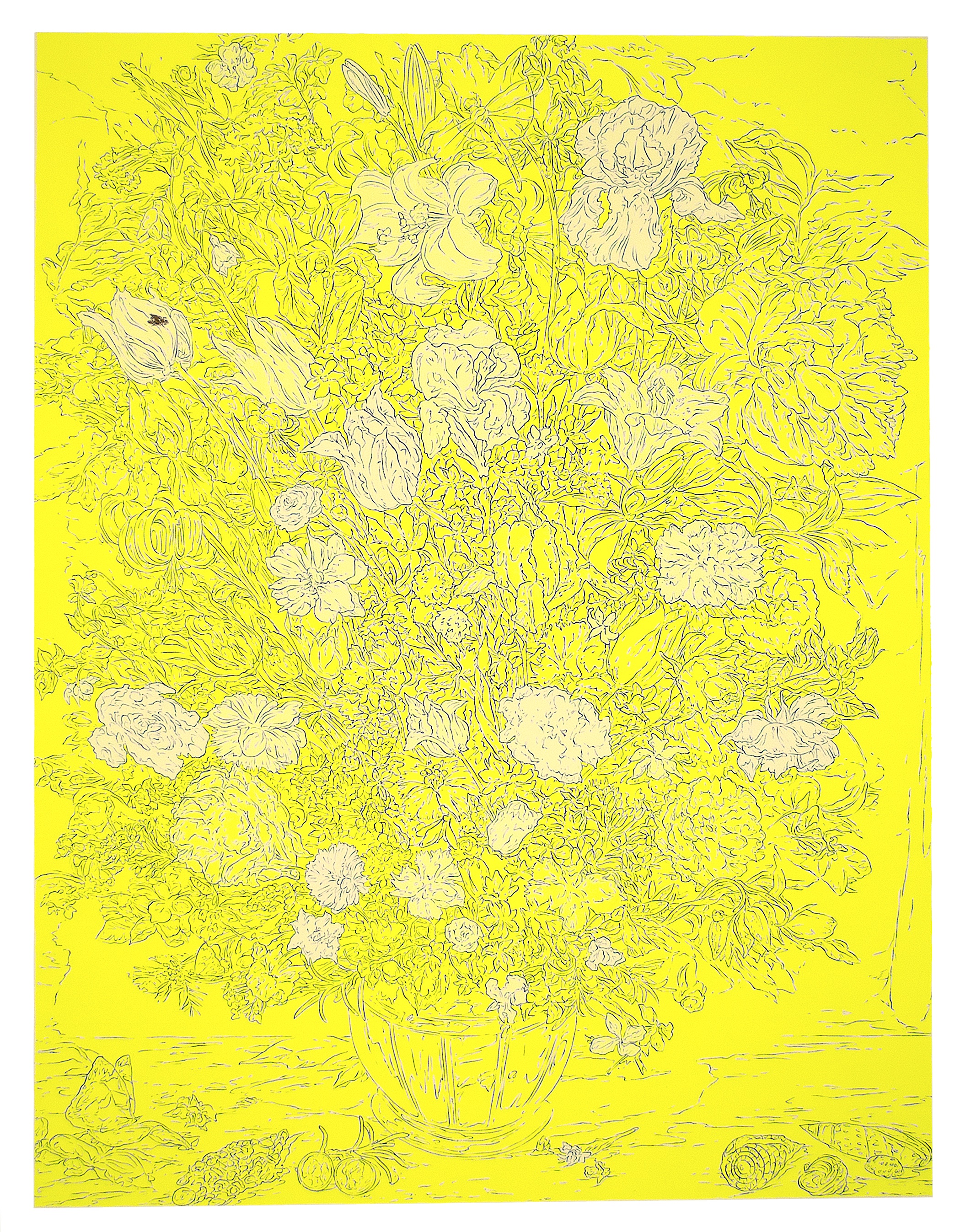 Samuel Stabler, "Untitled (Neon Floral Still Life)" (Photo credit: Sam Monaco)
In his cutouts, Stabler exhibits equal skill and craftsmanship, intricately cutting out a variety of associative but random images -- a plane, an aristocrat, a country home -- only to swarm them with a nest of overlapping and concealing lines. The leftover, cut-out pieces regenerate in accompanying collages, entirely abstract themselves, but fluent and serene in their own right. While they are difficult to photograph, below is one of the cutouts included in the show, "Untitled (Cut-Out)."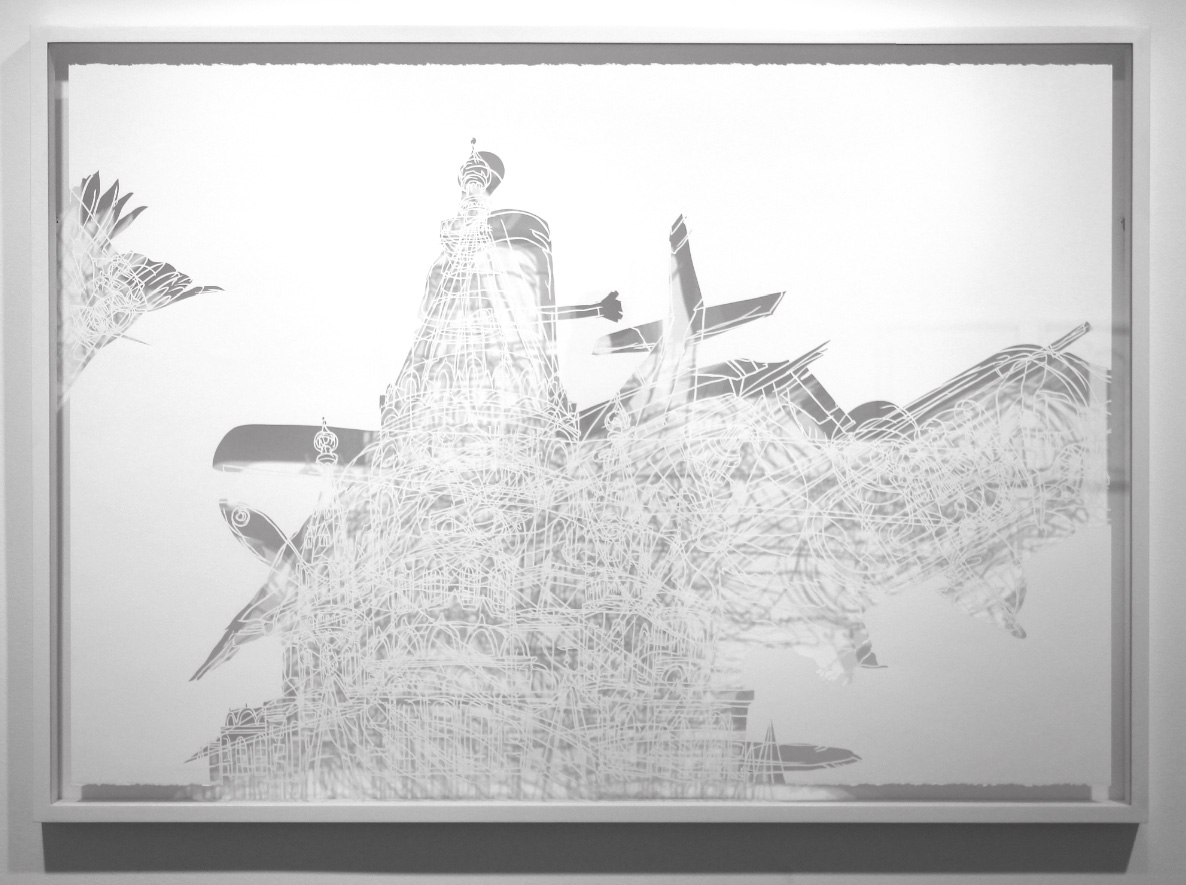 Samuel Stabler, "Untitled (Cut-Out)" (Photo credit: Sam Monaco)
A Long Way from Dixie mingles Stabler's neon's, cutouts and collages effortlessly, interposing them and comparing them, letting them be for a time and then bringing them back into the fold. If my descriptions of Stabler's work, and the few examples you've seen, give you the impression that there's something odd going on, you're right -- Stabler's work is odd. The artist does a lot of painstaking and tiring work, and very beautifully, only to color it neon (not known for its flattery) or shroud it in obscuring lines. The scenes themselves look old -- musty even -- and strangely regal (banquets, battles and withering bouquets abound). His pictures aren't especially monumental in size or stature, either, despite the towering dimensions of their opulent, European forefathers.
But standing in the small and intimate space of Gallery 151 (132 West 18th St. Btwn. 6th and 7th Avenue), there's never a sense that anything is really lost on the viewer. At its core, the work of Samuel Stabler is both joyful and open. To enjoy A Long Way from Dixie, just look to the quality of Stabler's craft -- he is an excellent draftsman -- and welcome the oddity of his settings and scenes. As he told me a year ago, he can't "forsake" the Old Masters, which is why he finds himself faithfully reproducing their work -- but Stabler has also revived and amended the images you will see in A Long Way from Dixie. A deft colorist, he employs monochromatic effects in his neon's, cutouts and collages to animate the images -- asking us to actively look for the moments that stand out.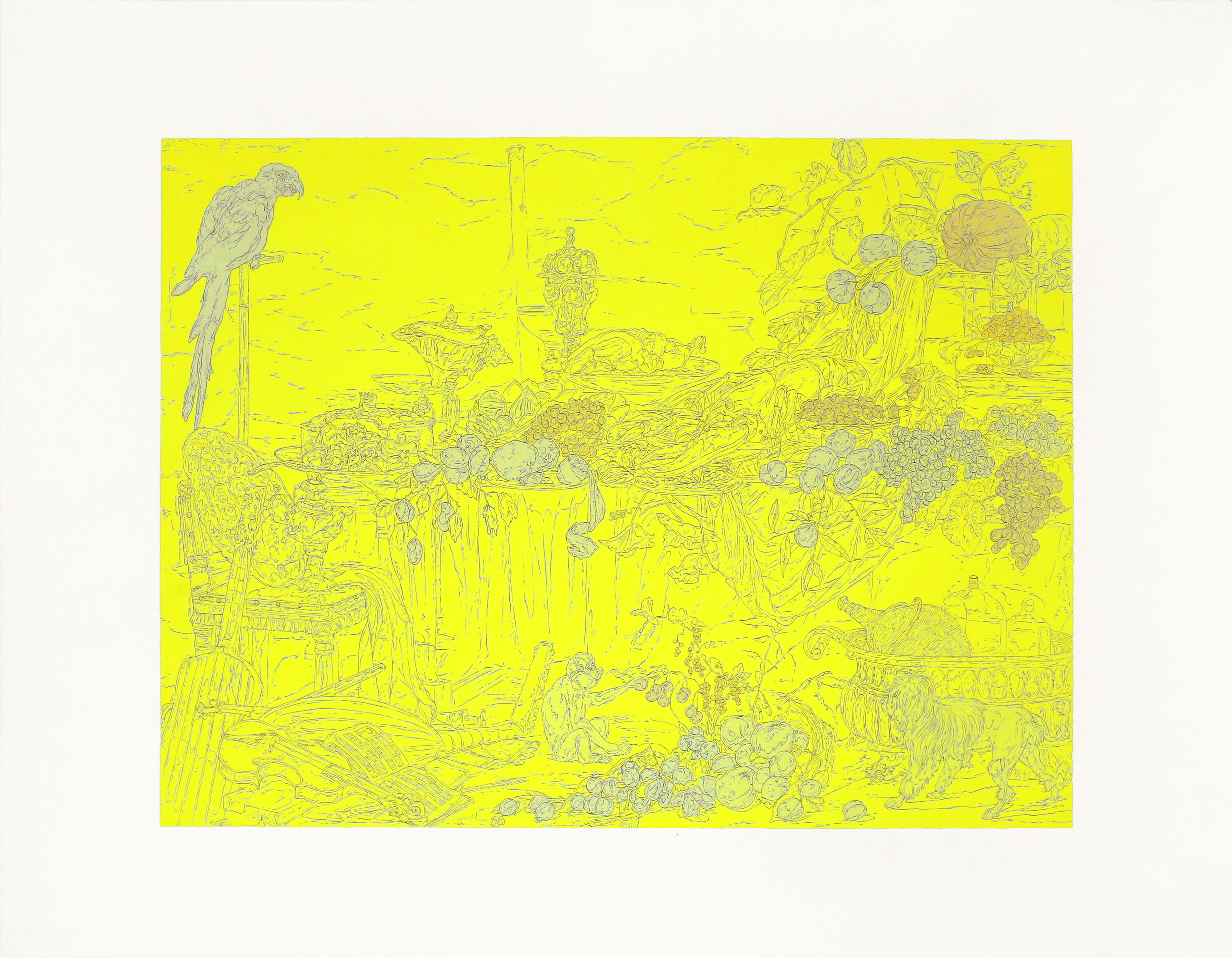 Samuel Stabler, "Untitled (Neon Old Master)" (Photo credit: James McKee)
Curiously, intelligently and wondrously, a great deal stands out. And I am confident a great deal more would stand out had I visited A Long Way from Dixie again. It's clear, in seeing Stabler's work unfold, that his love of art itself -- both the process of seeing it and making it -- guides these unusually vibrant pieces. So take the subway down, see them in person and expect to be filled with the good light when you leave.
REAL LIFE. REAL NEWS. REAL VOICES.
Help us tell more of the stories that matter from voices that too often remain unheard.