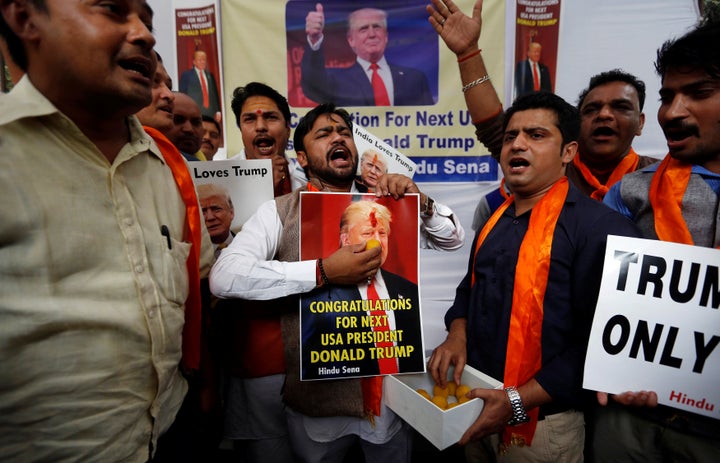 As a politically active Hindu American, I have seen my social media feed bombarded over the last week with news about the Republican Hindu Coalition (RHC). The RHC, founded by Chicago businessman Shailabh Kumar, seeks to build better ties between the Hindu community and the Republican party. Kumar recently scored a coup by obtaining Donald Trump's presence at a fundraiser for Hindu minorities in Kashmir and Bangladesh. They followed this up with an ad attacking Clinton advisor Huma Abedin for her Pakistani heritage, infuriating more politically liberal South Asians. While the RHC has every right, under the First Amendment, to advertise and support their candidate, their tactics and embrace of Trump comes with very real risks to the Hindu community.
Despite being a nation of immigrants, the United States has a troubling history of anti-immigrant violence. In the 19th century, the Know-Nothings attacked the political participation of Irish Catholic immigrants, alleging waves of non-citizens voting in U.S. elections. Similarly, around the turn of the 20th century, the Asiatic Exclusion League attacked Chinese, Japanese, and East Indian immigrants. In 1907, anti-Indian riots in Bellingham and Everett, Washington, led to the expulsion of virtually the entire South Asian population of those towns. In the late 1980s, resentment at greater immigration by Indians led to the formation of "Dotbuster" gangs. These gangs assaulted Hindus, Sikhs, and Parsis, beating and even killing some of them.
Trump hasn't just embraced this anti-immigrant sentiment, he has made it a centerpiece of his campaign. His immigration platform prominently features mass deportation and building a wall along the border to Mexico. In his speeches, he has scapegoated immigrants as criminals and terrorists, ignoring the fact that undocumented immigrants generally have lower rates of criminal activity than the general public.
Furthermore, white nationalist and anti-immigrant groups have seized on his rhetoric, openly bragging about voter intimidation, and purging America of minorities. For better or for worse, most of them see Trump's election as an affirmation of nativism.
All this brings us back to the RHC. While Trump may be "a big fan of Hindu", there is little evidence that his nativist followers feel the same way. Over the last year and a half, as Trump's campaign has taken off, Hindu immigrants have endured several instances of harassment, vandalism, and violence. Each incident reinforces the fact that Hindus do not stand apart from our fellow immigrants. Rather, our safety and security is tied closely to theirs. As such, when the RHC is willing to ignore Trump's anti-immigrant rhetoric, and, furthermore, emulate it in attacking individuals such as Abedin based on her ethnicity, it endangers the community it purports to represent.
This post represents only the view of the author, and does not reflect the views of any organization or affiliation.
Calling all HuffPost superfans!
Sign up for membership to become a founding member and help shape HuffPost's next chapter