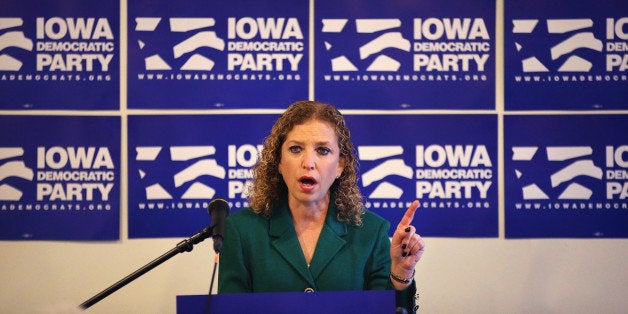 There was a report last week that the Democratic Party, which is coming off a huge midterm defeat in the recent congressional elections, is doing some soul-searching.
The Democratic National Committee released a preliminary report from its "Democratic Victory Task Force" outlining a number of steps to improve the party's branding, messaging and outreach.
It seems that the party got the message that 2016 is primarily about fixing the economy and that social issues aren't as important to voters.
"We are Democrats because we believe in an economy where hard work is rewarded, and because we are focused on building a stronger and more secure middle class. We have a lot of work ahead, but we know that when Democrats win elections, the middle class wins," DNC Chair and Florida Representative Debbie Wasserman Schultz said.
At this point, DWS is in the driver's seat in controlling the party's immediate destiny.
The Democratic Party faces a big challenge in the next two years as it strives to become the party of the middle class. Can it separate itself from the powerful cult of personality that defines a separate party of Barack Obama and the growing failures of the president's policies and ideology, particularly in terms of foreign affairs and military issues?
It's important to remember that President Obama has built a massive election machine that stands apart from the Democratic Party as it exists today. That's not getting dismantled or absorbed into the Democratic machine. Instead, it is taking the next step to build Obama's legacy. Reports that the Obama camp would not share email lists with the Clinton campaign confirmed this.
"There's a lot of data -- voter data, massive email lists -- that Obama built and there are a lot of people who want to make sure that he spreads that wealth," a Clinton ally said. "They want to make sure he doesn't take it in a suitcase back to Chicago and move on. No one wants to see it disappear or have it used just to build a library."
Combine that with the growing influence of Super Pacs in controlling the messaging and policies of the Democratic Party and a growing dissatisfaction of the left and the Obama camp with the expected coronation of Hillary Clinton as the 2016 presidential candidate (which will lead to a splinter movement led by the likes of Massachusetts Sen. Elizabeth Warren and Vermont Sen. Bernie Sanders), and you get a decline of the DNC's relevance and power to win the hearts and minds of the middle class.
And there was an article in Politico last week that is not encouraging. It said that things are not good at all between DWS and White House staffers, to the point that she was going to accuse the president of being a misogynist and anti-Semitic if they made an effort to dump her as chair.
So this Democratic soul-searching comes down to a three way struggle between perpetuating an Orwellian Obama legacy, the lefties who seek to take the party further away from the middle class centrist position, and the Clintonites who claim their quest is to elect the first female president but pursue policies that favor significant oligarchic players on Wall Street, K Street, Hollywood and Silicon Valley.
And that does not leave the party to capture the core middle class vote needed to gain back control of Congress and to keep a Democrat in the Oval Office.
That's where Rep. Wasserman Schultz can save the day by evolving from being a shill for the Obama administration and the substandard leadership of Nancy Pelosi and congressional Democrats, into a visionary who can redefine the party's message and mission to capture the hearts and minds of American voters who are tired of ineffective governance in Washington.
That also means redefining the liberal message to reject the Obama internationalism that has led to a loss of American power and esteem abroad -- and to reject the dominance of Wall Street for a return to Main Street that allows the middle class, not those on the dole, to thrive and obtain the lost American dream.
That might be Mission Impossible for DWS, but it's something she must succeed in doing to repair the Democratic machine in time to keep the White House and to ensure her own political future and chances at a run for the Senate -- or even the governor's mansion in Tallahassee.
Published in Context Florida on February 26, 2015

Steven Kurlander blogs at Kurly's Kommentary (stevenkurlander.com) and writes for Context Florida and The Huffington Post and can be found on Twitter @Kurlykomments. He lives in Monticello, N.Y. Column courtesy of Context Florida.
REAL LIFE. REAL NEWS. REAL VOICES.
Help us tell more of the stories that matter from voices that too often remain unheard.