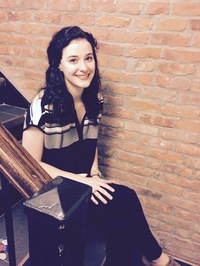 ...to make an end is to make a beginning...
T. S. Eliot
Building Explodes in NYC's East Village.
This was the headline online for The New York Post on Thursday, March 26, 2015 at 3:34 p.m. Twenty-four minutes after a gas explosion caused four buildings to be engulfed in flames.
At 3:00 p.m., McKenzie Roese was in a meeting at work, concentrating intently. She had recently begun a new job and was determined to work hard. At 4:00 p.m., McKenzie finished her meeting, walked back to her desk and picked up her phone. She discovered 30 text messages and 10 missed calls.
This was the first indication Roese had that something was terribly wrong.
Her friend, Laura had texted. "There was an explosion outside on Second Avenue above Pommes Frites."
"As soon as I saw Pommes Frites, I knew something. Everyone associated my apartment with Pommes Frites," Roese said. "And so I remember I started shaking. I went to my computer and typed in Second and East 7th Street because I still didn't actually believe it. I didn't understand. I needed to understand something visually. "
As she searched the Internet, Roese still had trouble believing it was her apartment building that had exploded.
"I saw a news article and saw these three buildings on fire. I still didn't think it was mine at the time. I thought it could be across the street," Roese said. "But when I saw the Pommes Frites sign in the picture, I realized it was definitely mine. I was frozen."
Roese was frozen. She didn't know what to do. Everything she owned was on fire. What was next? Should she go to the site of the apartment? What was she supposed to do? A co-worker had been through a fire the year before and led her to the conference room to help her keep her wits about her. She texted her roommates who had been worried because they had not heard from her for 45 minutes while she was in her meeting. She called her parents to let them know she was okay. And then she went to the site, stood as close as she could get to the police line and watched. And cried.
Throughout this ordeal, Roese's ability to use positive self-talk is likely one of the coping methods she used to get her through... her inner critic went on standby.
Roese did not know that her entire apartment was destroyed until the next day. Up to the point where she went back to the East Village on Friday, she believed that she would be able to walk through the skeleton of the building to see what she could salvage. When she went back, she witnessed the collapsed building in total ruin. She had lost everything.
Imagine losing everything you own from your toothbrush to your clothes to your memories from childhood. Imagine not knowing where your will sleep or what you will wear to work. Imagine having to find a new place to live and having nothing to put in it.
McKenzie Roese grew up in a family that most would find enviable. Her parents are still married, she had a younger brother. She traveled the world and lived in the Netherlands and Belgium because of her father's job. Her family was very close living abroad and having to rely on each other rather than extended family. She spent high school in St. Paul, Minnesota playing basketball and then went on to Davidson College and the University of Virginia for graduate school.
As a young child, McKenzie dreamed of becoming an animal masseuse so that she could snuggle up with animals any time she wanted. As she grew up, she wanted to be an interior designer and then a psychologist. She discovered her current career as an Optimization and Innovation Analyst when she had a marketing internship and realized the fusion of the quantitative and analytical work along with the creative and innovative mindset were right up her alley.
At the time of the explosion, Roese had been in New York only 10 months. In that time, she had grown close to people she worked with as well as her roommates. She had been able to develop relationships and a social circle.
With the realization that she had nothing left, McKenzie had to face her new reality.
"That was a low point," she said. "It was bad. I went back the next day to look. I wanted to check on it. It was very magnetic for me to go back and just check on it. It was weird."
Yet not once did she compare herself to those more fortunate...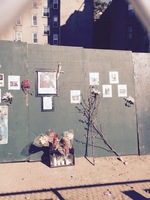 While Roese was faced with having to find places to stay, whether it was a couch or a spare room and having to get the basic things she needed day to day, she said the sentimental things she lost came to mind first.
"It's the things that matter to you that come to mind first," she said. "You might not know what they are until after something like this."
Roese was most distressed at the thought of losing memories.
"I remember thinking I lost all of my postcards from places I had traveled. I lost all of the journals I had written in since age 8," she said. "It was about losing all of those memories because I always tried to keep track of things whether it was through journaling, words or trinkets. They helped harness my memories and were things that brought out the memories that I cherished."
She also grieved the loss of art work from her mother and a diamond necklace her parents gave her not because of the value of the objects, but because of what they meant when they were given. They were indications from her parents of her maturity, independence and path to adulthood. They were symbols of who she was becoming.
But in the midst of rebuilding her physical life, Roese recognizes what is truly important to her. Her positive internal dialog took over and she was able to cope by holding on to the intangible qualities that can never be stolen.
"There are a lot of things that a fire can't take from you. First and foremost, all of my friendships and relationships. For weeks I was homeless, so to speak. But I was surrounded by people who loved me and that I loved," she said. "No fire can take that away. Where would we be without our friends and family?"
Remarkably, Roese is not angry with the person that caused the explosion. According to The New York Post, police are investigating the possible illegal tapping of a gas line in the building.
"Two people died because of a decision that was made. They were allegedly cutting corners," she said. "I don't know what was going through the decision maker's head at the time, and I don't know the context or the environment in which the decision was made."
Yet Roese intuitively knows that someone will experience consequences for their actions and she does not feel angry... another example of her resilience. After meeting her, we see her as a grounded, non-materialistic young woman who migrated to New York City in hopes of a dream -- a dream she will not be forced to give up.
"It's not right, and I don't understand it, but I am not going to get angry about it," she said.
Roese's grounded perspective helps her to recognize that she will be okay and that others lost more.
"I feel bad for the tenants in the building right next to mine. Some had lived there for 45 years and will probably not be able to afford to live in that area again," she said.
The silver lining in Roese's story was an unexpected call. Her roommate called her several weeks after the explosion to tell her the police had recovered his Washington University student ID. The police asked him if he knew any women in the building. Roese went down to the station to see what they had found. It turned out to be her charred jewelry box. She opened one of the small compartments to find the locket her grandmother had given her as a child.
"That was wild. It was intact, but a little charred on the end," she said. "It was the only thing that made it. It's very special."
From this experience, Roese has learned some valuable lessons.
"Emotionally, it was hard. But it's so important to allow yourself to be sad about things. I didn't do that at first. I was trying to bounce back. But when I stopped and allowed myself to be sad and to cry and to breathe, only then do you move forward. It is taking those baby steps every single day," she said. "And if anything has changed for me, it is that I would accelerate things now. You never know what is going to happen. Those two people who passed away, one was on a date and the other was at his job. You just never know, so if there is anything you want to do, you should get it done."
McKenzie said that during the worst time, in the beginning, she did consider leaving New York. But due to her unbending and meaningful connections with her family and friends, as well as her ability to glean pleasure from what some may deem as mundane moments, she is coming through this experience stronger and more determined.
"Ultimately, if I am going to leave New York, I am going to do it of my own accord. I am going to stay because I like my job, I have good friends, and I control this decision. It's not always easy. Some days it really sucks. But those days you have to allow yourself to be sad, and then you are much closer to embracing and being happy."
Roese recently moved into a new apartment not far from her former residence and lives with two of the three roommates from the East Village. They have beds, a TV and a toolbox. If they want to sit, they have to sit on the floor. They do not even have drinking glasses.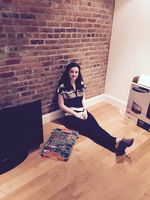 She has a GoFundMe account set up for her by a good friend to help replace her clothes, furniture and necessities. According to GoFundMe's Media Director, Kelsea Little, the Accidents and Emergencies category has raised over $48 million dollars across more than 205,000 campaigns.
"We are very happy to be able to provide people a platform that allows those in need to raise money for the things that matter to them most," Little said.
Photo Credits: Andrea Norlander

REAL LIFE. REAL NEWS. REAL VOICES.
Help us tell more of the stories that matter from voices that too often remain unheard.