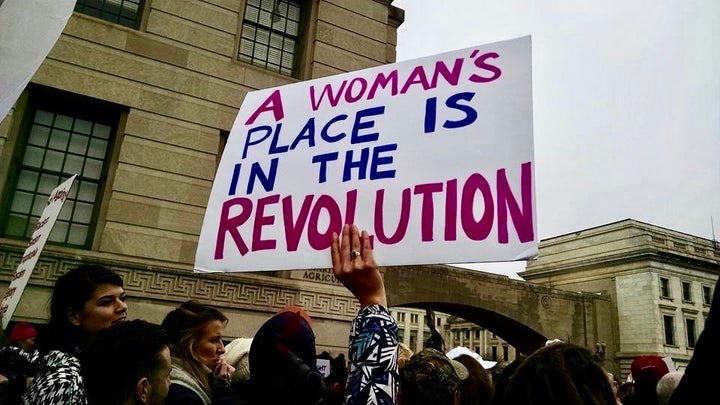 January 21, 2017. This date will be remembered in history as the day the people spoke.
On this day millions of us rose up throughout the United States. People in red states, blue states, purple states, along with concerned citizens in 20 other countries. Even tiny Antartica had a march! And as we marched, we raised our voices in a rousing declaration of resistance against the policies of oppression, retrogression, and destruction put forth by this current regime.
It was our "buck stops here" moment, and it was magic.
Over 500,000 of us in Washington, D.C. alone marched peacefully in crowds that spilled out through city streets. People from every corner of the nation marched together: young, old, black, white, brown, Asian, gay, straight, women, men, grandparents, and more ― some in wheelchairs, some holding babies, all raising signs and voices in solidarity. Our message: We will not accept the decree of anyone who threatens the very fabric of our democracy. We will resist, we do resist, and we will continue to resist for as long as it takes.
We've risen in a wave of unparalleled number and determination. A wave that will gain even greater mass and force from this day on.
We will never again retreat into the insularity of our singular lives. We are now joined in one collective voice that says "No" to those who seek to strip us of healthcare, defile our environment, dismantle our public schools, degrade our national parks, deprive our gay brothers and sisters their constitutional rights, legislate women's bodies, undermine the free press, wage war on immigrants, and threaten a nuclear arms race. All this while fattening the pockets of those who already have far too much.
And to the man who now sits in his gilded space spinning lies and issuing blustering decrees, we hereby put you on notice: We are angry, we are many, and we will not remain silent.
This is just the beginning. We are watching very closely now, and we will use our voices to safeguard our precious democracy every single day. You can depend on this promise.
This is the new normal. Get used to it.
Calling all HuffPost superfans!
Sign up for membership to become a founding member and help shape HuffPost's next chapter