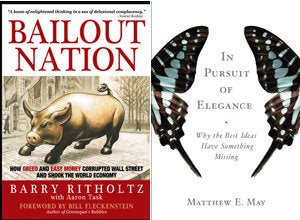 As the headlines continue to chronicle new lows in business behavior, we have no choice but to rethink corporate responsibility. It's more critical than ever that we discover new ways to get past the greenwashing and lip service and truly put corporate values on par with profits. The costs of not doing better at doing good are simply too high.
The new book I have written with my co-author Bill Breen, The Responsibility Revolution: How the Next Generation of Businesses Will Win (Jossey Bass; March 15, 2010. $27.95), argues that for too long, our definition of what constitutes "responsible" corporate behavior has been dangerously timid. To confront the daunting challenges facing society and the economy, companies must do more than monitor factories, donate to charities, and trumpet efforts to be a little less bad. The Responsibility Revolution is a road map for re-imaging companies from within: innovating new ways of working; instilling a new logic of competing; redefining the very purpose and possibility of business.
The book provides a blueprint for CSR 2.0 that details how revolutionary companies -- ranging from industry heavyweights like IBM, Nike and British merchandising giant Marks & Spencer to emerging dynamos like Linden Lab and Etsy -- are winning customers and driving profits.
The many actionable strategies in the book will help businesses large and small win the race to the future. A recent study by A.T. Kearney found that during the recession, companies authentically committed to sustainability outperformed their industry peers by an average of 15%, adding an average of $650 million to their market capitalization. As the economy improves, doing good will be the key to doing well.
Why? Because responsible companies outdo their competitors at addressing the transformational forces that are changing the way business is done today. With Internet-savvy customers scrutinizing companies' activities and organizing boycotts at the slightest sign of misbehavior, "bad" businesses have nowhere to hide.
For more information about The Responsibility Revolution, visit www.jeffreyhollender.com.
REAL LIFE. REAL NEWS. REAL VOICES.
Help us tell more of the stories that matter from voices that too often remain unheard.