People who have worked on editing books and journals know the incredible amount of work that goes into bringing a book or an issue of a journal into the world. Sinister Wisdom continues to rely on volunteer editors to envision and curate phenomenal issues of the journal. The current issue Sinister Wisdom 104: Lesbianima Rising is part of a much larger project, the Southern Lesbian Feminist Activist Herstory Project (SLFAHP), which a group of womyn from Womonwrites have been working at for the past seven years. This issue is the third in a series of issues that emerges from their work. In this interview, I talk with the three co-editors of Sinister Wisdom 104: Lesbianima Rising (Rose Norman, Beth York, and Merril Mushroom) about the issue—and about the broader Herstory Project and their work to document lesbian feminist lives in the South.
Julie R. Enszer (JRE): Sinister Wisdom 104: Lesbianima Rising examines the role of art and culture in lesbian-feminist activism in the South. Can you talk about how that theme emerged from your larger project of documenting oral herstories of lesbian feminist activism in the south?
Rose: When we first started working with SW to publish some of our herstories, we divided what we had into three groups, for three special issues: political activism, which became Sinister Wisdom 93: Southern Lesbian Feminist Herstory 1968-1994, women's land groups, which became Sinister Wisdom 98: Landykes of the South, and cultural, which is now Sinister Wisdom 104: Lesbianima Rising. Culture was our broadest category, and at first the smallest of what we had gathered. By 2015, when we started putting the cultural issue together, we found it has grown to three times the size of even a big special issue, so we were back to dividing the stories thematically again. It turned out that stories about the arts came together best from what we had collected, and that's what became Sinister Wisdom 104: Lesbianima Rising.
Beth: Womonwrites provides participants the opportunity to create and lead their own workshops. My recollection is that I attended an early workshop on Southern Lesbian Herstory. As a musician and writer, I had begun to write my own memoir of coming out in Atlanta as a musician, lesbian and feminist in the 1970s. I realized that the heart of my feminist values developed while taking part in the cultural activities that we were creating in community. The Herstory Project provided a venue for me to reexamine my artistic experiences in more depth and to value those grassroots organizations that provided me a stage on which to perform.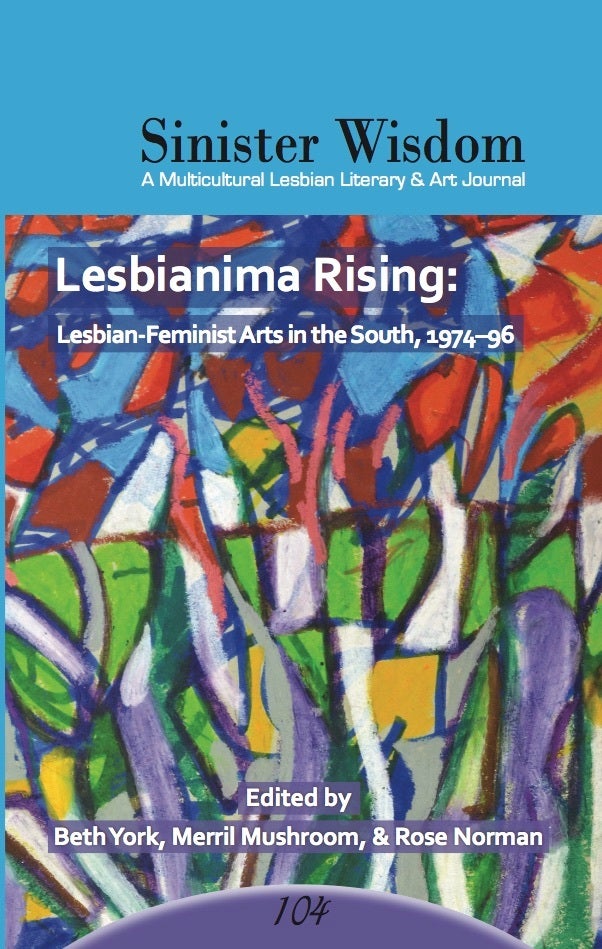 JRE: Tell me a bit about the Southern Lesbian Feminist Activist Herstory Project. How did each of you come to be a part of it? What does it mean to you?
Rose: I retired from college teaching the year after the Herstory project began to take shape at Womonwrites. Women's life stories have always interested me, and I was looking for a project that would keep me busy in retirement. I was toying with several ideas, but this is the one that took off for me, especially since 2012, when I began traveling to interview lesbians about their feminist activism.
Beth: I moved back South with my partner to my hometown of Spartanburg to accept a teaching position at Converse College. Rediscovering Womanwrites and the Herstory Project gave me the opportunity to revisit my past in Atlanta and the creative lesbians who had influenced my life work. The writing was an homage to my past, a coming full circle to reconcile my Southern feminist roots and influences.
Merril: I immersed in lesbian feminist activism when I moved to Tennessee from South Florida via New York City in the early 1970s. As the decades passed, I became concerned about the void in our herstory around lesbian-feminist activism in the South. I wished that someone would research and write up our stories to fill this gap and also to counter the geocentrism and negative attitudes of dykes from the Northeast and West Coast toward us in the South. I wished for a book that I could read and share with others. I organized a couple of workshops at womonwrites hoping to motivate someone to do this, but even though we had some great discussions and constructed a timeline of dates, events, places, and organizations, no one climbed up to drive the buggy. Then Rose retired from teaching college and brought her skills and interest to the Project and the rest, as they say, is herstory.
What the Southern Lesbian Feminist Activist Herstory Project means to me is that otherwise forgotten lesbians' names and the work they did now will be preserved, and information about Southern lesbian-feminist activism during the latter part of the 20th century will be available through the archives. Plus it always is wonderful to work with these awesome womonwriters.
JRE: How did you all organize your work as the Southern Lesbian Feminist Activist Herstory Project? Or as an editorial collective for this issue? What principles of collectivity operate for you all as a group?
Rose: I'm not touching that one!
Merril: The Project has evolved out of itself with Rose doing most of the organizing. Meetings at womonwrites are open to anyone who is interested, and women participate and contribute as they please. We tried several ways to get material through calls for submissions, questionnaires, flyers, ads but found the most success with doing direct personal interviews. As the volume of material coming in began to explode, Rose and Beth went to Duke and arranged to have the Project archived in the Sallie Bingham collection, Barbara Ester suggested we approach Sinister Wisdom about possibly publishing some of the material, and since then Julie has been our angel extraordinaire.
We work on the Project much the same as we all have done womonwrites for the past 38 years: women become involved if, how, and to what extent they choose. Ideas are shared, work gets done, and Rose pulls it all together. We meet in person three times a year and communicate by phone and email otherwise.
Beth: Since I had already begun to write about my memories of the Atlanta women's music scene in the '70s and '80s, I approached Rose to see if she would come with me to Duke University to explore the archives on women's music and culture housed in their rare book collections. Rose wrote and we received a small grant to conduct our initial research. Womonwrites meets twice a year and at each conference more women joined in the Herstory sessions. We created a timeline of cultural and political activism in as many southern states as we could. Women agreed to take on interviews and writing assignments according to their interest and experiences.
JRE: Can you discuss one of the challenges you encountered working together? What was the challenge? How did or did you not resolve it?
Beth: Over the years, we realized that we were collecting an enormous amount of material. Where, how would we publish? What themes, topics arose from our writings and how would they be categorized? Barbara Ester mentioned Sinister Wisdom as a possible venue for our first edition devoted to Southern lesbian political activism. Julie Enszer's enthusiasm and support of the Project encouraged us to continue.
Rose: The 20+ collaborators on this Project live in seven different Southern states and know each other mainly through Womonwrites, a gathering near Atlanta in May and October. The challenge I work on all the time is coordinating tasks and keeping up with the status so that we can make the most of those face-to-face meetings. I do this with spreadsheets, meeting notes, and a Google group. Email is our lifeline. Occasionally, the co-editors of a particular issue will have a long conference call. That's how Sinister Wisdom 104: Lesbianima Rising took shape.
Merril: Finding stories from women of color has been a challenge which we continue to work at, but maybe our biggest challenge at this point is getting interviews transcribed. We have no operating budget or mechanism for fund raising, although some women have donated time or money. We've not had any working together type challenges.
JRE: What are you most proud of in this issue?
Beth: I am proud of the enormous dedication of the contributors. Reading each volume is like exploring a giant archeological dig. . .a treasure trove of undiscovered gems and artifacts that shaped a Southern lesbian feminist ethic and culture. I am proud to have been a part of it.
Rose: I love the music section. I'm also proud that we managed to bring in stories from more Southern states than in any previous issue, including (FINALLY) my home state of Alabama.
Merril: I am most proud (and profoundly grateful) that Julie made it possible for us to go SO far over our word limit for Sinister Wisdom.
JRE: Can people join you in the work you are doing? How can they get involved?
Rose: We are very happy to add collaborators, especially people who want to transcribe interviews for the Duke archives!
Beth: I am fascinated by the meaning projected into cultural, and particularly musical, events associated with social identity and social change. I would love to collect more personal anecdotes and stories of how our music, songs, dance and art were life changing for lesbians coming out in the '70s, '80s and '90s.
Merril: People can get involved by bringing us their stories and getting others to do the same. If you identify as a Southern Lesbian-Feminist, we want to know what you did between 1968 and 1998. We'd love more stories from underrepresented southern lesbians, women of color and lesbians who may not use the word feminist but still do activism and organizing in unnoticed, unrecognized ways. People also would be welcome to help transcribe interviews.
JRE: Tell me about your relationship to feminism and lesbian-feminism. Is your relationship to feminism and lesbian-feminism informed by living in the south? How?
Beth: As a young woman, I embraced lesbian feminism in Atlanta and the community there shaped and held my values. Learning to question racism, the authority of the good old boys, to dare to create new music, to find my strength, my voice, and serve as a role model for the young women I teach, to share the journeys of my women clients. . .this has been my life work. On January 21, 2017, thousands of us who marched affirmed that a feminist stance is needed now more than ever.
Rose: I came to lesbian feminism through studying and teaching Women's Studies at a university. The most activist thing I have ever done is collect these stories of lesbian feminist activism.
Merril: This would be the story of the past forty years of my life as a Jewish bar dyke from South Florida who moves to New York City for the decade of the 1960s and then settles in very rural middle Tennessee and would be much too long for this format.
JRE: What advice would you give to future guest editors?
Beth: Commitment, perseverance, purpose, patience. Enjoy the creative process!
Rose: Meet your deadlines.
Merril: I ditto what Rose said. Meet your deadlines. Keep up good communication. And know that you are in good hands with Julie.
Beth York, PhD, MT-BC, is a board-certified music therapist and Professor of Music Therapy at Converse College, a women's college in Spartanburg, SC. Her feminist-informed practice has included work with women survivors of domestic violence, documented in the performance piece "Finding Voice" (Feminist Perspectives in Music Therapy, ed. Sue Hadley, Gilsum, NH: Barcelona, 2006). Ladyslipper Music produced her recording Transformations, and she performed the instrumental work nationally at Southern, Michigan, New England, and National Women's Music Festivals.
Merril Mushroom grew up in Miami Beach, FL, and came out there in the 1950s. She has been an activist and community organizer since the 1960s when she lived in NewYork City. In 1973, she moved to rural Middle Tennessee where she continues to misbehave. Her old-timey bar dyke stories can be found in out-of-print lesbian publications of the 1980s and 1990s.
Rose Norman is a retired professor of English and women's studies who grew up in rural Alabama and now lives in Huntsville, Alabama. Her lifelong interest in stories of women's lives led to scholarly research on American women's autobiography. As general editor of the Southern Lesbian-Feminist Activist Herstory Project, she has interviewed eighty-seven lesbians, and is eager to interview more.
Support HuffPost
The Stakes Have Never Been Higher
Related
Popular in the Community