Get Ready to Swoon Over These Seven Black Couples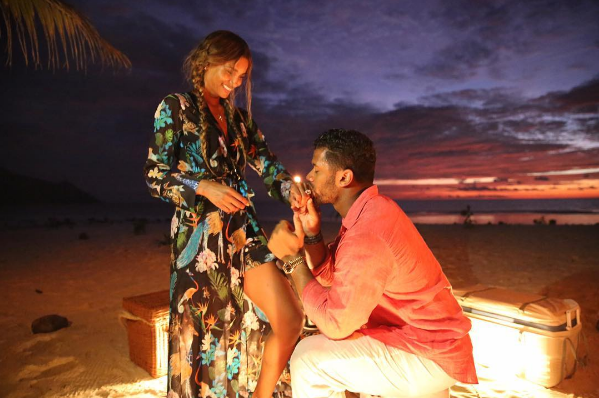 We all can agree one of the best things in 2016 was the left-to-right and right-to-left shoulder swooning action at the resurgence of black love. Not all of it was received in a positive light either, but this year's real life and on-screen couples have triggered scary good unfiltered conversations from both men and women about relationships. Below are a handful of 2016's priceless moments. We are in awe of their love.
1. Ciara and Russell Wilson
In the case of Ciara and Russell Wilson, their engagement video raised eyebrows about black love and having a second chance. The viral hateration that followed their Instagram post caused both men and women to censor what black love should look like.
On one hand, it was hilarious to see the negative backlash from grown men projecting their own insecurities on Ciara's relationship and cat-calling their celebrated celibacy lifestyle. Men were so mad at Ciara for finding a decent man and threw shots against Russell for his fairytale courtship. On the other hand, women were cheering for joy as Ciara moved on from baby daddy drama to being happy. In the end, it made all of us want to get engaged just because we believed in the whole process again.
2. Beyoncé and Jay-Z
Sip. Sip. In Beyoncé fashion, the release of her visual track, Lemonade, shut down and shocked the globe beyond insanity. For the first time, she surprised me in an enjoyable and relatable way. She spoke of failed relationships and the shade that came with her own parent's marriage.
However, this couple's relationship came under scrutiny. We were now privy to the infamous elevator incident which was not only a sneak peek to their relationship, but put Jay Z under watchful eye of the Beyhive and Beyoncé fans. In fact, it served as a catalyst for all of us on social media to put our trolling detective hats on to find out: who is Becky with the good hair? More importantly, it highlighted the realities and rites of passage passed down from generations of women.
Infidelity is inevitable. When a woman's prized innocence in a marriage or relationship is gone, stolen, or taken, it makes you jealous or crazy. Which one? It's nothing really to swoon over either. When it comes to black love and heartbreak, Beyoncé's spoken word from her album titled, Lemonade was meant to empower women.
True love breathes salvation back into me. With every tear came redemption. - All Night, Beyoncé
Perhaps, even her own black love.
3. The Deku Wedding
This put a big blip on our emotional screen. If we're talking about black wedding puddle moments, this groom was a clear winner. Our eyes couldn't stop leaking. We all want to know what this kind of black love truly feels like. Clearly, Gabriel Deku's tears of joy were meant not just for him. We all lost it watching his emotional outburst of tears overflow as his bride walked down the aisle. He had given up on love and never thought he would ever find the right woman. This is a reminder that it is possible. As emotional as he was, we got weak in the knees when we saw this grown man cry.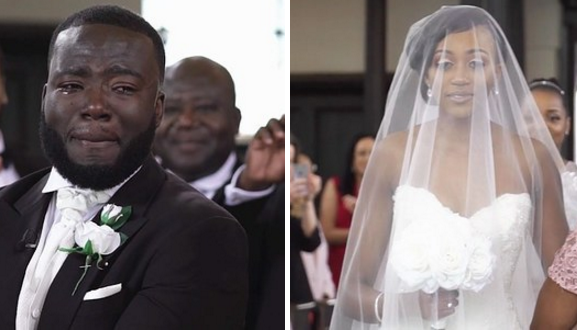 4. The #ForeverDuncan Wedding
This was another tear jerker in 2016. We all cried like we knew them both. The Duncans' surprise wedding caught us totally off guard. Not only did Alfred Duncan propose, but he surprised his fiancé with a planned wedding six hours after his proposal. His fiancé didn't want to plan a wedding and just wanted to go to the justice of the peace. Her man took care of her dream and made it come true. For women, this move by Alfred put the deserving awwwe sookie sookie now back in black love.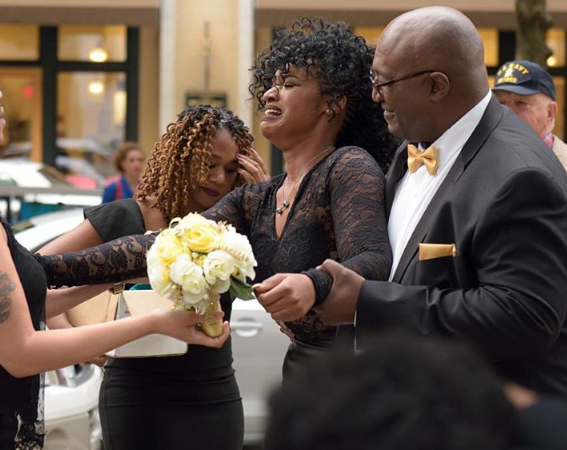 5. Cookie and Lucious Lyons
As dysfunctionally edgy as they are, we love us some Cookie and Lucious Lyon's black love on Fox's EMPIRE. What is there not to love about this TV drama couple? The dynamics between our favorite family gives us more shade than palm trees on a tropical Caribbean island. This hip-hop pimp daddy and his round-a-way girl from back in the day have been through it.
We get our fill every week by how they poke fun and put the YAAS back in #relationshipgoals. Quit playing with our feelings; we all are rooting for a Cookie and Lucious reunion. It gives us another crazy angle on black love that's gangster—the hot mess version we can't get enough of every week.
6. Issa and Lawrence
HBO's Insecure has proven Sunday nights are not all about Real Housewives of Atlanta (RHOA) twirling. This show woke a millennial generation and pressed all the right buttons, forcing us to accept the state of black relationships. There are no lies here. This post game HBO show has both men and women clapping back at each other, taking sides, and arguing for and against Team Issa and Lawrence. This black love story line is totally real, raw, and relatable.
Let's be clear. It's easy for us to point the finger, but these real and raw life lessons point the finger right back at our guilty selves. Women are mad at Issa and her breadwinning-self for half-stepping, staying, and settling for a hobosexual man. Men are mad Issa cheated or would you rather say, she fucked up? Both sides agree the passive and poor communication made it worse. Two wrongs don't make a right either. No one is to blame or the villain here. This show proves we do care about black love and want it to work out.
7. The Obamas
Finally, nothing gives as many giddy feels as the Obamas. Without a shadow of a doubt, this couple deserves to be crowned as black love royalty. The Obamas are not just a man and a woman in the White House, but a visible, playful relationship.
The way they both support and look at each other speaks volumes about modern day black love, or love period. Not only do they represent the epitome of black excellence holding the highest positions in country, but you can't help but grin from ear to ear watching them. Don't forget the PDA. Drop the mic!
Sip sip hooray and cheers to black love.
My hand is raised. How about yours?
Nina is the founder and host of Keep it 100 Girl, an internationally known storytelling podcast which discusses how to empower women and men to have open conversations in their lives with no filters. When she's not on a beach, she resides in the Washington, DC area. Follow her on Instagram or Twitter @ninababel.