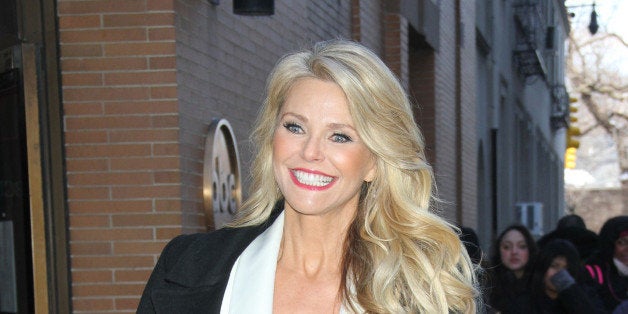 The term "supermodel" went full force in the early '90s, a legendarily serendipitous era for both the fashion and modeling industries. And now those pioneering women are enjoying a resurgence as refreshing as this year's spring fashion looks. It's impossible to scan the news or flip through a magazine these days without catching a glimpse of Cindy Crawford, Naomi Campbell, Elle Macpherson, Stephanie Seymour or Christie Brinkley. Yes, these original "supermodels" are back -- and better than ever.
Gorgeous at 61, Brinkley is probably the most ageless woman on the face of the earth (and thus deservedly just launched a skincare line with Kohl's called Christie Brinkley Authentic Skincare). She made recent headlines with her jaw-dropping ads for Barneys New York's "Better Than Ever" Spring 2015 campaign. In a series of photos, she stars along with Seymour, being adored by young, gorgeous male models. Bravo's Fashion Queens applauded Barneys for showcasing these women and quipped what I wish would become the "it" phrase of 2015: "It gets greater later."
Arguably the golden girl of this group, not much has changed for Crawford in that regard. She's gone from being one of the world's most iconic supermodels and famed Revlon spokeswoman to a multi-faceted entrepreneur. Crawford, who turns 50 next year, has a booming line of beauty and skincare named Meaningful Beauty that you've undoubtedly seen the infomercials for. In 2012, she became a partner and brand ambassador for Urban Remedy, a raw and whole foods meal delivery and juice cleanse program. And then there's a certain friendship with one George Clooney that keeps her and husband Rande Gerber (the men also own a tequila called Casamigas together) running in the most fabulous of circles. She looked so gorgeous at the legendary Sexiest Man Alive's wedding last year that she practically upstaged the bride!
Campbell, 44, landed herself on the hottest new show on television, Empire, a gritty-meets-glam look inside the lives of hip-hop music industry royalty. Some of the best scenes of the program's first season involve Campbell seducing music company scion Hakeem away from his pop star girlfriend. Campbell also still models and has released 16 fragrances.
Macpherson, too, has continued to showcase an array of talents, from her turn as executive producer of NBC's "Fashion Star" to her Elle Macpherson Intimates collection. The 51-year-old's latest project? The Super Elixir Alkalising Greens health powder and supplements that keep her looking young and glowing. (Would we expect anything less from someone whose nickname was simply "The Body"?) Considering how amazing she looks, we'll take two.
Work it, ladies. More than 20 years after taking over the world of modeling, these glamour girls are proving their brains and business savvy go just as well with their beauty.
Visit NowItCounts.com, the new destination for Americans 50+ covering financial, health, beauty, style, travel, news, entertainment and sports.
Calling all HuffPost superfans!
Sign up for membership to become a founding member and help shape HuffPost's next chapter