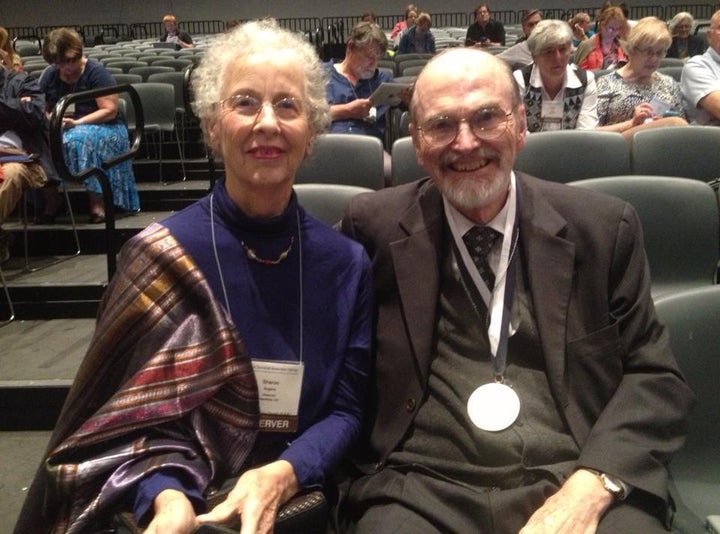 With vivid clarity, I remember the moment I first talked with Jack Rogers.
I had just moved to Pasadena, California. As a new resident in the neighborhood, I wandered over to Pasadena Presbyterian Church. Little did I know at the time. . . My wandering was the first moment of a deep and meaningful chapter. I simply arrived there for worship that first Sunday. I did not yet know that I would eventually become the Associate Pastor of the congregation.
But before any of that would unfold, I was a new guest on a particular Sunday. After worship was over, I joined others on the patio for coffee and conversation. That's when I spotted Jack and Sharon Rogers. I recognized Jack right away because he had been a colloquium speaker at Austin Presbyterian Theological Seminary while I was a student.
"Wait, Jack Rogers attends this church?" I asked myself with excitement. I decided to walk over and introduce myself.
But as I approached them, I was immediately nervous. I had a lot of admiration for Jack Rogers. He was the Moderator of the 213th General Assembly of the PC(USA) and had written nearly 50 works. His book Jesus, the Bible, and Homosexuality: Explode the Myths, Heal the Church had been instrumental in framing sacred texts and ushering in greater empathy, acceptance, and inclusion of LGBTQ people in the life and leadership of the Church. For many people, this book was a spiritual game changer of minds, hearts, and relationships.
I walked closer to Jack and Sharon, and I wondered what I would say. My palms were a little bit sweaty. That's when I tried to get his attention. I said, "Hello. Mr. Rogers?"
More accurately, I could have asked, "Dr. Rogers?" or "Reverend Rogers?" Now that I've known him, I'm sure that "Jack?" would have been completely acceptable.
But no. Instead, I blurted out, "Hello. Mr. Rogers?" and immediately, I could only think of this guy. I stood there blushing.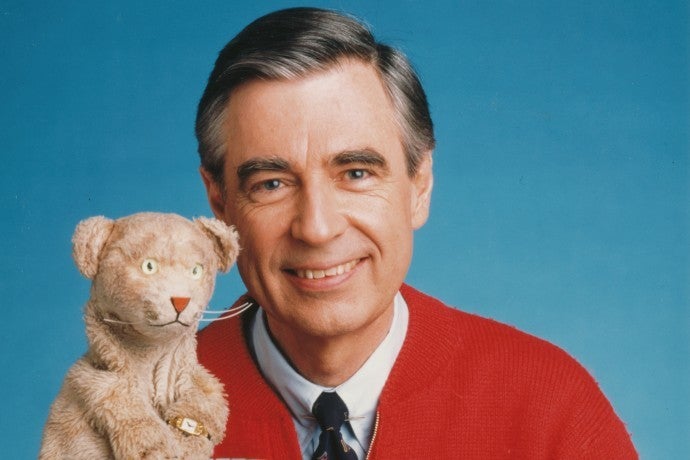 To Jack, I'm sure it wasn't so weird to hear his own last name in a question. But because I was suddenly thinking about Fred with puppets, my nervousness moved to embarrassment. Hopefully, I didn't show that on my face.
I pushed through my awkward blushing and introduced myself to Jack. That's when I had the chance to meet Sharon also, whose life and work I would come to admire greatly. For decades, Dr. Sharon Rogers has worked alongside people with disabilities and educated others to do the same. In particular, she has given confidence and empowerment to non-verbal children in public schools. This was a good, first conversation. I am grateful for our introduction on that summer day.
That simple, slightly embarrassing greeting after worship was just the beginning. Eventually with more time, I would become one of the pastors ofPasadena Presbyterian Church, and Jack and Sharon would become great mentors and friends.
Some people have particular gifts to minister to pastors, offering encouragement and friendship so easily. Jack and Sharon gave this gift to me in abundant ways. They regularly shared words of affirmation and kindness to me after I preached sermons. This always meant a lot to me. Frequently, they made connections between my words and ideas and I had yet to consider. Jack was such an astute theologian and thinker, and he expanded my mindset even as he encouraged me quite intentionally.
Jack Rogers died last week, and many grieve his loss. This Friday, people will gather for his funeral at Pasadena Presbyterian Church, and they will honor the great gift of his life. In this challenging time, we are prayerful for Sharon, their children and extended family, and the large, expansive church family that surrounds them.
After hearing the news of Jack's death, I thought about that first conversation on the church patio. I had not thought of it in a long time, but it seemed so appropriate.
When Fred Rogers died, numerous people emerged publicly to share the ways he encouraged and mentored them over large spans of time. He kept in touch with children as they grew into adulthood. He also met adults and wrote letters back and forth with them for decades. He took care to let all of them know how special they were. People came to believe in their worth and value because of his loving posture toward them.
Now that Jack Rogers has died, numerous people will also emerge publicly to share the ways he encouraged and mentored them over large spans of time. In many cases, these will be people who have been marginalized by churches. Jack had a personal conversion experience in the 1990s which moved him toward greater acceptance of the LGBTQ community. That change in thinking became a personal calling and mission. He advocated for the ordination of LGBTQ people and same-gender marriage. He stood fiercely beside people with loyalty — in some cases, for decades — upholding and encouraging their calling when church institutions vehemently denied it. Jack Rogers took care to let these people know how special they were. People came to believe in their worth and value because of his loving posture toward them.
Fred Rogers and Jack Rogers,
two Presbyterian ministers who loved expansively with advocacy and devotion.
May we follow their leading.
Blessings upon you, Jack.
May you always know your worth and value,
held forever in the presence of God's great love.
Renee Roederer is an ordained PC(USA) minister and the founding organizer of Michigan Nones and Dones, a community for people who are "spiritually curious and institutionally suspicious." This community in Southeast Michigan includes people who are religiously unaffiliated (the Nones), people who have left established forms of institutional churches (the Dones), and people who remain connected to particular faith traditions but seek new, emerging visions for their expression.
Related
Popular in the Community