Throughout the month of February and leading up to International Women's Day (8 March), and continuing throughout the year, activists RISE to end the violence against women and girls that 1 in 3 women face. That's ONE BILLION WOMEN AND GIRLS.
"We saw communities across the globe dancing their One Billion Rising Dance for Revolution - in creative defiance against violence, injustice, inequality, marginalization and oppression. And their bodies dancing together in communities - connected across the world in this global movement that is using art as a glorious, fierce and unshakable force of resistance - is a strong and powerful call to overhaul and change our current systems of violence and greed," stated Eve Ensler, One Billion Rising Founder & Monique Wilson, One Billion Rising Global Director
One Billion Rising: Rise for Revolution 2016 is an escalation of the first three stages of the campaign. This year, activists radicalized their actions - enlarging, deepening and expanding the Revolution. We continued to radically shift consciousness and by being braver, bolder, more creative and determined with our actions. Activists and organizers focused on the most marginalized women and girls in their communities, and applied the 2016 call to action "Listen! Act! Rise!" to their local context to bring about true, long lasting change.
Using dance as a form of protest - as a tactic of revolutionary self-love and artistic expression, the world was witness to events, rallies, flash mobs, artistic uprisings, panel discussions, and concerts taking place in locations where women felt safe or deserve to feel safe.
This is what it looked like: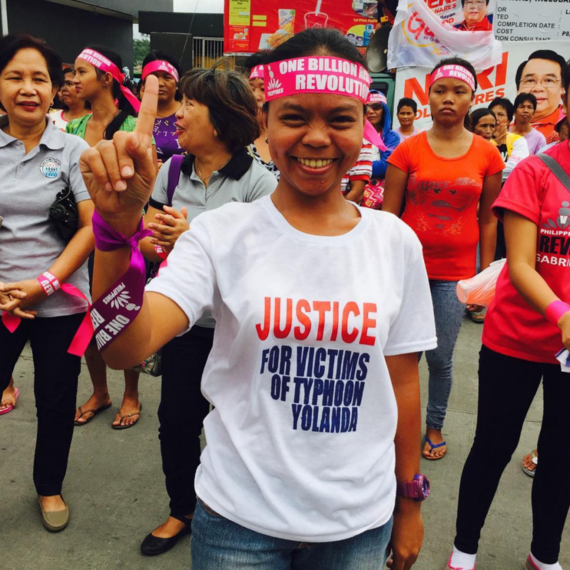 Tacloban was the site of the one of the biggest storm surges ever to hit the planet - Typhoon Haiyan, known locally as Typhoon Yolanda. Local and national Filipina activists gathered to Rise for Justice for the Victims of Typhoon Haiyan & for Climate Justice. The storm survivors from Tacloban RISE for Climate Justice & Mother Earth, and Rising for Justice from Government Neglect. (Photo Source: OBR Philippines)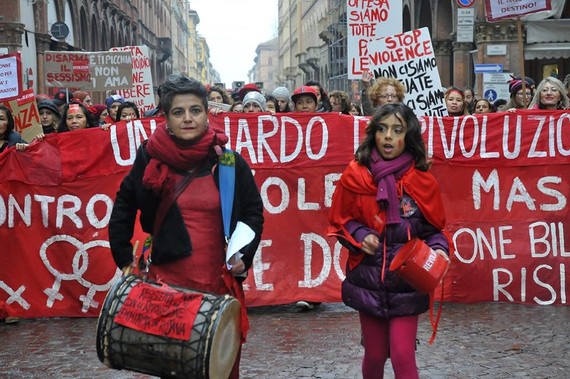 Hundreds of cities across Italy joined OBR 2016. In Bologna, activists dedicated their RISING to migrant women. (Photo Credit: Patrizia Pulga photographer)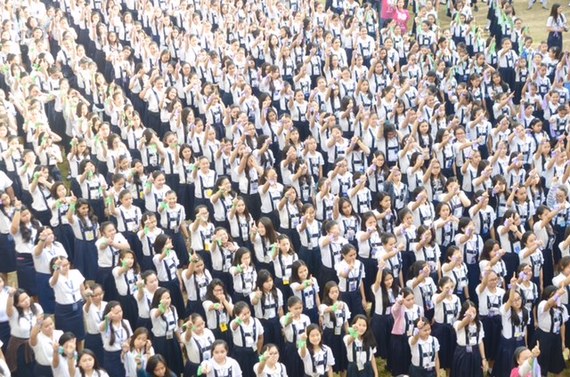 St Scholastica College, Philippines
Youth Rising! Over 4,500 students from St. Scholastica's College, together with nuns and teachers, Rising for the 4th year in a row, to have the youth voice heard in their demand to end violence against girls, and the right, not a privilege, for girls to have education. (Photo Credit: Joel Sol Cruz)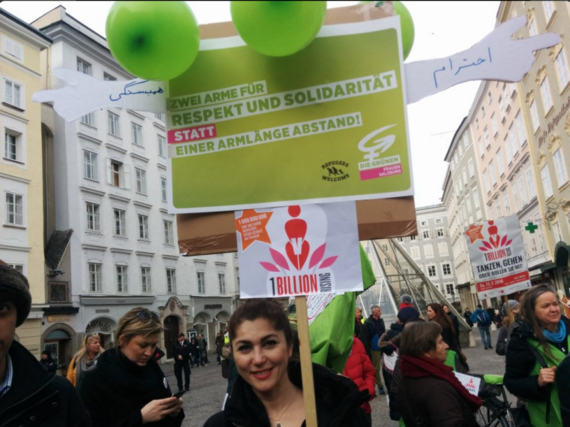 An activist in Salzburg attended the One Billion Rising: Rise for Revolution event and marched with sign welcoming refugees that said "two arms for respect and solidarity instead of an arm-length distance." This focus on welcoming refugees and RISING for women refugees was mirrored in multiple events across the country. German OBR artist Phoenic Nicole Bornkessel released this year's OBR Bremen anthem "Station of Welcome", welcome refers to incoming travelers, refugees, children and youth groups or marginalized groups. Read a blog about the new OBR song. (Photo Source: Twitter user @BarbaraSieberth)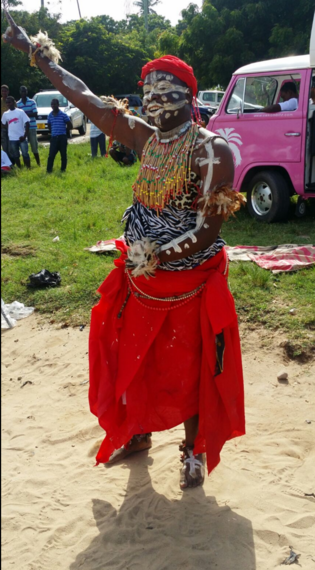 Sex workers joined the Rise for Revolution march to end violence against women in Tanzania (Photo Source: @DenisNzioka)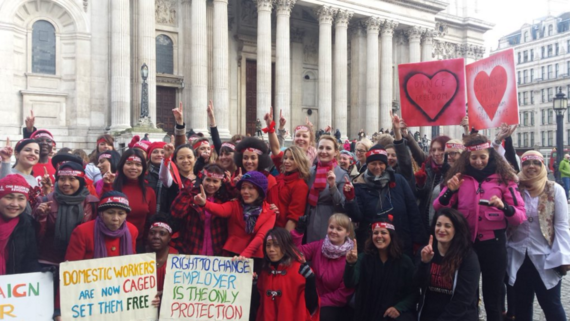 Activists gathered on St Paul's Cathedral to RISE and demanding justice for domestic workers. (Photo Source: Twitter user @MakeHerStory1)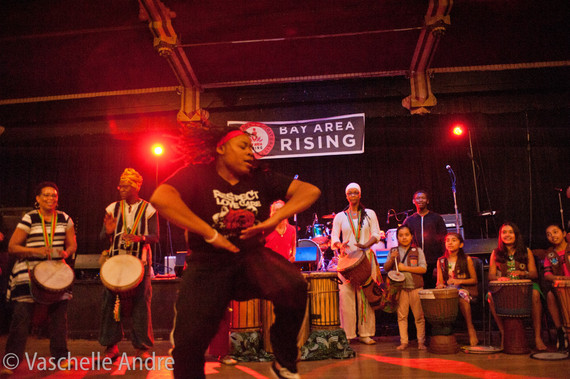 At the Artistic Uprising event hosted by Bay Area Rising organizers and community activists focused on the impact of structural violence in their local communities including violence against women and girls, the Black Lives Matter movement using art, healing, drumming and dance. (Photo Credit: Vaschelle Andre)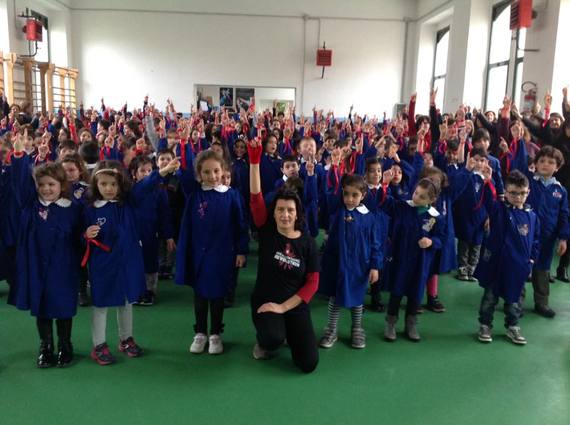 Youth RISING at the Istituto Comprensivo Statale in Martano. (Photo Source: Istituto Comprensivo Statale Martano Facebook page)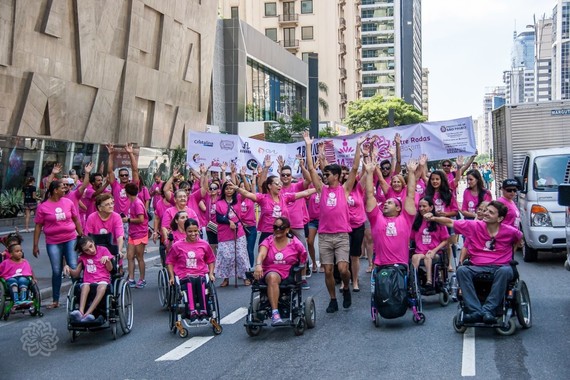 Activists and dancers of all abilities gathered at Faculdade Cásper Líbero University to rise for against violence against women and for disability rights. The event was organized by the NGO Between Wheels & Lipstick. (Photo Source: FB page Entre Rodas & Batom)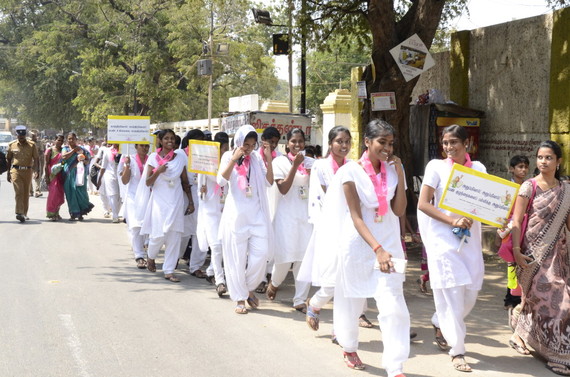 One Billion Rising activists organized with the tribal people of MGR Nagar, Killai for this year's events in Madurai, Tamil Nadu. Women, men, youth and children gathered in front of the river with slogans and took a rally around the streets of MGR Nagar, Thalapathi Nagar and Cecil Nagar demanding violence free homes and villages. Read the OBR blog on the event (Photo Source: One Billion Rising Blog)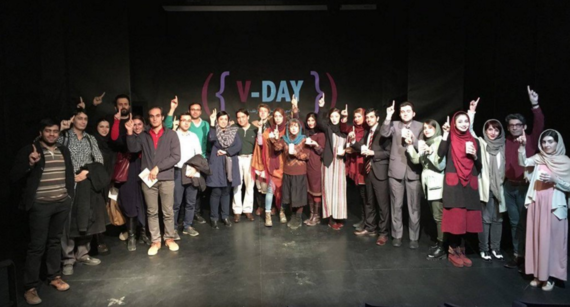 The cast and crew of this year's production of MMRP in Tehran are RISING for a world free form violence for women and girls. (Photo Source: Mehrdad Khameneh Facebook page)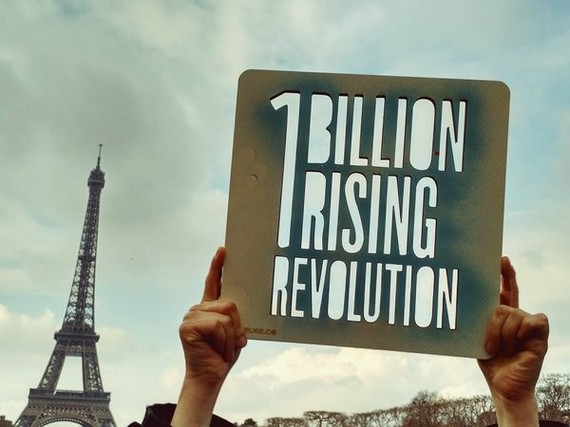 Activists took the call for Revolution to the streets of Paris, using graffiti stencils. (Photo Source: Twitter user @FurieuseCompany)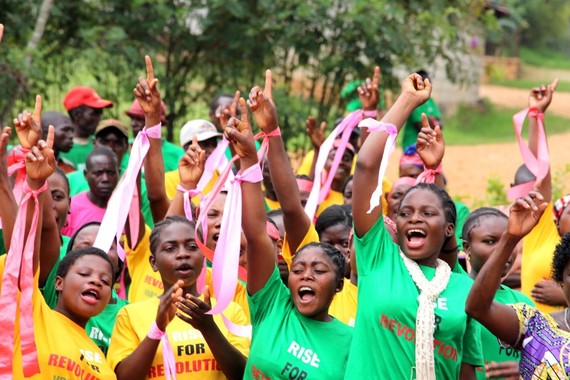 Bukavu, Democratic Republic of Congo
Women from the City of Joy, V-World Farm and local activists hosted "The Green Revolution", Rising to tell the DRC and the planet that it is high time for Congolese to bring change and improve their lands, benefit from their forests by keeping bees to produce honey, plowing their lands to become agricultural entrepreneurs, breeding animals for economic empowerment, planting trees to nourish and protect Mother Nature. (Photo Credit: Carlos Schuler)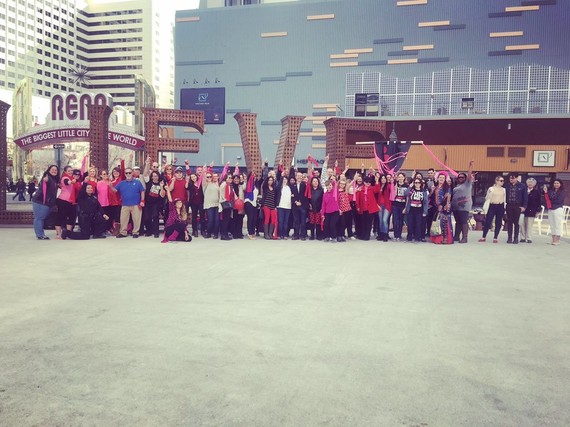 Activists hosted a dance rally to end sexual assault in Reno. (Photo Source: Twitter user @TasteCarsonCity)
In response to recent public attacks on women in Germany, One Billion Rising activists across the country rallied to RISE and to shine a spotlight on to sexual violence and also to decry racism and xenophobia. For more information on the One Billion Rising movement across Germany visit the OBR Germany website. (Photo Source: Twitter user @machmirdiewelt)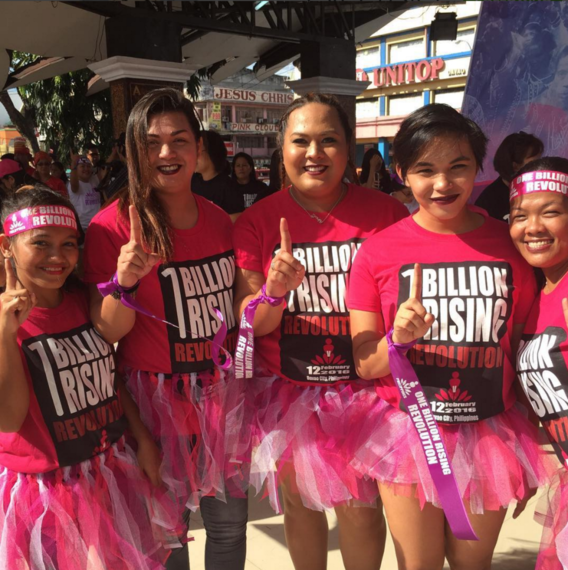 LGBTQ community in full force at the Davao Rising, joining a collective multi-sectoral event that also involved Indigenous communities, students, workers, peasants, teachers, migrants and their families, local government, church women, artists and women's groups. (Photo Source: OBR Philippines)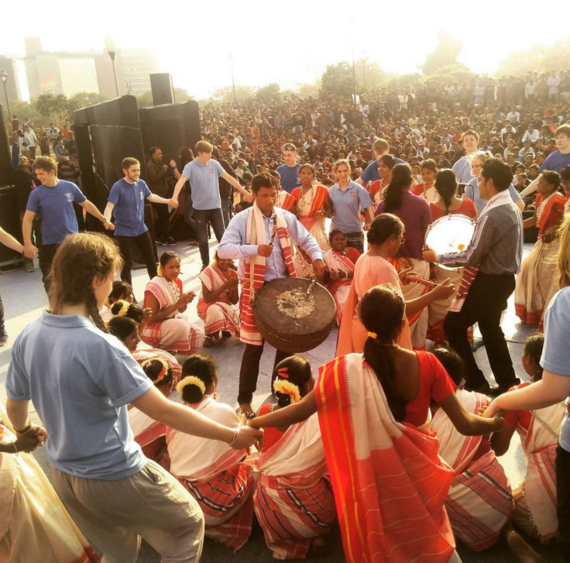 Youth Rising in Delhi! 23 groups (colleges, theatre groups, NGOs, dance & music groups) came together to celebrate One Billion rising with dancing, singing, acting and speaking out against Violence Against Women! (Photo Source: Instagram user @onebillionrisingindia)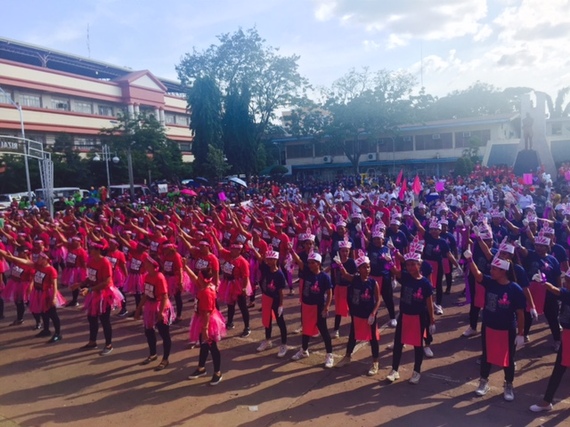 Multi sectoral groups in their own OBR costumes, dancing and rising against imperialism, militarization and economic plunder. (Photo Source: Ronalyn Duldulao)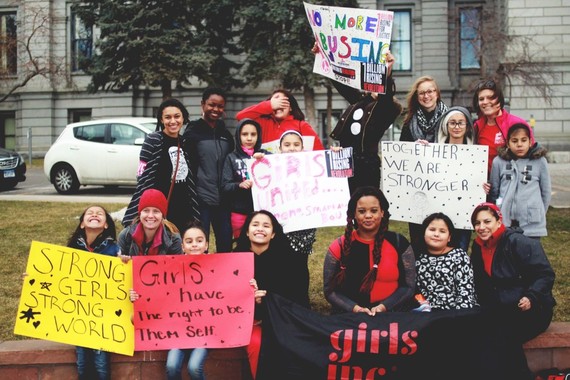 Activists, girls and young women marched through the streets Denver, to the steps of the state capitol to draw attention to the staggering statistic that 1 in 3 women will be raped or beaten in her lifetime. There they danced, survivors broke the silence by sharing their stories, and they called for action to end violence against women. (Photo Source: Girls Incorporated of Metro Denver Facebook page)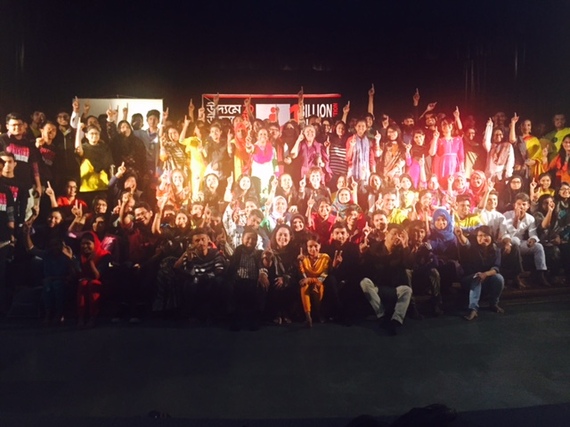 Local and Regional organizers in Dhaka hosted a Youth Rising event where activists and attendees discussed how and why an active and engaged youth is crucial to ending violence against women in Bangladesh, in South Asia and world wide. (Photo Source: Monique Wilson)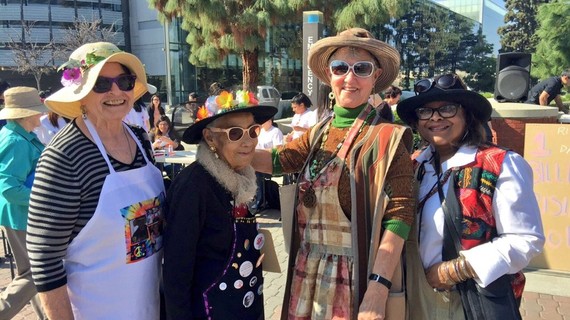 Members of the international group Raging Grannies, committed to promoting peace, justice, social and economic equality through song and humour, joined the Fresno State event where they danced to end violence against women. (Photo Source: Twitter user @Fresno_State)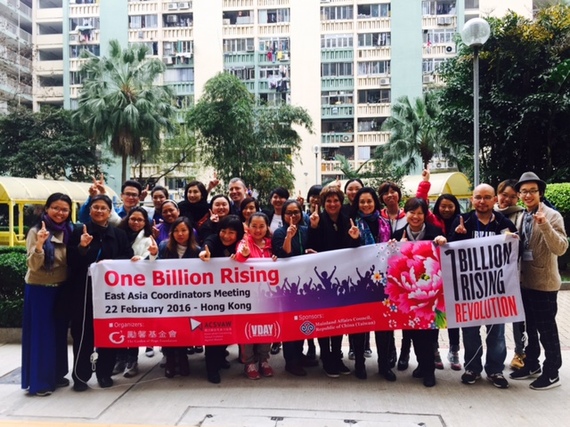 The day after the huge OBR Rise for Revolution Hong Kong event with thousands of domestic and migrant workers, OBR coordinators from Asia met once again, for a second year in a row, to discuss and strategize collective year long risings and creative revolutionary ways forward for the region. Over 35 OBR coordinators from Hong Kong, Taiwan, China, Mongolia, Philippines and Indonesia attended the summit, hosted by our OBR Taiwan coordinators - Garden of Hope. (Photo Credit: Ronalyn Duldulao)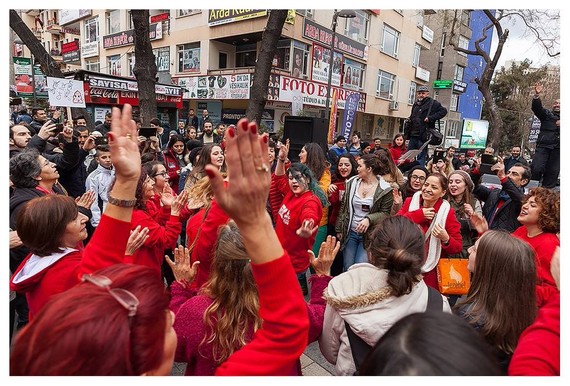 Activists took to the streets of Istanbul to Rise, Resist and Dance! (Photo Source: Twitter user @Ob6wrzN66)
In Atlanta, activists marched through the streets and performed a flashmob calling for justice for victims of sex trafficking. (Photo Source: Adele Taylor Ulrich Facebook page)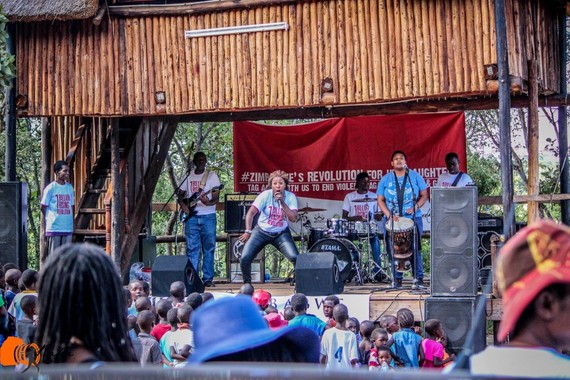 Local organizers hosted a Revolutionary event with singers, dancers, and young performers to ring in the revolution across Zimbabwe. Other local events included youth rising at schools in Harare. (Photo Source: One Billion Rising - Zimbabwe Facebook page)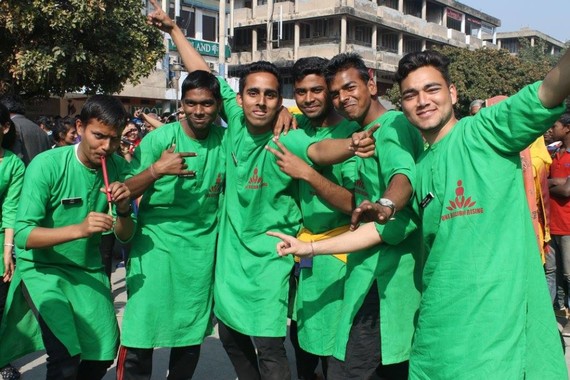 Young men joined the "Green Brigade Dance" at the Chandigarh Rising event coordinated by Sanjh Jagori Chandigarh and partnering with local colleges. Watch video of their "Green Brigade" dance. (Photo Source: Sanjh Jagori, Chandigarh Facebook page)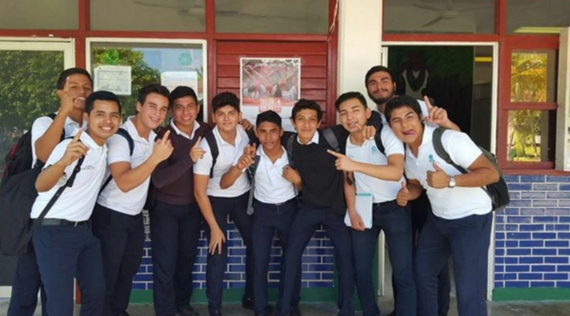 Youth in Mexico are RISING today for a better tomorrow! (Photo Source: Twitter user @Naiime)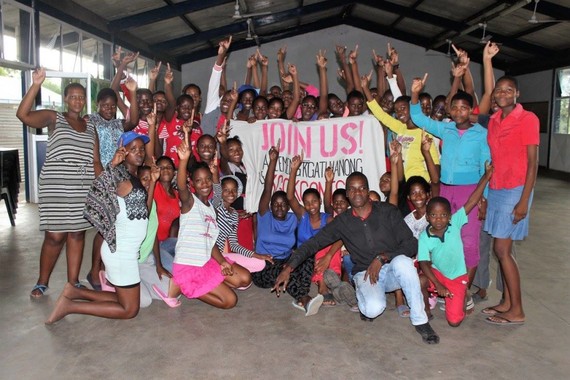 For the second year, activists in Botswana hosted a series of events and workshops that included a cross-section of society, including governmental offices and civil society, to raise awareness about consent and end gender-based violence. (Photo Source: Botswana One Billion Rising Facebook page)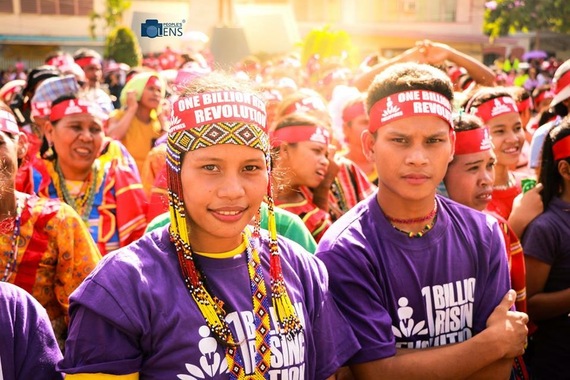 "We are dancing for Revolution because we want to express our concerns. We want to tell the people that our situation as Lumads is the same with the other indigenous people in the world especially the women. If the people feel the crisis in the urban areas, how much more in the rural and remote areas where our Lumad brothers and sisters are deprived with their basic needs which should be provided by the government. During military operations in our communities, many women experienced abuse and our rights were violated. We experienced countless of harassments done by the military and para-military. We were not treated as human beings. That is why we join the One Billion Rising for Revilution with our families at UCCP Haran Evacuation Center to demand the government to respect our rights, give us education and bring back peace in our communities" - Jinky Malibato, 15, a lumad bakwit from Sitio Muling, Barangay Gupitan, Kapalong in Davao del Norte. (Photo Credit: People's Lens)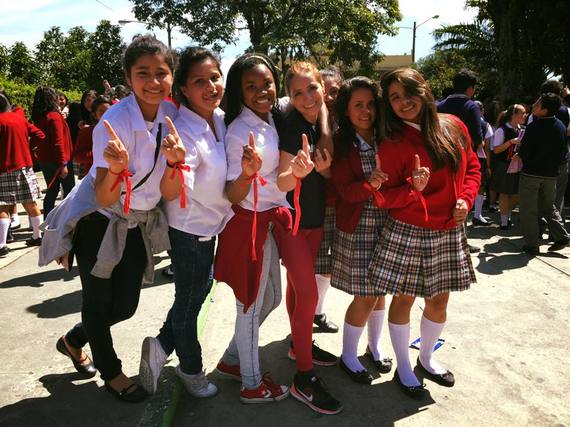 Guatemala City, Guatemala
Youth gathered in Parque Colon in Guatemala city to RISE and dance for Revolution! (Photo Source: Un Billón de Pie Facebook page)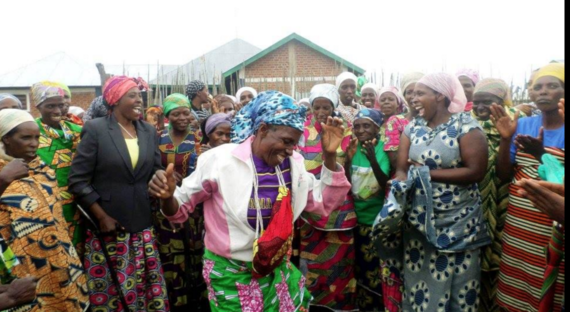 Itombwe, Democratic Republic of Congo
Over 200 women gathered with activists from Maman Shujaa of Itombwe, where they danced to RISE for all their sisters in the remote area of eastern DRC. (Photo Source: Maman Shujaa Hero Women of Congo Facebook page)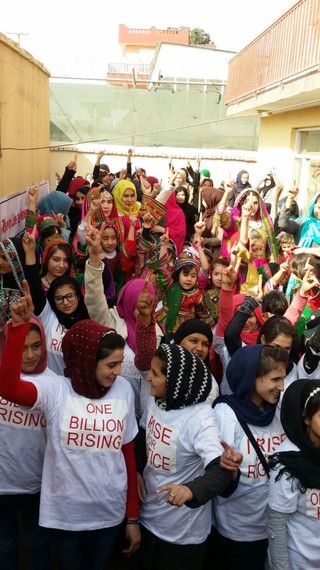 The educational center Promoting Women's Capability By Education in Kabul hosted a One Billion Rising: Rise for Revolution event. All the girls were very enthusiastic and some came in traditional Afghani dresses. They performed the national dance of Afghanistan, i.e attan. A woman recited her poem for OBR and many girls spoke about the need of education, which enables them to rise against violence and injustice in their homes and society. Read the blog on this incredible rising. (Photo Credit: PWCE)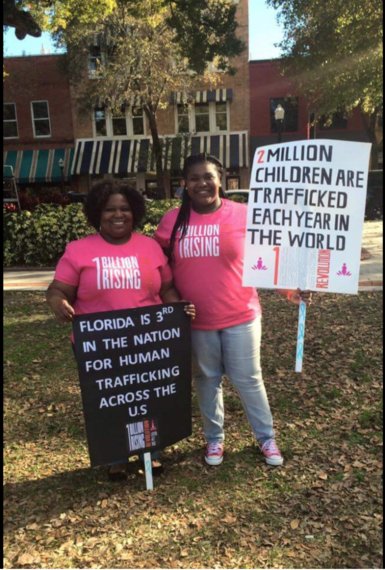 One Billion Rising activists from the Peace River Center Victim Services in RISE against sex trafficking in Florida (Photo Source: Twitter user @mirving108)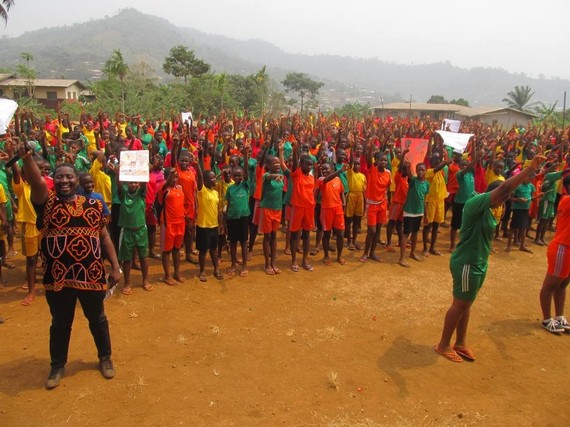 The Organization for Gender Civic Engagement and Youth Development (OGCEYOD) in Cameroon hosted a rousing One Billion Rising Youth Event. The local focus was on women groups under the Women Empowerment Centre, which were brought together and educated on domestic violence, with focus sexual violence, and breast ironing as well as legal advice available to victims. (Photo Source: Ogceyod Cameroon Facebook page)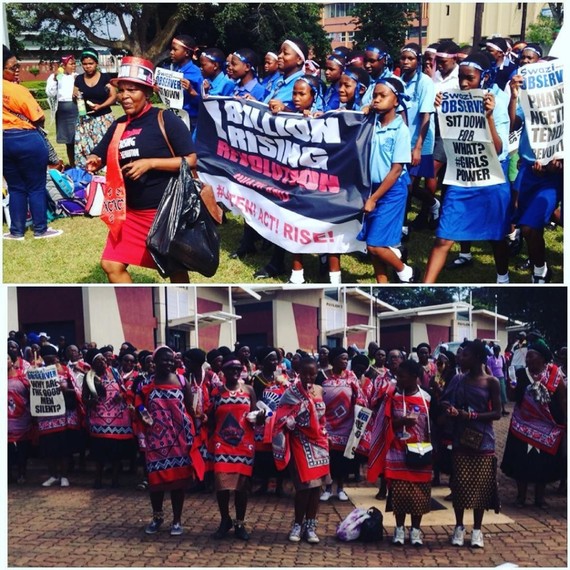 Rising events in Swaziland started with a march in Manzini City Center, to a Mavuso exhibition center where there was a revolutionary conversation and dialogue followed by a Revolutionary youth dance competition. Thousands braved the extreme heat and attended the march, the numbers tripled during the conversations/dialogue. The event was attended by, among others, members of the Lutsango women's traditional groups, school children from various schools around the country, various media houses, artists, Members of Parliament, Members of the Constituency council, members from various churches , domestic workers, Women and Law-Swaziland paralegals, Manzini Mayor, police from the Domestic Violence unit and many more. This year our guest speaker was the Director of gender and family issues department under the Deputy Prime Minister's Office. (Photo Source: Instagram user @khethiwetg)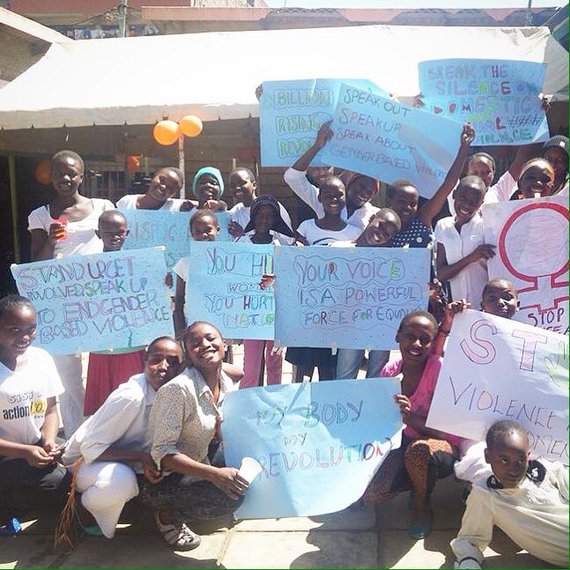 Activists with the Kenya Education Fund & Fortress of Hope rose up against gender-based violence. (Photo Source: Twitter user @Kenyaed)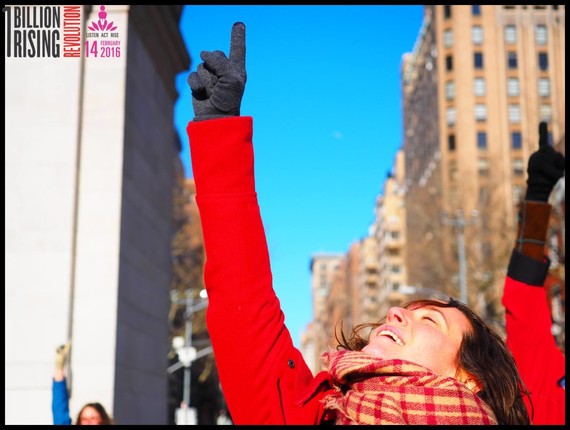 Activist gathered in Washington Square Park to Rise for Revolution (Photo Source: David Hay Facebook Page)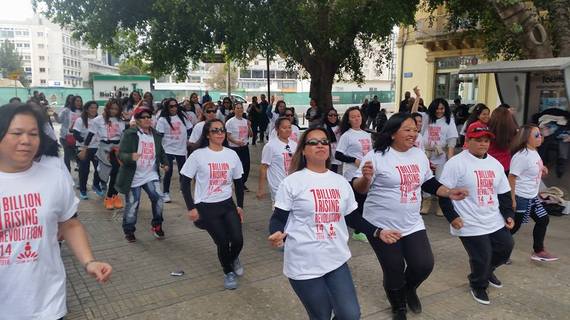 The Cyprus Women's Lobby dedicated their One Billion Rising 2016 event to domestic workers: Rise for Revolution with Domestic Workers in Cyprus. (Photo Source: Rada Boric)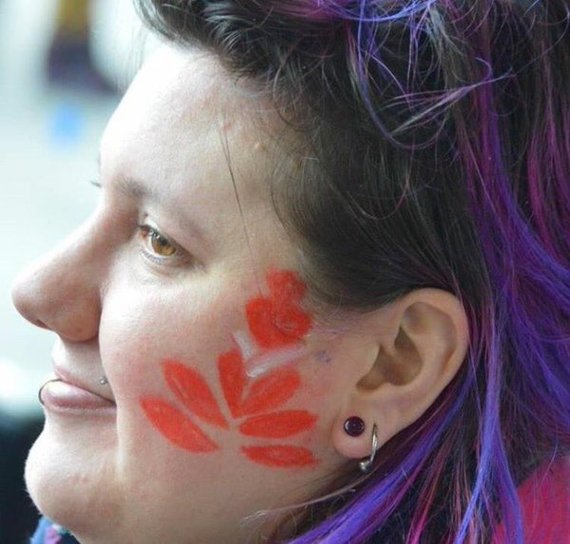 Activists hosted a RISING event at The Forum in Norwich which included dance, poetry, singing and local youth rising to end violence against women. (Photo Credit: Ann Nicholls)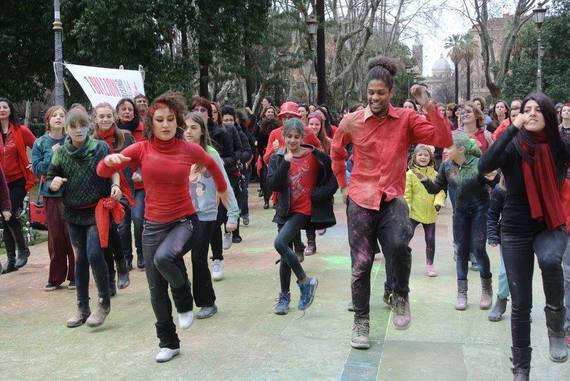 In Rome, activists organized an OBR flashmob with colorful colored powder that dusted the dancers. (Photo Source: Rosa Lepri Facebook page)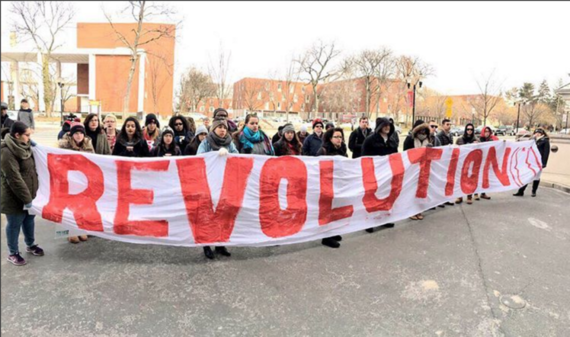 SCREAM Theater, a peer educational, interactive theater program that provides information on interpersonal violence, including sexual assault, dating violence and more at Rutgers University hosted a Rise for Revolution march despite cold weather on campus. (Photo Source: Instagram page @ruscreamtheater)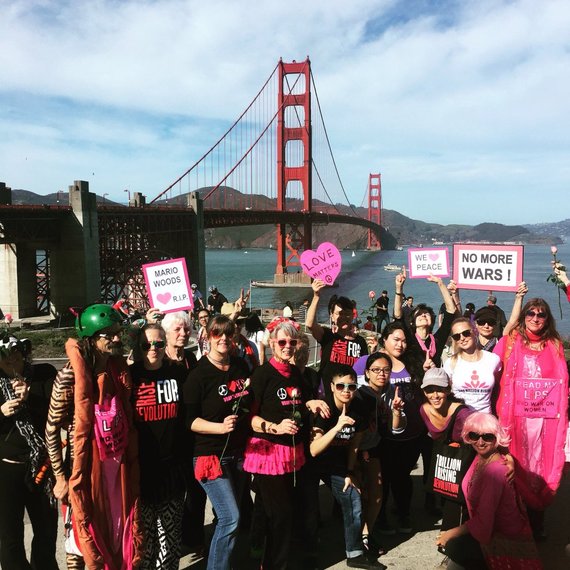 One Billion Rising and CodePink activists hosted a flashmob at the Golden Gate Bridge in San Francisco, to put an end to domestic violence (Photo Source: Twitter user @nancymancias)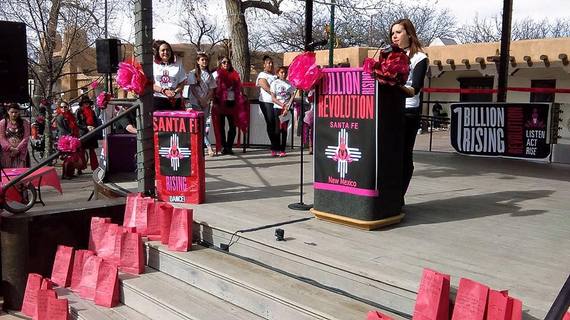 Youth voices, indigenous women, and trafficking survivors were centered and highlighted at this year's Rise for Revolution event in Santa Fe. Kelly Lacen, a young sex trafficking victim gave a testimonial and committed to rising for a world free from sex slavery. (Photo Source: One Billion Rising New Mexico Facebook page)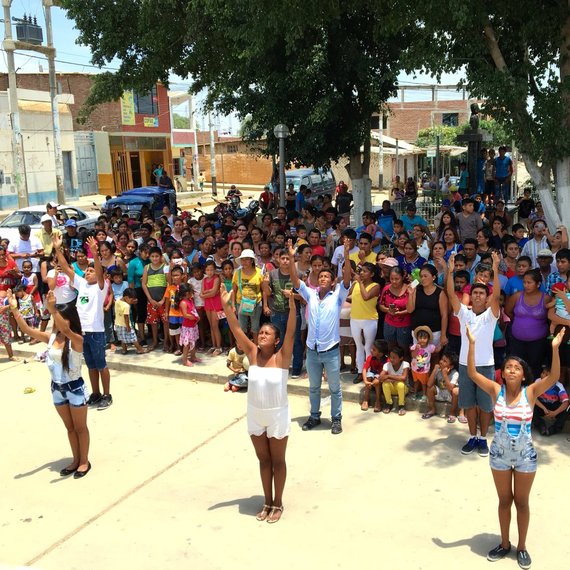 Activists in northern Peru RISE against all forms of violence against women. (Photo Source: Twitter user @mrcrnj)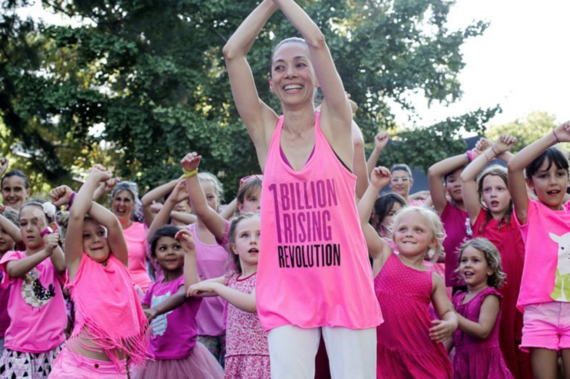 Youth risers in Sydney are RISING to reject a world of objectification. (Photo Source: Twitter user @seetdance)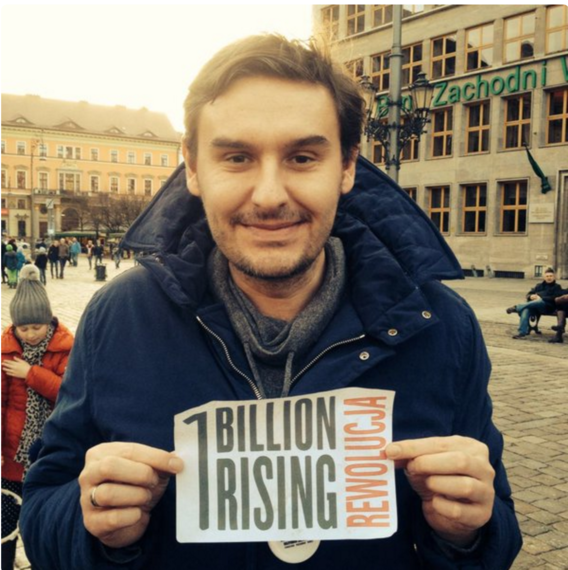 V-Men Rising in Wroclaw, Poland (Photo Source: Twitter user @BartekCiazynski)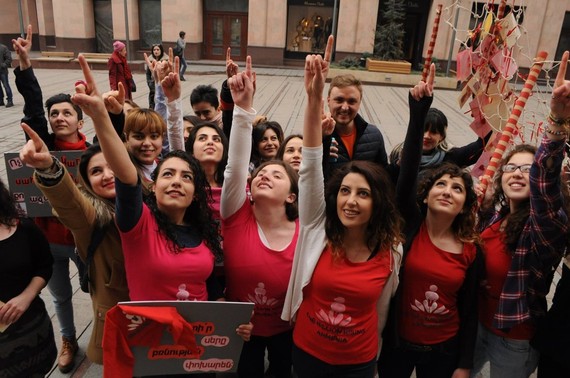 Feminists and human rights defenders in Armenia hosted a creative RISING with messages of love and hope and a dance flashmob to end violence against women (Photo Source: One Billion Rising-Armenia Facebook page)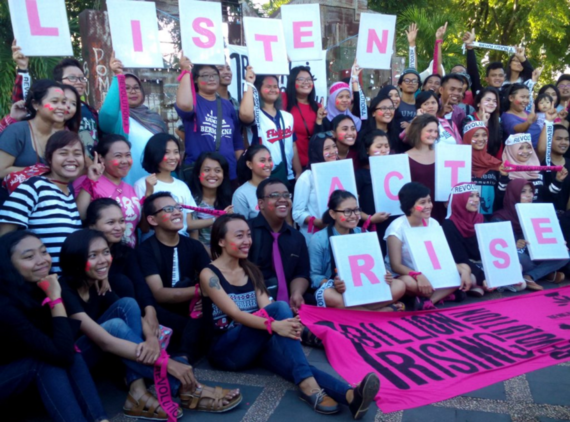 Activists in Indonesia gathered in solidarity around this year's call Listen! Act! Rise! (Photo Source: Twitter user @PKBIDIY)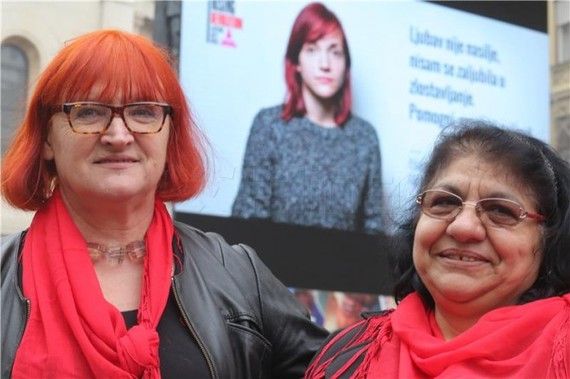 One Billion Rising regional coordinator Rada Boric with a Roma women's movement leader Ramiza Memedi at the radical intersectional RISING in Zagreb which highlighted local issues that impact violence against women including the Roma women's movement, women refugees, women in the prison system, and women with disabilities. (Photo Source: HINA)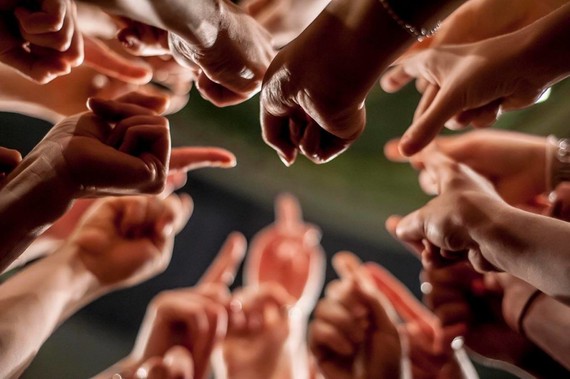 Kinshasa, Democratic Republic of Congo
Activist in Kinshasa Rising for Revolution. (Photo Source: FB Page One Billion Rising - Kinshasa - DRC)
This photo essay represents a snapshot of the thousands of One Billion Rising: Revolution events that continue to happen around the world.
Support HuffPost
The Stakes Have Never Been Higher
Related
Popular in the Community