The dream that in my lifetime there will be an incredibly prepared, brilliant and passionate woman as President of the United States of America is alive and well. Along with her win in Nevada Hillary Clinton has a big lead in delegates as the democratic primary heads south. Looks like the Sanders "revolution" never got off the ground as those coming to his rallies aren't coming out to vote. That is not to say Sanders ideas and his focus on income equality isn't good. In the end it will be good for Hillary and the progressive movement that he is in the race and forcing a healthy debate on the issues.

Delegate count: Clinton has a huge lead in delegates. In Iowa which Clinton won she got 23 elected delegates and support from 7 super-delegates for 30 to Sanders 21 elected delegates. In New Hampshire even though Sanders won big Clinton got 9 elected delegates and support from 6 superdelegates for a total of 15 to Sanders 15 elected delegates and no superdelegates. According to NPR as of February 18th Clinton has an overwhelming lead in superdelegates. Of the 712 Democratic superdelegates, 449 currently support Clinton and only 19 support Sanders. Clinton needs 2,383 delegates to win the nomination and as of February 21st after her win in Nevada she has 502 to Sanders 70. While superdelegates can change their mind a few more wins for Clinton will solidify their support. After all they are mostly elected officials who know the views of their total constituencies not just those voting in a primary.
South Carolina: Next Saturday Democrats in South Carolina make their choice for the Party's nominee. There are 59 delegates up for grabs in South Carolina and they are proportionally awarded. The most recent NBC/Marist/WSJ poll has Hillary up by 28%. A big part of that margin is from Hillary's strong support from the African American community. Support she has earned over the years and stands her in good stead throughout the South as she then heads into Super Tuesday on March 1st.
Super Tuesday: Voting takes place in Alabama, Arkansas, Colorado, Georgia, Massachusetts, Minnesota, Oklahoma, Tennessee, Texas, Vermont and Virginia. American Samoa and Americans Abroad also vote that day. 1034 delegates are up for grabs; 878 elected and those states collectively have 156 superdelegates. Currently the polling in those states has Clinton up by over twenty points in six of them and over fifteen in two others. Sanders will win Vermont and is up in Massachusetts and close in Colorado. The state with the most delegates is Texas with 252 and Clinton is up over 20 points there.
The African-American vote: One crucial indicator boding well for Clinton on Super Tuesday is the over 76 percent of the African American vote she got in Nevada. On Super Tuesday Black voters make up significant parts of the Democratic electorate in Alabama, Georgia, Texas, Arkansas and Virginia. While Hillary will win other states those like Oklahoma and his home state of Vermont which have small black populations are where Sanders has a better chance of winning. But many people, not only African Americans, have been impacted by the struggle for equality and the leaders in their struggle. My life was changed when I had the chance to meet and talk with Dr. Martin Luther King, Jr. as a senior in high school in New York when I presented him with our citizenship award in February 1963.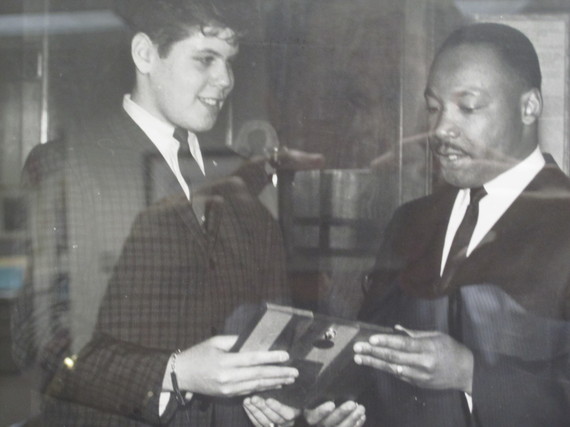 Hillary has a history of caring and accomplishment that won't be denied: There is the simple truth Hillary Rodham Clinton has an unparalleled history of experience, action and accomplishment in her life no other candidate running can match. Her accomplishments have had a positive impact on millions of people both in the United States and around the world. From her time with the Children's Defense Fund when she traveled to Alabama to investigate segregation in schools to her successful fight for education reform in Arkansas. Chairing the Legal Services Corporation to working with congress to win healthcare for 8 million children. Her courageous speech in Beijing in 1995 declaring Women's Rights are Human Rights and her doing the same thing in Geneva as Secretary of State in 2011 when she declared Gay Rights are Human Rights. Those two speeches made a difference and actually saved lives around the world.
The debate over whether it is okay for women to vote for Hillary because she is a woman is really typical of the sexism women still face. No one has ever asked is it okay for men to vote for a man? If we remove gender from the equation Hillary is clearly more prepared to be President and Commander in Chief than any other candidate running in either Party. So voting to elect Hillary Rodham Clinton as the first woman President is only icing on the cake.
Calling all HuffPost superfans!
Sign up for membership to become a founding member and help shape HuffPost's next chapter