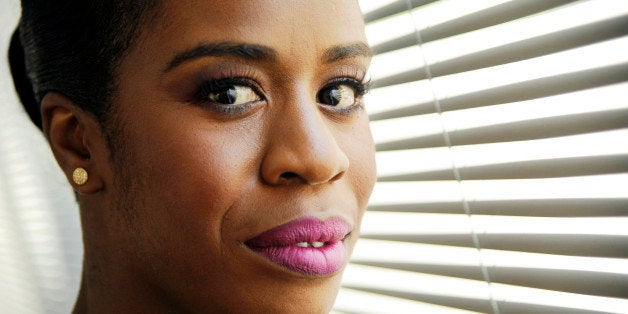 The Golden Girls was a historic show: four central characters, all female and all over the age of 60! Of course, back in the '80s, it was an aberration: throughout television history, female actors have been in supporting roles mostly, with an emphasis on their youth and beauty. Sex and the City was a '90s update on that original foursome, with a chokehold on traditional beauty and Hollywood glam, but a lighter grip on our youth obsession and a revolutionary embrace of female sexuality and all its complications. Showtime's The L Word seemed to pick up where SATC left off, doubling down on the glam factor and the sex, but doubling the female cast size, as well as upping the diversity in terms of race and sexual orientation. Still, the television landscape was mostly dominated by dudes.
Now, a decade after SATC's final episode aired, with a lot of "female-focused" trash in between -- Desperate Housewives and The Real Housewives franchise do not serve the cause -- television is experiencing something of a feminist revolution, with more and more quality roles for women that revel in their imperfections, explore their contradictions and -- perhaps most importantly -- don't always revolve around men. These past few years have seen a welcome trend in award-worthy (and award-winning) female-driven shows that aren't afraid to portray women as ugly, whether inside or out. Thanks to the freedom and risk-taking that Netflix and cable channels have offered producers, the old notion that female-focused narratives have too limited an appeal has been blown out of the water.
Let's hope the deluge of decent shows continues! The below series in our top 15 have all premiered sometime in the last three years, with many of them still in production and/or available on demand. We've left off many of the network shows that could be considered feminist -- The Good Wife, Scandal, etc -- but that aren't necessarily groundbreaking since they often have a gloss that feels fairly unrealistic, dumbed down or at least cliche. What we're focusing on here is the cream of the crop in terms of feminist advancement, TV-wise:
1. Orange Is the New Black (2013, ongoing) -- Has there ever been a show with this many women in it? A show that has a ratio of female-to-male characters at about 10 to 1? That's so comfortable showing female diversity, in looks, body size, race, age and sexual orientation? It's a boob-tube miracle! Thank you, memoirist Piper Kerman, developer Jenji Kohan and Netflix!
2. American Horror Story: Coven (2013) -- The third season of FX's horror anthology is more slick and stylistic than OITNB, but the main characters are also all female -- some big, some small, some white, some black, some young, some old and even one with a genetic disorder -- with just a handful of men in supporting roles. These witches are powerful, sexually assertive and oftentimes sadistic -- not stereotypical feminine qualities.
3. Girls (2012, ongoing) -- The 21st century's SATC on HBO, with four equally unlikeable yet oddly compelling female leads. Writer, director, producer, star (and probably caterer, too) Lena Dunham and her exhibitionistic tendencies have done more for female body confidence than all the Dove campaigns combined!
4. Happy Valley (2014) -- This new BBC import by Netflix has the biggest baddass on TV since Walter White: both "Heisenberg" and Happy Valley's "Catherine Cawood" are middle-aged, world-weary yet strong-willed and obsessive, reckless and resilient, with unexpected reserves of bravery. Except in her case, she's on the right side of the law as a morally stable police sergeant (played impeccably by Sarah Lancashire). Fortunately for viewers, the camera isn't afraid of the lines on Lancashire's amazingly expressive face.
5. The Honorable Woman (2014, ongoing) -- The Sundance Channel series from the U.K., starring Maggie Gyllenhaal as a Baroness and Anglo-Israeli businesswoman, is incredibly timely and incredibly smart. Gyllenhaal is one hundred percent committed to her career -- it's more of a calling than a day job -- and she kicks some serious a** along the way. There is no female eye candy on this show -- all the women have their own motives and desires, and these desires are more along the lines of "peace in the Middle East" than "shoe shopping." The show is complicated and sometimes hard to follow, but it's a pleasant treat to feel like maybe you're not quite smart enough for a television show.
6. Homeland (2011, ongoing) -- This Showtime series follows one CIA agent's major role in U.S. counterterrorism efforts. Talk about a flawed character! She's got bipolar disorder, terrible taste in men and pretty bad roots. Claire Danes is in the lead, so you know there's no "pretty" crying on this show -- just like in real life.
7. The Killing (2011 - 2014) -- As we've written before, if you can get past the fact that the entire series revolves around the brutal murders of pretty young girls, this show totally counts: the main character, homicide detective Sarah Linden (Mireille Enos), is a strong, tough, independent woman who is sexual without being sexualized, realistically styled with sensible shoes and sweaters and pretty bad at parenting. That her awesome male police partner doesn't participate in macho posturing (and is unapologetically vegan!) is icing on the cake.
8. The Fall (2013, ongoing) -- Gillian Anderson plays a badass senior police officer (are you seeing a pattern here?) on this Netflix show, another BBC import. She's a woman who knows what she wants and ruthlessly goes after it, whether that's a serial killer (played by Christian Grey!) or casual, no-strings attached sex.
The Comedians (Not Comediennes)
9. Inside Amy Schumer (2013, ongoing) -- She is unafraid to address the most embarrassing, unflattering and horrifying aspects of being a woman in the most hilarious, un-pc and feminist ways.
10. Broad City (2014, ongoing) -- Weird, random tales about two under-acheiving, disheveled, stoner dudes... and they're female! After all, it's approved and produced by "mighty girl" Amy Poehler.
11. Garfunkel & Oats (2014) -- Since we did our Anal Airlines bit 10 years ago, there will always be a special place in our hearts for two adorkable women who sweetly profess, without shame, the benefits of anal sex.
12. The Leftovers (2014, ongoing) -- While the main protagonist is male, this HBO show based on Tom Perrotta's intriguing novel is full of interesting female characters who are damaged, dangerous and refreshingly not dolled-up. It's missing the gratuitous T&A that HBO often feels compelled to cram into its shows to satisfying the paying straight male audience.
13. The Returned (2013, ongoing) -- Another Netflix import, this time from France, about a town whose dead inhabitants mysteriously come back to life. This haunting show follows a series of characters -- some male, some female, all complex and all realistically portrayed.
14. Top of the Lake (2103) -- If it's a miniseries made by Jane Campion, you know it's going to be a feminist heavy hitter. With rich roles for both women and men, including Mad Men's Elizabeth Moss as the lead detective investigating the disappearance of a pregnant 12-year-old and Holly Hunter as the spiritual leader of a compound of middle-aged women looking to rediscover themselves. (Rarely on TV do you see naked women who don't have perky breasts and slim physiques -- Campion dares to go there.)
15. Masters of Sex (2013, ongoing) -- This critically acclaimed Showtime show was developed by a woman who assembled a majority-female writing cast (in the telly biz, that's rarer than a white rhino!). At the start of MoS's second season this summer, Time magazine called it the most feminist show on television, in part because of its self-imposed rule that the sex scenes on this show couldn't just be about sex, they had to be completely connected to story. Take a tip, HBO!
Popular in the Community