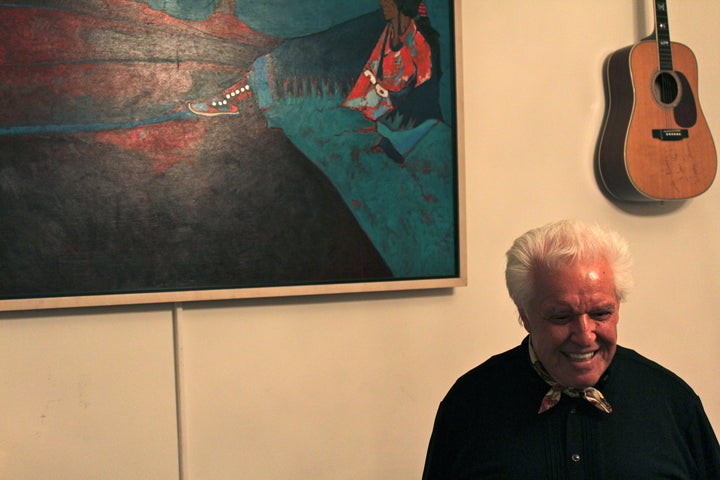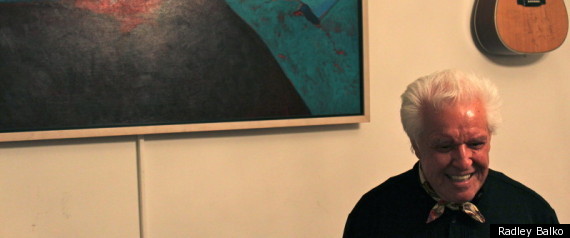 There may be no one alive who has crossed paths with more bold names than Manuel Cuevas, known around Nashville and the music and fashion worlds as simply "Manuel." The Nashville designer, known for his exquisite embroidery and use of rhinestones and sequins, has dressed five American presidents. He made Elvis Presley's gold lamé suit and his famous white jumpsuit, and he's the man who convinced Johnny Cash to dress in black. His clothes have draped Marilyn Monroe, Mick Jagger, Bob Dylan, and, as he puts it, "three generations of Hank Williamses."
And yet for the dizzying constellation of stars who have stood for a Manuel fitting, he says he has only been genuinely awestruck once. "The Lone Ranger," Manuel says. "When I was growing up in Mexico, I walked an hour each way just to watch The Lone Ranger on television. I wanted to be him. So when I had the opportunity to make his outfit for the show, I was just thrilled to meet him. I didn't know what to say to him."
Dressed in leather python-print pants, a black shirt, and his signature silk neck scarf, Manuel chatted with me last month from his studio on Broadway in midtown Nashville. It's a quaint operation, run out of an old house clearly built to be a residence. The aging floors creak and pop, and the rooms were Manuel and his staff do the fitting, sewing, and embroidery look more like bedrooms, a study, or a kitchen. The ground floor is an inconspicuous retail store, albeit a pricey one. Open your checkbook, and you can pick up a Manuel authentic previously worn by Kid Rock, Faith Hill, or Brad Paisley. (The first time Kid Rock visited the store, he spent $113,000.)
Born in 1938 in Coalcomán de Vázquez Pallares, Mexico, Manuel's brother was teaching him to sew at age 7. By 14 Manuel was making money. He's the fifth of 11 children, but he stresses that his isn't a rags-to-riches tale. "Everyone wants me to tell the sad immigrant story," he says. "But that isn't my story. We were comfortable. My father was a salesman, and he was very smart at it. He could sell condoms to the Pope. I worked hard, I still work hard. But we weren't hungry or wanting of things. I was already successful in Mexico and South America when I moved to America. I moved here because I wanted more. And America is where you come when you want more."
At 22, Manuel moved to Los Angeles, where he worked for several designers and tailors, including Sy Devore, where he designed suits for the Rat Pack. But it was while working for western-themed tailor Viola Grae that Manuel met the flamboyant Nudie Cohn, another talented immigrant tailor (Cohn came to the U.S. from Russia) who would become Manuel's mentor. Cohn went on to start the famous Nudie's Rodeo Tailors, and brought Manuel along, eventually as head designer. Manuel later married Nudie Cohn's daughter, Barbara.
It was at Nudie that Manuel began taking his measuring tape to the entertainment industry's elite, and later to the elite just about everywhere else. Country crooner Porter Wagoner put Nudie on the map with elaborately embroidered suits studded with wagon wheels, tumbleweeds, and other western themes. Country icons like Webb Pierce, Roy Rogers, and Gene Autry soon began to sport Nudie originals, and by the late 60s, Manuel and Nudie were making clothes for the Beatles and the Rolling Stones.
It was also at Nudie that Manuel cultivated the philosophy that animates his work. "People come to me with a design and say, 'Can you make this?'," he says. "I tell them, 'No. But I can send you to someone who will.' If you want me to make you a suit, let's sit down and talk. Let me get to know you. Who you are. I will then make you the suit you need, the suit that is you, not the suit that you want. If you don't like it, you don't pay for it."
It's a brash way to run a business. And it can probably only be pulled off by a guy who can glance at a list of the seven best-selling artists of all-time, and say he's made clothes for six of them.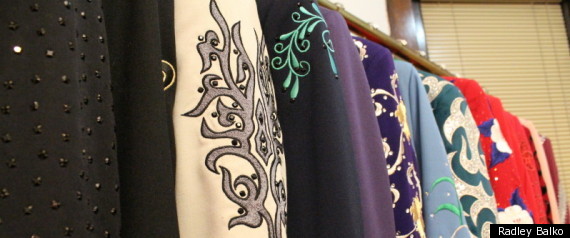 It's also how Manuel has conceived some of his more iconic designs. The Grateful Dead came to Nudie in the 1960s. Manuel sat down with Jerry Garcia for an interview. "There was so much joy in him," Manuel says. He and Garcia would develop a lifelong friendship. "But there was this death in the band's name. Death, and gratitude, and joy. It reminded me of Día de los Muertos, the Day of the Dead festival in Mexico, where we celebrate the dead with flowers and dancing and joy." Manuel designed Garcia a suit embroidered with images from Día de los Muertos celebrations, including flowers, skulls and dancing skeletons. Various incarnations of those images would become the band's insignia.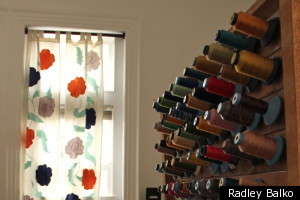 Manuel's friendship with Mick Jagger may have produced the most recognized rock 'n' roll logo in the world. "We had argued over something, we weren't on good terms. So the next time I saw him I made him a peace offering. It was a pillow of bright red lips, his most recognizable feature. We became friends again." A couple years later, designer John Pasche came up with the "Tongue and Lips" logo for the Sticky Fingers album, a design Manuel insists was influenced by his pillow. Pasche is widely credited with conceiving the design on his own. Manuel says he's fine with that. "We get inspired by the things we see, sometimes without knowing. Of course, it is also possible that two designers could look at him [Jagger] and come up with something featuring his lips."
Manuel's most controversial design at Nudie was likely the suit Gram Parsons wore on the cover of the Flying Burrito Brothers album, The Gilded Palace of Sin. It's also his most haunting. After sitting with Parsons for an interview, Manuel created a suit celebrating Parsons' fast-lane lifestyle. The white suit was embroidered with marijuana leaves, naked ladies, amphetamines, flames up the pant legs, and a towering cross down the back of the jacket.
"Everyone made a big deal about the marijuana," Manuel says. "I told them, this grows all over Mexico. Your son is probably growing it in your backyard. It's not a big deal. I don't think they even noticed the pills we put on the suit. Or the naked women. They were so focused on the marijuana."
In 1973, Parsons would die of a heroin overdose. Perhaps sensing his own fall (also eerily foretold in his gospel-tinged song, "In My Hour of Darkness"), Parsons told the Flying Burrito Brothers' road manager one night that should he die young, he wanted to be cremated. On his blog, Sam Umland, a professor of English and film studies at the University of Nebraska at Kearney, points to a 1997 interview Manuel gave with music critic Michael Jarrett. "I was just making the outfit according to all the ideas that we put together: the nude girls, the pills and the marijuana plants, and the California poppies. The fire up the pants. The cross in the back. Although I captured the idea--we developed it into a great form--it wasn't until a few years after his death that I really started thinking about it. This boy was really telling me how he was going to die."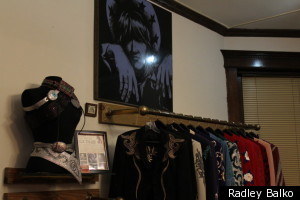 By the late 1980s, Manuel was ready to leave Los Angeles. "You need to move sometimes," he says. "It's life's greatest freedom, to pick up and move on." It's another theme that echoes in the western motifs in his work. "I was always to drawn cowboys, the frontier, to the open country," he says. "Maybe this is the experience of an immigrant, but I see these new restrictions on allowing people to move around, and it worries me. People should be free to come and go. You can't ask people to live like that."
Manuel's wife suggested Nashville. "She really liked it here when we visited," he says. "You have people here who are in music who would get buried in New York or Los Angeles. They would starve. Not because they aren't talented. It just takes more than talent to succeed there. They come to Nashville and make great music and make a very nice living. It's a different business here."
He says the things that has changed most in his 20 years here is the city's diversity. "When I moved here, I bet there were three of us who spoke Spanish. Now you see lots of Spanish-speaking people, people from all over moving to Nashville. I like the diversity."
Of the five presidents he's dressed, Manuel says Lyndon Johnson was the fussiest. "He had this obsession with wanting to dress like Eisenhower," he says. (A fascinating bit of history in its own right.) Most of his designs for presidents were standard business suits. Only George H.W. Bush got a jacket in the flamboyant style for which Manuel is known. "I made him this beautiful jacket with his entire life sewn into the back. He says he wears it when he's on the yacht."
As we chat, Manuel's cell phone rings. He apologizes, and tells me he needs to take it. It's Larry Weiss, who wrote the song "Rhinestone Cowboy." Weiss is calling about Glenn Campbell, who famously recorded the song, and will be getting a lifetime achievement award at the Country Music Awards. Manuel made the jacket Campbell will be wearing when he receives the award. A good percentage of the crowd at that show will be waring Manuel originals.
As Manuel chats, laughs, and makes a crude joke or two with the one of country music's most successful songwriters, upstairs, his staff stamps embroidery designs into fabric, sews the threads that bring those designs to life, and punch sequins and rhinestones into jackets and slacks. The contrast between the quaint, almost humble operation with the celebrity of its clientele (not to mention its owner) is hard to miss. But this is the way Manuel wants it. He has resisted offers over the years to mass-produce his product. Its limited supply and custom-design is what makes it Manuel.
In any case, the market for his product may be shrinking. "I don't want to sound like a grouchy old man complaining about the new generation," he says. "And trends come and go. But there's no sense of style right now, no showmanship. You pay $100 go to a show, and the artist comes out in an old shirt and jeans filled with holes. Don't be surprised if you leave the show disappointed. Your clothes are who you are. If you can't bring yourself to dress for a performance, you aren't really dedicated to the performance."