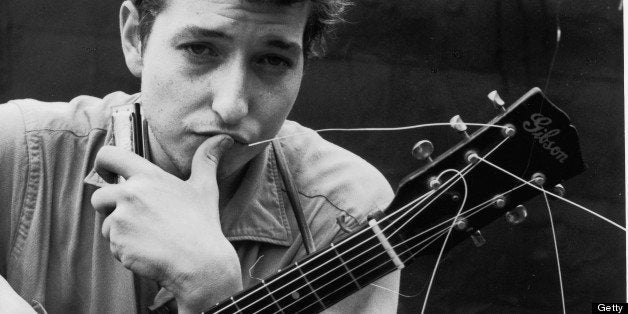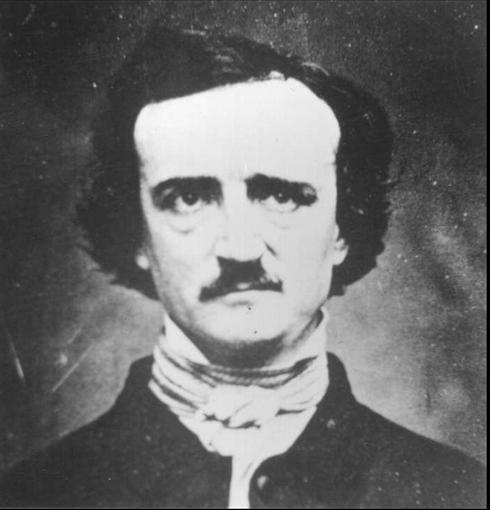 [This is part two of a two-part essay. Read, part one, "The Rhymers' Club, Part One: Bob Dylan and Edgar Allan Poe" here.
There's no question that in his early years in a big-city setting Dylan soaked up literature and history like a sponge, hearing Shakespeare declaimed by his friend Paul Clayton, reading Poe at the apartment where he was camped out in the living room, composing music to go along with "The Bells," visiting the places Poe had lived in New York. When asked by John Hammond as a young man for a definition of folk music, Dylan replied "I told him it was handed down songs." Dylan has never minded hand-me-downs; what's our American history, and literary and cultural history based on, anyway, but hand-me-downs from England and Ireland, Scotland and Spain, at first -- and then from other countries, other peoples, as we all became American?

Dylan likes handed down stories, and lines, whether they come from folk songs or poems, ballads or biographies. Like T.S. Eliot's, his works are composed by a fierce individual talent working within a feast of literary traditions. As a beginning musician and songwriter captivated by, even obsessed with, American history and culture of the past century, Dylan sat in the New York Public Library devouring newspapers on microfilm, steeping himself in the antebellum south, the Civil War, 19th century biography and poetry. What poets did he read? No need to search; he's happy to tell you: "Byron and Shelley and Longfellow and Poe."
Like Poe, and -- thanks to Poe -- Longfellow, like T.S. Eliot and other poets who are masters of imitation, Dylan's been accused of plagiarism. It clearly struck close to the bone for Poe, who wrote many imitations of his own -- and who wrote about imitation, borrowings and plagiarism in his criticism from the mid-1830s on. Poe would of course infamously accuse others, including the magisterial Longfellow, of same.
Now, influence isn't copying. Imitation isn't plagiarism. Dylan uses Poe as he uses other writers -- as a grace note. A springboard. An echo. If he's Narcissus, Dylan's quite generous with his echoes. More important than these straight-on references, though, are the subtle sense, the overall feel, of an artistic inspiration or forebear. This is something Poe called "copyism" in 1836 -- "Without subjecting the [writer under review, Sir Francis Head] to the imputation of copyism, one may describe the manner as being an agreeable mixture of Charles Lamb's and Washington Irving's." It's a style matter, Poe says, in this case because of the authors' mutual use of "covert conceit," "hidden humor" and "piquant allusion." I wonder how many writers under the influence of someone, or many, could pass this test of Poe's. In any case, Poe finds the copying of other writers' styles not theft, but something worthwhile and new -- an agreeable mixture, a work filled with allusions.
Dylan's an allusive, and a famously elusive, writer. In Chronicles, he claims one of his albums is based entirely on Chekhov's short stories. He doesn't say which one, but since he calls it autobiographical, critics pounced upon "Blood On The Tracks." Maybe. Maybe he just wants us to all go and read Chekhov's short stories, an admirable desire. Are enough substantive echoes there, creatively and otherwise, to feel Chekhov in Dylan's songs? Go and look, and listen and decide for yourself.

In light of Tempest, I'd say he'd like us all to go and read Poe. Apart from the specific mentions I've noted already, the whole album covers dark and bloody ground. As is the case in almost all of Poe's stories and poems -- "The Black Cat," "Berenice," "Ligeia," "Annabel Lee" -- what begins as a tale of love and/or lightness becomes a tale of woe and worse. Every song on Tempest plays out the same way. There might be equal doses of "Sir Patrick Spens," the Carter Family and Poe in the title track, but Poe's apocalyptic description, and the way in which that tragic city of the sea is still somehow living at the end, drowning forever in those reddening waves, is most powerful to me.

The only thing more poetical on Tempest than the death of a beautiful woman, to use Poe's most celebrated statement on beauty, is the faithlessness and death of a beautiful woman. Again and again in Dylan's songs -- from the ballads, like "Mattie Groves" and "Barbara Allen" and "Gypsy Davy," that he's performed from the start, to his own Lyrical Ballads like "Tin Angel" -- this woman just won't go away. The plot's as old as the ballad form itself: faithless wife runs away with another man; wealthy husband pursues, kills lover; wife kills husband and self. But when you have lots of wine-drinking and someone coming down a chimney into a fireplace, it's understandable if you think of "The Angel of the Odd." Where there's lots of wine drinking, and someone lowering himself into the room on a golden chain to wreak havoc, calling another character a "gutless ape" and saying "you made a monkey of me," feel free to think of "Hop-Frog," too. But Dylan has taken any original sources here, whether old ballads, Poe's stories or allusions still floating under the surface to be discovered, and made of then distinctive new songs. It's what he does.
Finally, there's the matter of his pre-album summer tour of 2012. Dylan's official website, www.bobdylan.com, makes tickets available to fans who look there for pre sale passwords before the concert tickets go on sale to the general public. Here are the passwords selected by someone who'd thought about it for Dylan's tour coincident with the release of Tempest. Recognize the source? "morrow, radiant, Gilead quaint, lattice, dirges, methought, seraphim, obeisance (and now the dead giveaways), nepthene, pallas, leonore." All from "The Raven," of course.
But pardon me, I'm starting to make a classic Dylanologist's mistake -- and I prefer not to do, or be, that; I like Dylan's artistry too much. I'm focusing on the words, and leaving out the sound. A major difference between Dylan and Poe is that Dylan is writing songs, and Poe is writing poems. You can talk about influence, sure, but never forget that one man is writing with music in mind, music he already has in mind -- it seems to be Dylan's mode to have a tune, first and then fill it in with words, the few times we've seen him composing a song (as in D.A. Pennebaker's Dont Look Back, 1967). Yet there's a kinship here, for Poe is much better off the page and read aloud. This is not true at all of every poet -- try it with "The Waste Land," for instance. But those wonderful couplets, end rhymes and above all the internal rhymes as in "The Raven," let alone all Poe's spinning alliterations -- they quite simply sound fantastic when read aloud. Dylan's lyrics read the same way.
It's not just the grotesque and arabesque that link Dylan and Poe. It's the rhyme. Maybe this goes back to convey to us again the too-forgotten sense of grotesque and arabesque as ornamental, trailing vines and decorative touches in cave-like hidden spaces. Dylan clearly loves Poe's flourish -- his panache, his perfection in positively nailing a couplet. Dylan loves Byron for the same reason -- as did Poe, as did W. H. Auden. All these men are members of the Rhymers Society of the ages. Poe rhymes contemn and diadem; that is and lattice, lent thee and sent thee and nepenthe, food, imbued, intrude, solitude; monotone, groan and stone. Dylan borrows that solitude and intrude, perhaps from Poe, but has a host of excellent ones all his own: Coca-Cola and gondola, frighten you and uptighten you, orphanages and sons of bitches, laws of God and firing squad. How can you say he will haunt you? / You can go back to him any time you want to.
These rhymes ring, and roll, and make you reel. Want to get into a rhyme-off, a smack down, with Edgar Allan Poe? I wouldn't. You shouldn't, unless maybe you're Bob Dylan. Like Dylan says, he's a fender-bender poet. Play chicken with him on rhyming, and you're the one who'll end up with your fenders bent and your doors blown off. That Dylan clearly revels in this, rather than being troubled by the anxiety of such influence, is one of the things that makes him a grand American lyric, as well as Romantic, poet.
I delivered a shorter version of this article as part of the "Positively Poe" conference in Charlottesville, Virginia on June 25, 2013. My thanks to the conference organizers and all who attended this literary festival for one of America's, and of course Virginia's, finest writers.
REAL LIFE. REAL NEWS. REAL VOICES.
Help us tell more of the stories that matter from voices that too often remain unheard.