After recovering from brain tumour and a life less ordinary, Rick Genest became increasingly fascinated by the frontiers between life and death. A performer and host at his own carnival sideshow, 'Lucifer's Blasphemous Mad Macabre Torture Carnival', the artist-cum-model started Canada's - and perhaps the world's - most tantalising freak show. Crane.tv took some time to meet up with Rick Genest aka Zombie Boy.
The moment Nicola Formichetti spotted Genest through his Facebook page was all-changing. With little hesitation, Genest was rushed to Paris to be part of the current Creative Director of Mugler's A/W '11 collection. Moreover, the brand's much awaited relaunch turned out to be a decisive moment in his life, skyrocketing his career as a public figure and fashion icon.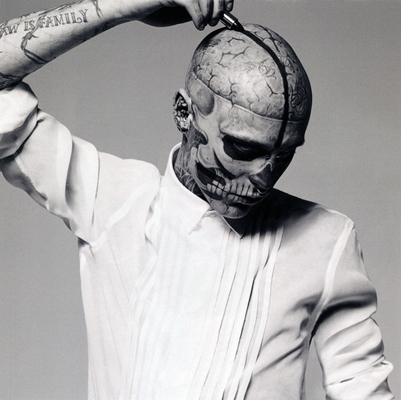 With dreams of establishing himself in the film industry, the admirer of German expressionism, 1920's freak shows and silent movies, looks forward to experimenting with his love for the occult, extreme performance and his fascination with horror. Perhaps it is in light of what he said during our conversation: that beauty is in fact in the eye of the beholder and only surfaces when one is true and genuine, that allowed us perceive the Rick behind Rico. In fact, besides being famed as Formichetti's muse and his striking tattoos, Zombie Boy is an inspiration, whose story is moving and talents are endless.
Text by Seyna Van Der Linden for Crane.tv
Crane.tv App now available for Nokia devices from the OVI Store
Popular in the Community