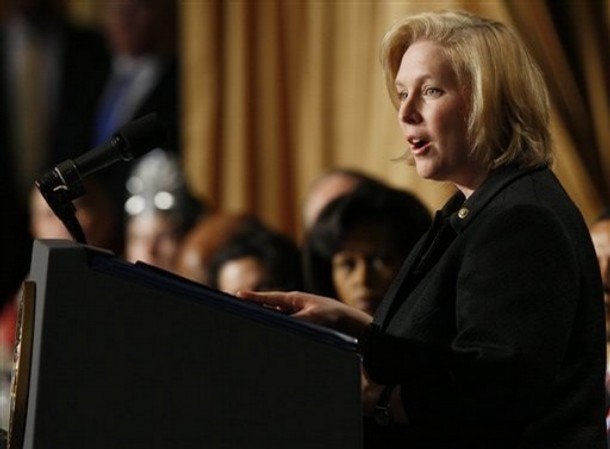 Since 1994, almost 13,000 gay servicemen and women have been discharged from the military based not on their performance but on their sexual orientation. In 2009 alone, we've had more than 400 of our brave men and women leave the military under Don't Ask Don't Tell. This is simply unacceptable. It is time to repeal this outdated and immoral policy once and for all and end the ban on gays and lesbians serving openly and honestly in our armed forces.
To that end, I've secured the commitment from Senator Carl Levin, Chair of the Armed Services Committee, to hold the first hearing on the policy since it began 16 years ago. Chairman Levin expects to hold the hearing soon and it's my hope that it will be instrumental in demonstrating the level of support that exists for repeal not only throughout the country -- where polls consistently indicate that solid majorities oppose the policy -- but within the military itself.
I'm happy to see that, as the Senate Armed Services Committee hearing approaches, there are signs of momentum building toward repeal.
On September 24, Majority Leader Harry Reid sent letters to the president and Secretary Gates reiterating his support for repeal of Don't Ask Don't Tell and requesting their recommendations to Congress on the policy. I agree with Senator Reid. I know the president opposes DADT, and I am confident he and his administration will work to engage Congressional and military leaders in this debate.
Then, just last week, an article was published in the Joint Force Quarterly -- a publication considered to be the scholarly journal of the Pentagon and released by the Joint Chiefs -- that goes beyond addressing just Don't Ask Don't Tell, but overtly calls for a repeal of the ban on gays and lesbians serving in the U.S. military. In the article, Air Force Colonel Om Prakash writes:
After a careful examination, there is no scientific evidence to support the claim that unit cohesion will be negatively affected if homosexuals serve openly. Based on this research, it is not time for the administration to reexamine the issue; rather it is time for the administration to examine how to implement the repeal of the ban.
It's heartening to see such a strong statement coming from the top levels of the military. Not only did this article appear in a publication published by the Pentagon, but it was written by a man currently working under Secretary of Defense Robert Gates and was reviewed by the office of the Chairman of the Joint Chiefs, Admiral Mike Mullen. Supporters of Don't Ask Don't Tell often cite the lack of support for repeal among the top levels of the military. With this article, those leaders are sending a clear signal that that's simply not the case.
Colonel Prakash argues that the law has undermined unit cohesion, in part by compromising the integrity of homosexuals who have to dissemble and by posing a moral quandary for commanders -- look the other way or risk discharging a valuable service member. He judged the policy a "costly failure" because of the lost manpower and the administrative costs of recruiting and separating homosexuals. He urged the Obama administration to examine how to repeal the ban.

We agree strongly with Colonel Prakash, and urge the Pentagon to press ahead with changes in its regulations to make implementing the "don't ask" law more humane. Ultimately, Congress must repeal the 1993 statute.
We are not confident that the Senate has enough enlightened members to overcome a filibuster. But if the military can show an open mind, surely lawmakers can summon the courage to end this sad chapter in history.
As many of you know, earlier this year I considered offering an amendment to impose a moratorium on DADT discharges for 18 months, but decided against it because I couldn't secure the 60 votes we would need for passage. That said, I believe that we are seeing momentum building nearly every day. Every day I feel we are getting closer to the votes we need to pass.
I look forward to continuing that momentum at the upcoming hearing. I'll also be launching a new DADT story project, which I'll introduce to you all in the coming weeks. My hope is that as people meet some of the brave servicemen and women that have been affected by this unfair and misguided policy, we can build support for repeal of Don't Ask Don't Tell and move toward allowing gays and lesbians to serve openly and honestly in our military.
In the meantime, you can help by joining the effort. In advance of the hearing, I've launched a petition calling for the repeal of DADT. We already have almost 10,000 signatures from people nationwide who are standing with me to show my colleagues that our country is ready to repeal this policy. I hope you'll join us.
I know that many were discouraged by the statement yesterday from National Security Advisor James Jones that President Obama would pursue repeal "at the right time." I believe the right time is now.
Related
Popular in the Community