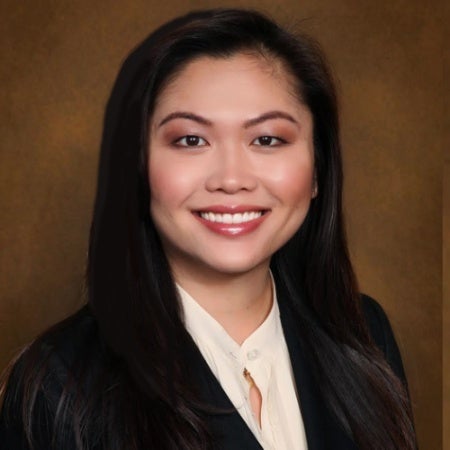 The ability to dream big— is it a privilege or a right?
To the younger version of Phuong Dinh who had just arrived in the United States with her family from their pepper farm in south Vietnam, the ability to dream big was a privilege. A privilege which, she thought at age five, was bestowed by contact with U.S. soil.
As Phuong began to immerse herself in educational pursuits, she started to realize that the ability to dream big was less of a privilege and more of a right. She was able to share this realization with her parents before her freshman year of college as she helped build and operate their neighborhood business in Denver. "The more educated I became, the more I experienced the joy of elevating my family to a culture filled with new spiritually and intellectually stimulating explorations and choices in professional pursuits," she said.
Because of her, they too recognized their right to dream. That is one of the most significant values of Phuong's education.
Phuong has finished her formal education after spending her undergraduate years at Regis University and receiving a MBA in healthcare administration from the University of Colorado Denver and is now an administrative fellow at Kaiser Permanente. She is a pioneer and role model for First Gen students everywhere to emulate.
As an immigrant, in addition to being a first-generation-to-college student, Phuong does not deny the obstacles or challenges she faced on her path towards a receiving an education and pursuing a successful career.
I had the pleasure of working with Phuong this past summer when she joined GlobalMindED's Colorado Leadership Circle in an effort to continue paving the way for First Gen students. Speaking about her own First Gen experience and the importance of creating a diverse talent pipeline in the healthcare industry, she shares with us today that the ability to dream is a right to everyone and it is a right that can be pursued through education.
Tell us about your First Gen background. What struggles did you face as a First-Generation-to-college student?
Upon my arrival in the United States, I immersed myself in educational pursuits and regularly took interest in areas unfamiliar to my students, such as speech competitions. To accomplish my dreams, I often needed to venture into unfamiliar territories that had no guarantee of resulting in professional advancement. My mom used to ask me, "So you would travel over an hour to another high school, stay there the whole day, just to talk in front of people for eight minutes?" I always replied with a simple, yet firm, "Yes, Mom."
As a First Gen student, the greatest struggle I faced was not knowing how to feel empowered again after experiencing failures. Some lifelong mentors were brought into my life who recognized character-building opportunities in my struggles and showed me that my vulnerabilities are actually assets I can leverage to create deeper connections with people. My mentors provided me with the perspective I needed to feel empowered again after experiencing adversity.
Why is having diverse talent pipeline in the healthcare system important?
The process of alleviating disease and suffering within our communities is a complex and multifaceted one— a process requiring expertise beyond science and medicine. Although people interface with clinics and hospitals to receive treatment, this interaction can only impact less than 20% of a person's total healthcare. The remaining 80% are influenced by genetics as well as individual behavior, social, and environmental factors. Nuances in individual differences amongst our patient population becomes important when we strive to design personalized treatment plans that deliver higher level, quality outcomes.
Workforce talent in health care needs to reflect the diversity of the people living in our communities. In any healthcare system, employees create the tone, culture, and caliber of the care delivery experience. A diverse talent pipeline is better equipped to create comprehensive solutions by fostering a holistic and multidisciplinary approach to delivering patient care. Beyond race, ethnicity, and socioeconomic status, diversity also reflects invisible differences among us. This includes personalities, values, communication styles, beliefs, and perspectives. Diversity of talent and perspectives in the healthcare workforce will help the industry create more personalized and comprehensive solutions to patient needs.
Why did you decide to specialize particularly in health care administration within the medical field?
I developed a passion for healthcare when I first witnessed a mother and her unborn child die in a hospital because the family couldn't afford a surgical procedure. This event happened in Vietnam, a resource-poor country. I once imagined that a resource-rich country like the United States would provide better access and affordable care to citizens. However, many diseases in this country still go undiagnosed and untreated, negatively impacting countless lives.
In partnership with clinical providers to ensure quality outcomes, health management addresses the issues of affordability, accessibility, sustainability, culture, and patient care experience. My desire is to understand how resources can be brought together to bring great value to the patients in our communities. Healthcare administration is a platform that enables me to explore every aspect that impacts patient care and work with multidisciplinary teams to drive strategic change.
What steps can be taken to make the professional healthcare industry more inclusive?
Rather than answer this question from the perspective of the whole healthcare industry, I would like answer this question from the perspective of the individual.
The first step to opening a door of opportunity to any profession is to have faith in oneself. If my challenging history was used to predict my professional success, I wouldn't be the professional I am today. I urge students and young professionals wishing to enter a competitive field to, firstly, recognize their worth. Secondly, develop achievable steps to enter the field and finally, work hard to advance through each level. Ultimately, all industries, including healthcare, are inclusive to individuals that have met educational and experiential requirements. With good preparation and passion for one's work, opportunity for professional advancement will naturally present itself.
The healthcare industry may play a small role in becoming more inclusive by offering experiential exposure to students, such as internships and access to mentors in the field. Opportunities may be competitive and one may not get the experience one desires, however, I urge our brilliant students and young professionals to always protect the tiniest bit of faith glowing in their souls amidst all challenges in life, academics, and career.
I'd like to offer a passage which has certainly been true in my life, "Truly I tell you, if you have faith as small as a mustard seed, you can say to this mountain, 'move from here to there,' and it will move. Nothing will be impossible for you" (Matthew 17:20). I urge students, particularly First Gen students, to continue knocking on doors until one opens and to always have that mustard-sized faith.
GlobalMindED is proud to recognize First Gen pioneers like Phuong Dinh. We constantly work to empower First Gen students like her to continue to dream big, keep faith in their goals, and connect them with networks and opportunities that help them realize these goals and dreams. Join us at the 2018 GlobalMindED Conference June 9-11 to hear similar success stories. Do you have a story to share with fellow thought leaders? If so, submit your idea to our Call for Proposals and discover other ways to get involved!
Calling all HuffPost superfans!
Sign up for membership to become a founding member and help shape HuffPost's next chapter
This post was published on the now-closed HuffPost Contributor platform. Contributors control their own work and posted freely to our site. If you need to flag this entry as abusive,
send us an email
.