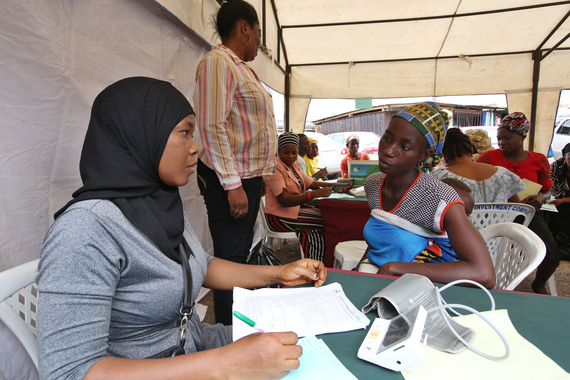 Planning for the future is not easy, but we want to be able to take the kind of decisions that will make us happier. For over 230 million women that isn't a possibility because they can't even access the basics, like contraception. When women and girls can't get the contraceptives they want, they can't plan the future the way they want.
Instead, it increases the likelihood of ill health, poverty and even more negative attitudes towards a woman's power both inside and out of the home. Why is this?
Well, one reason is that it is not always seen as a priority. Contraceptives may even be available in a country but they still don't reach those who want them. They may not be affordable, be the right type, or just not making it to a clinic where a women can reach.
The negative impact cannot be ignored. It is estimated that the lack of access to contraception, results in 74 million unplanned pregnancies annually. High rates of mortality, with pregnancy and childbirth being the leading cause of death in girls aged 15-19 in developing countries.
Contraceptives enable women to control their own destinies. They can realize their most basic human right, to choose the size and timing of their family. This empowers women to plan their families, their lives and to make choices that, all other things remaining equal, will make them happier.
For some women this could be making sure the kids go to school, or enable them to participate fully in educational and economic life which in turn keeps them above the poverty line.
This lack of access is no new story though. Our Federation of over 150 locally owned Member Associations take services out to people. Even to the last mile.
Planned Parenthood Federation of Nigeria is one shining light, when it comes to placing the client at the very heart of everything they do. In a country with high fertility rates, it became necessary to accelerate their services through a project that took services to urban slums and hard to reach areas.
A range of local partners was the key to success. Pharmacists, local leaders, faith based organizations, and Government-loaned health workers went out to markets, homes and places of worship in the same communities they live in to talk about family planning in ways that reached people even in the poorest neighborhoods. These groups became the teams that hit the streets to tackle stigma around contraceptives and raise awareness of local clinics offering sexual and reproductive health services.
In just nine months 53,152 people got services than the estimated 20,200 they thought they would reach, with more women being offered longer acting contraceptives like injectables and implants so their family planning decisions allowed them to get on with their busy lives.
Innovation, commitment and understanding the local context is vital to ensuring that our clinics act as a "one-stop shop" when it comes to sexual and reproductive health and rights.
This means that we stay with our clients. If a women comes in because she is having a baby, later on after the child is born she may decide she wants access to contraceptives, or is referred for a different service such as a cervical smear. Our Member Associations offer this one stop approach as an integrated package at each clinic as standard.
On World Contraception Day, we celebrate how far we have come as a global organization that has been offering these services for more than 60 years.
We will continue to push for a woman's right to make her own choice about her future. We will always meet the need, wherever it is, for whoever requires it, and for as long as they want it.
Calling all HuffPost superfans!
Sign up for membership to become a founding member and help shape HuffPost's next chapter