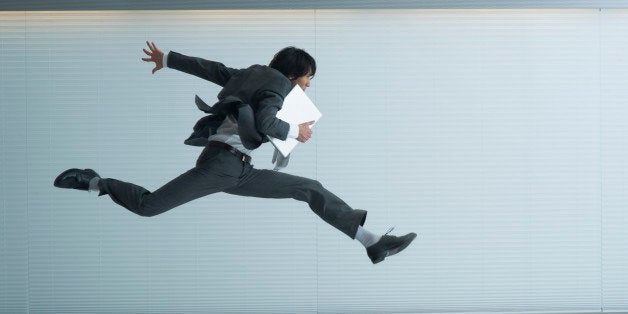 A tipping point? A seismic shift? A seminal moment. It has been a big week for flex.
After incremental, but consistent, progress achieving important visibility and recognition, workplace flexibility has suddenly leapt forward. This past week, its value and importance was validated in the top U.S. financial metropolis and then reinforced and promoted on the national stage. Widely tried and tested, "Right to Request" legislation is front and center as a key enabling framework for workplace flexibility in the U.S.:
The timing of the announcements was impeccable and, no doubt, strategic.
On June 30th, "Right to Request" legislation makes its next, and most impactful, expansion in the UK. This coming Monday, every company will be required to offer and consider a request for flexible working arrangements from any employee (who has worked at their company more than 26 weeks). Now, here in the U.S., legislators are pushing similar laws forward -- for individual and corporate benefit.
It's a smart way to get things rolling. The "Right to Request" was labeled a 'soft touch' law in the UK -- motivating and encouraging, but not mandating, flexibility, with nine specific business reasons detailed for which an employee's request might be turned down. This approach has successfully allowed UK businesses to accept, and then embrace, flexible arrangements. Such that the Third Work-Life Balance Employer Survey in 2007 found 92 percent of employers were open to requests from any employee, not just those qualified by the law.
Core to its success has been the clear definition of the process as an enabling framework for employees and employers to engage in a productive dialog to establish an employment arrangement with reciprocal benefits. There is also a defined process for appealing any rejected requests. Implemented in 2003, the law was initially only offered to parents with children who were disabled or under six. It was expanded to include caregivers in 2007, parents with children under 17 in 2009, and parents with children under 18 in 2011. Next week, is the broadest expansion yet.
Influenced by these progressions, in the U.S., the state of Vermont and the city of San Francisco passed "Right to Request" laws last year and Montana and Oregon have taken steps in the same direction. It's been a confluence of forces, leading to the remarkable announcements over the past 10 days.
Each was dramatic and meaningful in its own way.
The President's Memorandum -- Enhancing Workplace Flexibilities and Work-Life Program -- is significant. Within 120 days, federal agencies have to understand the new policies, get on board, communicate and be ready to offer the program with its clearly defined process to their entire workforce.
It's the right move. It's great acknowledgement of the wide-ranging benefits of flex. Over four million federal employees will be impacted. While emphasizing engagement and productivity, the President also highlighted it as a solution to ease the stress of work-family conflicts that we are all too aware the majority of people deal with on a daily basis. Low income families are one focus, where over 57 percent of low-income families are single parents, a large majority of whom work at least one job. Lack of flexibility can make their everyday lives even more challenging.
Cries of "more burdensome government labor-related bureaucracy'"? No, this is a data-driven, pragmatic step "to attract, empower, and retain a talented and productive workforce in the 21st century." For example, a 2010 UK study presented supporting evidence showing reduced absenteeism and turnover more than paid for the initial administrative burden for companies to comply with the law, never mind the positive financial impact of higher productivity and engagement. In the U.S., Aetna has already seen over $78 million in reduced real estate costs resulting from telecommuting workers.
Meantime, with the backdrop of New York's typical less-than-nurturing culture, Scott Stringer's release itself seemed a bold statement. Focused on the private sector, the news seemed almost controversial. However, as the Comptroller of the most competitive financial market in the U.S. and, arguably, the world, Stringer is focused on enhanced financial outcomes, not altruism.
His thorough 20-page report references numerous studies, strong statistical evidence and grounded logic. His overarching reasoning is straight-forward and compelling -- helping New York City to maintain its status as a magnet for top talent and investment, and where businesses can have more productive, stable and profitable workforces. As part of that, a core premise echoes the new integrated approach, that there is "a collective realization that employers and employees benefit from policies that see family and work as complementary, rather than competitive, parts of a balanced life."
Whatever one's affiliation, companies' shareholders will be best served all round if leaders are well informed about "Right to Request" flexible working policies and adopt them.
Let's build upon the current progress and these announcements and continue to stride forward. Onwards. Upwards. Flexwards.
Related