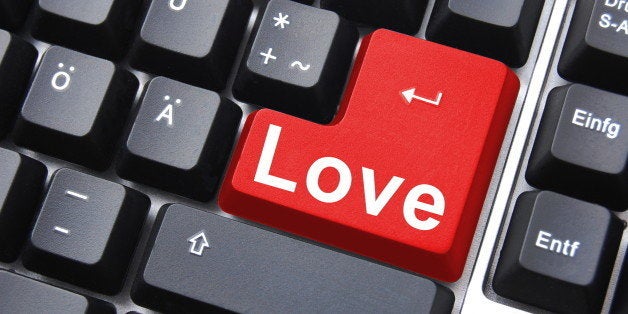 Metaphors are a valuable source of personal inquiry. If my front door is sticking, I call the maintenance man first. I then shine an inner light, sussing out feelings of contraction or being stuck.
I'd been taking a break from online dating. Some people are more goal-oriented. With a laser focus, they steadily go about searching through the candy store of potential mates until they are successful. Others give up.
Spending hours online or having one meet-up after the next without a break between disappointments feels too much like a J-O-B. to me. By using dating sites intermittently, I enjoy the process and have more fun.
Sometimes, all it takes are a few great messages or email exchanges to create a certain sassy confidence. Then I go out into the real world extending myself with openness, enjoying my engagement with others, particularly men. Once away, online dating seems a faint memory, until email alerts from the dating sites call me back. They dangle the men before me who have messaged, "liked" my photos or want to meet me. I then return with optimism.
When I discovered that the door to my home was stuck shut, I wondered how that applied to the door to my heart. If I had to use both hands to push down on the doorknob when entering or exiting, what did that say about my openness to love?
From years of self-inquiry, I've learned to recognize my defense mechanisms. The pre-emptive strike is one that many of us, of both genders, use. It warns off those who are getting too close; those we might start to care about. Behind our aggression lies our false belief that each story will have the inevitable unhappy ending.
Love and loss were again playing on the screen of my mind. My inner door was stuck shut to protect me. It would not open. It would not let love in, if I'd eventually have to let love out. Of course, at my age, love might be taken out in a body bag. And that is no time to have your door stick.
I called the maintenance man. Two showed up. Both had the wrong tools. Not a good sign. I did appreciate the choosing of a rasp and the hand-crafty way of planing the door. But it was the wrong rasp. It was a skinny one that looked like a screwdriver with four narrow sides that he had to hold with two hands while scraping it along the top of the door. I thought of my own two-handed method of opening it, applying force to what should have been an easy turn of the wrist.
Having found our commonality, I thanked him for his perseverance and left Mr. Fix-It to do his work, under the supervision of the second repairman. I returned to my own inner work. They might not have had the right tool, but I did. It was one I'd learned in my Calling In The One online course with Katherine Woodward Thomas.
I sit quietly and remain my resourceful, mature self while engaging with my younger inner one. She lives in my body, disconnected, until I witness her embodied feelings. It was not the first time she had conversed with me. Her response first came in images, then pieces of dialogue.
I listen deeply and hold her compassionately in my mind. She wants the guarantees of lasting love that I cannot give her. I can reassure her that I will listen more quickly when she screams her fear at me. I will not ignore her by pouring myself a second bowl of granola. I let her know that I will not abandon her. She is safe with me.
The internal listening was slow and takes patience. So was the planing of my door.
As often happens when awareness is shined inward and commitment is made to changing our old beliefs and assumptions, our perspective on others also changes. Life itself seems to change, offering us new choices.
Almost immediately, I received a message from an interesting man. He appeared to have actually read my carefully worded profile, responded with insight and was not in a rush. Who was this man? Reminding myself that moving forward with more curiosity than expectation is important when online dating, I replied to his message.
As I begin my next adventure, I am glad that both doors now open and close with ease. Synchronistically, I received a free audio from a qi gong master today, "open your heart, change your world." I am hoping it's a sign.
REAL LIFE. REAL NEWS. REAL VOICES.
Help us tell more of the stories that matter from voices that too often remain unheard.