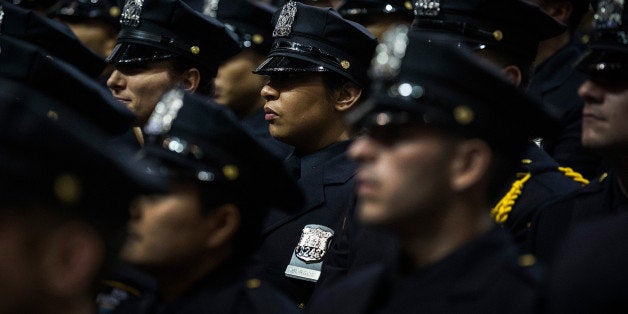 Yesterday, I had the privilege of speaking to the New York State Association of Police Benevolent Associations. Every day, in every city and town across the country, police officers are performing vital services that help make their communities safer. PBAs are a vital voice defending the people who defend our safety, so I was honored to have the opportunity to thank them for their work.

But more than that, I was honored to have the opportunity to thank them for being strong partners in a quiet revolution that has helped make New York a safer place to raise our families, build our homes, or start our businesses.

In the last three years, crime has decreased across the board in New York. Murder and burglary are down by double digits. At the same time, the state's prison population has declined 4 percent.

That is in large part thanks to our shared efforts to tackle crime in a way that is both tough and smart. While some folks are still pushing to bring back the draconian drug laws from a bygone era -- policies that flooded our prisons but did nothing to make our streets safer -- we have chosen a path that actually works.

Those of us in law enforcement cannot and will not tolerate violent predators or gangs that flood our streets with illegal drugs. That is why my office's Organized Crime Task Force has worked with police departments across the state to break up some of the largest gangs and drug trafficking rings in New York. Since 2011, we have taken down 17 of the largest drug rings, busting at least 345 dealers.

But we also have developed innovative new strategies that are making a real difference.

Take, for example, abuse of prescription drugs. I partnered with leaders in the public health and law enforcement communities to pass the Internet System for Tracking Overprescribing -- I-STOP -- which requires doctors and pharmacists to check a real-time database to see if a patient has one prescription for pain pills - or 20.

By flagging addicts who are doctor-shopping to get their pain pills before they make the move to cheaper, more dangerous drugs like heroin, we are severing a key link in the chain of addiction and steering addicted patients into treatment.

Being tough and smart on crime means partnering with responsible gun owners and our local colleagues law enforcement to keep dangerous weapons out of our communities. That is why I have worked with police departments across the state to host gun buybacks. Together, we have taken more than 800 guns off the streets. That is also why I partnered with gun show operators to develop an innovative set of procedures that guarantee a background check is performed for every firearm sold at a gun show in New York.

The fastest growing property crime in the United States has been smartphone theft. In 2013, more than 3 million mobile devices were stolen in the United States, and many of these theft included violence -- even deaths. To stop this problem, my office started a national network of law enforcement officials to pressure the mobile communications industry to take common-sense steps to prevent smartphone theft.

We figured out that this epidemic would end if we could force the industry to install kill switches into every smart phone, so they can be shut off the way you cancel your credit card. Initially, the industry resisted. But in just one year, the Secure Our Smartphones Initiative has pressured some major smartphone makers into installing kill switches. And it is working. Preliminary statistics suggest crimes targeting products with theft-deterrent features fell, even as crimes targeting smartphones from manufacturers that refused to install those features rose.

Finally, no approach to crime -- no matter how tough or smart -- can work if we don't protect the people protecting us. When I learned that Congress had gutted a federal program to help local police departments buy bulletproof vests for their officers, I created the inVEST Partnership. This $3.5 million program uses funds seized from criminals to help police departments buy body armor for their officers.

These tough, smart, creative approaches are reducing crime across the state. I look forward to continuing to serve the people of New York and making our state a safer place to live, work and raise families for many years to come.