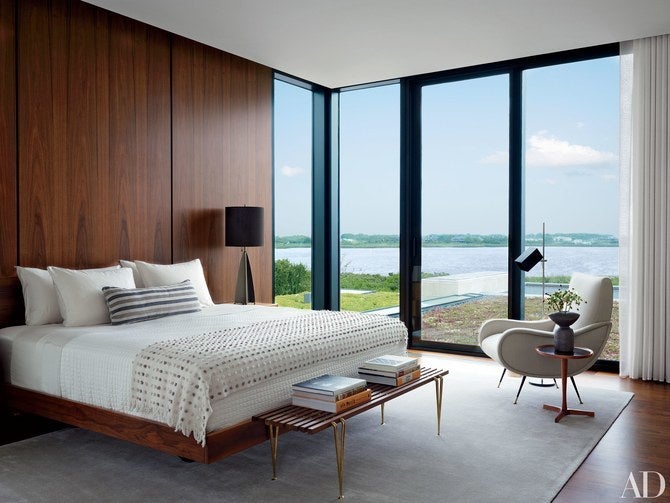 There's nothing quite like the simple luxury of slipping between fresh, crisp sheets and laying your head down on a silky soft pillow. But keeping your linens in pristine condition is about more than just washing them the right way — it's also about storing them strategically to best preserve the color and integrity of the fabric, especially when they spend so much of their time hidden away when another set is in rotation. We couldn't think of anyone better to consult on the subject of bedding than the experts at Frette, the iconic Italian linen purveyor and a favorite among luxury hotels and the design elite. Here, marketing manager Amy Skarbnik gives us the lowdown on how to maximize the shelf life of your linens.
"Store your linens in a bone-dry space with minimal light exposure," says Skarbnik. A linen closet is ideal, but if you don't have one, she suggests a trunk at the end of the bed or a storage bench as design-friendly alternatives.
Protect your linens from dust by storing them in a fabric-friendly container. "A white fabric bag is the best option, and we recommend placing acid-free paper in between linen sets to allow for more air circulation," says Skarbnik.
"It may be tempting to leave your linens in the plastic bags from the dry cleaner, but don't do it," says Skarbnik. In addition to plastic, you should also steer clear of cedar or cardboard to prevent yellowing and to keep your whites looking snow-white.
To keep your storage space neat and organized — and to avoid overcrowding — limit yourself to three sets of sheets per bed and as few as three sets of towels (including hand towels and washcloths) per person, plus an extra set for guests.
Sachets, while not a must, are a nice way to subtly enhance the aroma of your linens when placed in the back of your closet or trunk. "Just make sure the sachet bag is white so no color can bleed onto your linens," Skarbnik says. You can also use scented drawer liners.
More from Architectural Digest: