National Mentoring Month!
National Mentoring Day is January 21, 2016.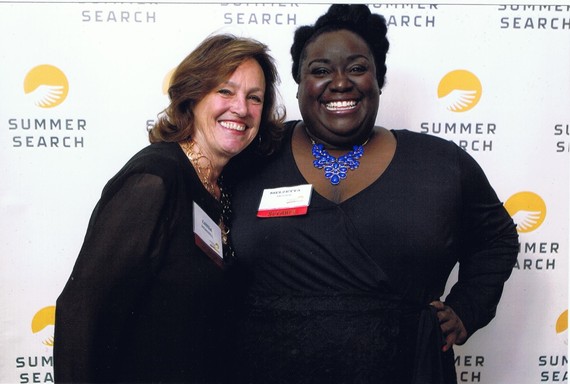 Linda is a national thought leader and heroine in mentoring. She founded one of the leading nonprofits focused on mentoring teens from underserved backgrounds, Summer Search, 25 years ago!
Interested in learning the powerful impact of mentoring?
Be sure and read Linda's compelling book, Forever Changed.
January is National Mentor Month. January 21 is National Mentor day. A moment to savor, reflect and honor mentoring and mentors!
For Linda Mornell, mentoring was her right work which included 20 years in a private counseling practice and another 20 years founding and running a non-profit based on mentoring, to help kids. Those combined experiences taught her that there are three major factors that help people make changes in their lives: the degree of pain and discomfort they feel, their ability to reflect and look inward for answers, and the mentors they choose.
Melzetta was a child who had been raised by a mostly homeless mother. In her journey toward change, Melzetta chose Linda. It started in 1994 at Oakland High School.
"This is Melzetta," says Mrs. Ferrier, the referring teacher. I look closely at the young woman sitting outside of the empty interview room at Oakland High School. She is a dark skinned African American, seriously overweight and there is a large bowl of greasy Nachos on the desk she has managed to squeeze into while waiting for her interview.
The referring teacher knows that I am looking for low-income students who can participate in summer programs on full scholarships for the non-profit I have founded called Summer Search. Students need to have some degree of athleticism. What was Mrs. Ferrier thinking?
Melzetta and I make our way into the interview room where all is suddenly quiet. I ask her the standard question of what it's like to walk in her shoes. Can she tell me about her life and especially her challenges?
After an initial hesitation, Melzetta launches into a very specific story of what it was like to grow up homeless in Oakland; of ping ponging from shelters, to the streets, to section 8 housing that always seemed to fall through as her mother routinely fell short of the rent. Melzetta ended with quietly humming the song her mother always sang when it was time to move, "On The Road Again". Then Melzetta did something that changed her life and mine too, forever. She smiled. It is hard to describe that smile but it began on one side of her broad expressive face and continued wider and wider until it not only lit up the room, but revealed a soul that would light up the universe. She looked into my eyes and concluded with, "I guess you could say that instability has been my stability. The one thing I could count on growing up."
Okay. That began a relationship that continues to this day. Melzetta went to Concordia Language School in Minnesota that summer to study Spanish. As a first step out of her very limited environment and with kids mostly from affluent backgrounds, I worried a bit. But there was no need to worry -- after an initial withdrawal the first week, Melzetta, forever flexible, was able to bond with the kids and became known across the campus as Big Mamma, the one anyone could go to and talk about problems. Melzetta went on to do something no one had done in her family, she graduated from Oakland High and went on to attend Kenyan University in Ohio on a full scholarship. She graduated, worked in the financial sector and then went on to get an MBA at the University of Rochester, Simon Business School and landed an amazing job at Comcast NBC Universal. At the twenty fifth anniversary of Summer Search she was the keynote speaker at the Summer Search Philadelphia office celebration.
As Melzetta's mentor, I feel so fortunate that I can be in the shoes of someone from such a different background and that we share a common humanity that has bound us together for twenty years, hopefully with many more to come.
This is what becoming a mentor can do for anyone who has the desire to truly get to know another person. To walk in their shoes and to be fully present and helpful during important transitions and changes when friends and family, for a variety of reasons, can't be. To quote Sasha, the very first Summer Search student from 1990, "Mentoring can broaden our circle of moral concern. For many people this circle includes only themselves, maybe their family. For others, it's a bit bigger and includes their community. And for some, the lucky few, the circle extends to the 'other.'" Count us in. Melzetta and I are among the lucky few! "
Lets all support mentoring organizations in our community... MENTORING SAVES LIVES!
Support HuffPost
The Stakes Have Never Been Higher
Related
Popular in the Community