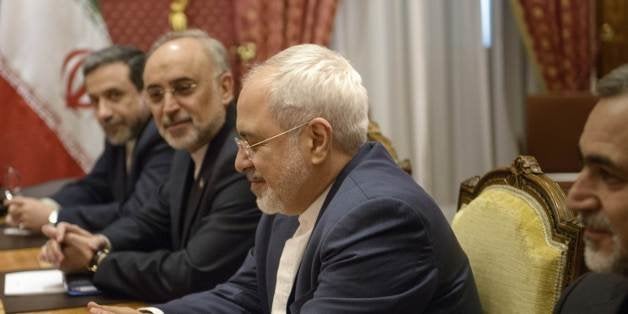 Conservatives in this country are deeply frustrated by the progress of the nuclear talks with Iran, which are likely to produce a landmark agreement within a few weeks. So they have reverted to an old shibboleth of anti-Iran rhetoric: that the Islamic Republic of Iran is hell bent on regional domination, to America's peril. The argument is hollow.
It's an argument being made with increasing urgency as the nuclear deal looms. The fear on the right is that an historic accord with Tehran might blind Washington and the Europeans to Iran's penchant for anti-U.S. and anti-Israel mischief. Many liberal analysts speak of a renaissance of U.S.-Iran relations post-deal, which seems premature, but this is the right-wing nightmare. It is also the Saudis', who have long enjoyed privileged status in Washington.
This week, a group of former policy makers issued a short report, "Key Elements of a Strategy for the United States in the Middle East," which basically has one and only one message: Iran is dangerous, and getting more so by the day. The report is issued in the name of Sandy Berger, national security adviser to President Clinton, Stephen Hadley, national security adviser to President George W. Bush, and three others who are senior fellows or staff of the Washington Institute for Near East Policy (WINEP), Dennis Ross, James Jeffrey, and Robert Satloff.
Now, the first thing to know about WINEP is that it has always been, since it grew out of the American Israel Public Affairs Committee, or AIPAC, in 1985, an essentially Israeli operation in the sense that its primary goal is to protect Israel's interests. This fact is rarely mentioned in the mainstream news media. And the report on Iran-as-biggest-danger is in perfect harmony with Israeli Prime Minister Netanyahu's repeated warnings, if more sophisticated.
But it's a good example of how the argument is formulated, one that I've heard at dinner parties and seminars for several months now. To some degree, it accepts the likelihood of a nuclear deal, although it's also used as a battering ram against the accord -- i.e., if Iran is freed from sanctions, it can do more to expand its reach in the region. The more perplexing, if not outrageous, claims about Persian Gulf dynamics is the depiction of Saudi Arabia, Qatar, and other Gulf monarchies as the innocent victims of Iranian intrigue.
The Gulf monarchies, the authors insist, "see their struggle against Iran in existential terms, and the more the Iranians seem to be intent on encircling Saudi Arabia--with perceived threats to its Eastern Province, as well as to Bahrain, Iraq, Syria, Lebanon, and Yemen--the more the Saudis will position themselves to counter the Islamic Republic." Just deconstructing these sentences would take too much space, but suffice it to say that there is no "existential" threat from Iran; the Saudis have treated their Shia citizens in the Eastern Province with contempt; and the involvement of Iran in Syria (supporting Assad) and in Lebanon (supporting Hezbollah) were more about Israel than any other objective. The WINEP authors speak darkly of Iran's "regional hegemony" -- apparently a fact, not merely an aspiration -- to which they fear the Obama administration might acquiesce after the nuclear deal signing.
The Saudis, Emiratis, Kuwaitis, and Qataris, by contrast, are our stout allies (along, of course, with Israel), who should become "more inclusive, more tolerant, more accepting of pluralism, and more willing to accept minority rights." (This list could apply to Israel as well.) It should be added that these are not just minor nuisances. The Saudis in particular are in effect running a totalitarian state. Not only is this evident in domestic life and politics, but in its aggressive proselytizing of Wahabbism, its brand of extremist Sunni ideology, not only in the Middle East and North Africa but in East Asia and elsewhere.
The Saudis and Qataris funded "rebels" in Syria who were among the most dangerous kinds, some of whom have migrated into the Islamic State, or ISIS, the defeat of which is the putative reason for the WINEP report. Despite the authors' assurances that the Gulf monarchies have backed away from such support, reports indicate it continues. The authors endorse the Saudis' bombing campaign against Yemen, designed to set back the Houthi tribe that is Shia and loosely aligned with Iran. More than 2,000 people have been killed in Yemen because of Saudi aggression, and aid workers describe desperate conditions for civilians ("I am shocked about what I have seen," said a director of Doctors Without Borders). The U.S. is supporting the Saudi operation.
The authors refer to Iran's "unacceptable behaviors" in the region, and claim that it seeks to destabilize the state structure of the region's countries. And here one must ask, which nation has in fact done the most to destabilize states? The Saudis in Syria would be one candidate. They also supported Sunni insurgents in Iraq. The authors do not even cite the U.S. invasion and the smoking ruin that was Iraq after years of U.S. war and occupation, including at least 500,000 Iraqi deaths. (Some of the WINEP authors were directly involved in that catastrophe.) And of course they scarcely mention Israel's role in nourishing the jihadi narrative by its nearly half-century of occupation and human-rights violations in Palestine.
Deriving lineages for Middle East tragedies and misdeeds is a fool's errand, but the WINEP authors have produced nothing more than anti-Iran boilerplate without so much as an evidentiary footnote. Iran is no angel, to be sure, but its pursuit of its own interests is typical state behavior. It could be schooled on Syria and the havoc it contributed to in Iraq, including sectarian governance from Baghdad, but the notion of Iranian hegemony is a right-winger's fantasy. And, it seems, Israel's think tank on L St.
John Tirman is author or coauthor of two books on U.S.-Iran relations and, most recently, Dream Chasers: Immigration and the American Backlash (MIT Press). He is executive director of the MIT Center for International Studies.
CORRECTION: This post previously misidentified the full name of AIPAC as the American-Israel Political Action Committee.
Popular in the Community