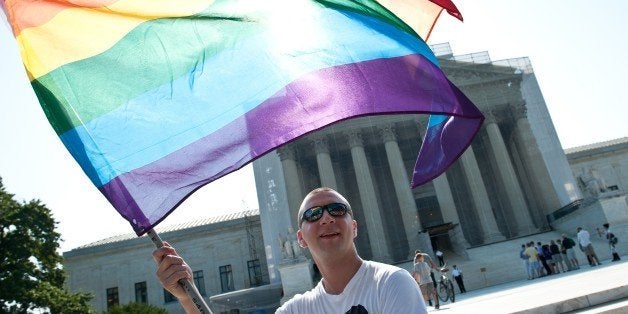 A little over a week ago at the Values Voters Summit (VVS), I spoke with Brian Brown, president of the National Organization for Marriage (NOM), and he was positively certain that the Supreme Court would take one of the marriage cases it rejected yesterday (listen to the audio below). Not only that, he was pretty sure that, since the high court had stayed decisions and stopped gay marriages from proceeding in Utah and Virginia after lower courts had rule those states' bans unconstitutional, marriage equality opponents would prevail after the court took the case, upholding gay marriage bans all across the country.
Instead, the court not only brought marriage equality instantly to five states by not hearing the appeals of the lower court rulings; in short order another six states in the circuits affected will likely have marriage equality. And today, Brian Brown is furious and stunned at the decision. But he and Tony Perkins of the Family Research Council and others are vowing to fight on. They are delusional if not just doing fundraising -- claiming they can still win at the high court -- but they're also being pragmatic, looking to the future. And it's on that last note that we had better pay attention.
At the Values Voters Summit they trotted out Melissa Klein, the Oregon baker who shut down her bakery rather than serve gay and lesbian couples, and incurred a fine for discrimination. She and a bunch of others were paraded around -- she even cried on a panel on the main stage -- as victims of the left's supposed war on their freedom of religion. The plan now is to turn themselves into the victims, persecuted as their "religious liberties" are under terrible assault, and to use the dangerous Hobby Lobby decision from the Supreme Court to discriminate in the name of religious liberties. We've of course seen some of this rhetoric both before and after Hobby Lobby. Expect it just to intensify big time.
On a panel at VVS titled "The Future of Marriage," Frank Schubert, the mastermind strategist of the Proposition 8 campaign and other marriage ban campaigns across the country, said that if by chance marriage equality opponents lost at the high court, as pretty much happened yesterday, they would have to go the route they did with abortion after Roe v. Wade. They'd have to seek "incremental" wins, he said, as they did then, chipping away slowly at abortion rights, which of course has been very successful. Schubert then said they'd have to the find the gay "version" of "partial birth abortion." I almost fell off my seat on that one.
Later, I asked Schubert what he meant by that statement (listen to the audio above), and he talked about "conscience clauses" and "religious liberties," which brings us back to Hobby Lobby, businesses that don't want to serve gays, adoption by gay parents, and lots of other issues. Bryan Fischer of the American Family Association told me at VVS that they aren't giving up and, persistent as he is, he tweeted that to me last night as well. Texas Sen. Ted Cruz, who won the VVS straw poll, railed yesterday against the "tragic and indefensible" Supreme Court decision, calling for a new marriage amendment as he possibly marches in a presidential campaign. Nobody should think that they won't regroup and find different ways to attack LGBT people and other groups, armed with a new plan. It's simply what they do.
Calling all HuffPost superfans!
Sign up for membership to become a founding member and help shape HuffPost's next chapter