Jean-Michel Basquiat would have celebrated his 50th birthday on December 22, 2010. So it is a shock to realize that he died more than 22 years ago. In spite of his extremely premature death, however, he managed not only to fulfill his goal of becoming rich and famous, but also to become one of the most important artists of the late 20th century.
The Musée d'Art moderne de la Ville de Paris is currently honoring Basquiat with a retrospective exhibition that will run through January 30, 2011. The exhibition is magnificent, and makes clear the nature of Basquiat's contribution to advanced art. It also reveals the sources of his spectacular rise and his equally precipitous fall.
In the early 1980s, Basquiat's paintings introduced powerful references to blacks and their history into an American art world that had long been dominated by themes from white culture. He paid tribute to great black athletes and musicians, canonizing Joe Louis as St. Joe and bestowing a kingdom on Charlie Parker as Charles the First. Yet Basquiat was not merely an artist of race: a friend, the painter Arden Scott, recalled that he had higher aspirations--"Basquiat was intent on being a mainstream artist. He didn't want to be a black artist. He wanted to be a famous artist." And he did this, by bringing color and brushstrokes back to an art world that had suffered through the austerity of Minimalism and Conceptualism. Basquiat's exuberant and expressive use of paint made him, along with Gerhard Richter, an inspiration for many young painters of the past three decades.
The Paris retrospective demonstrates that Basquiat's art suddenly matured in 1981, when he was 21, when he began using more than a single dominant color in each of his large paintings, and also began including more than one figure. His paintings suddenly became more complex in both imagery and color, and as a result became more energetic: his greatest works are not built around central images, but fill the canvases, as images and words jostle against each other in all-over compositions. The gestural brushstrokes and drips emphasize the speed with which these paintings were made. Phoebe Hoban reports that Basquiat often painted to a steady stream of Charlie Parker recordings, and this is easy to believe, for his most beautiful paintings of 1981-82 have the power, energy, and drive of Parker's greatest bebop solos. Like Parker, Basquiat was improvising at top speed, but never setting a foot wrong; these paintings give off sparks.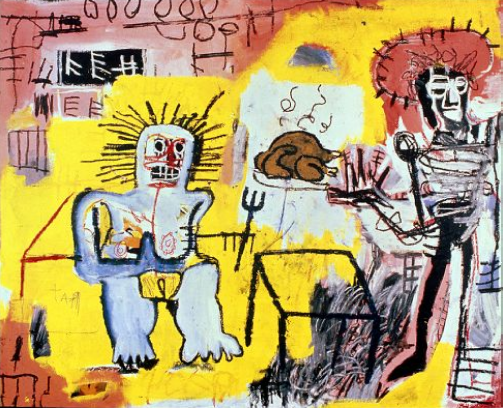 Arroz con Pollo, 1981, Jean-Michel Basquiat, Brooklyn Museum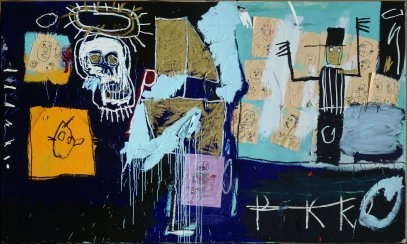 Slave Auction, 1982, Jean-Michel Basquiat, Musée d'Art moderne de la Ville de Paris
After these few brief years, however, the energy dissipated. By 1983-84, the paintings became even larger, the compositions simpler, and the tension and excitement of the earlier works was lost.
The suddenness of Basquiat's maturation, and the equally sudden decline of his art, are not anomalies, but are direct products of the conceptual nature of his art. Conceptual artists innovate by producing unexpected syntheses of earlier art, and Basquiat was an archetypal example; as one of the wall captions in Paris observes, "Drawing, scribbling, writing, collaging, and painting all at the same time: Basquiat's practice was all fusion, with no regard for artistic hierarchies." Interestingly, in using simple, child-like drawing to make sophisticated statements, Basquiat recalls the art of another precocious conceptual genius, as Sylvia Plath's use of nursery-rhyme rhythms heightened the power of her furious October poems.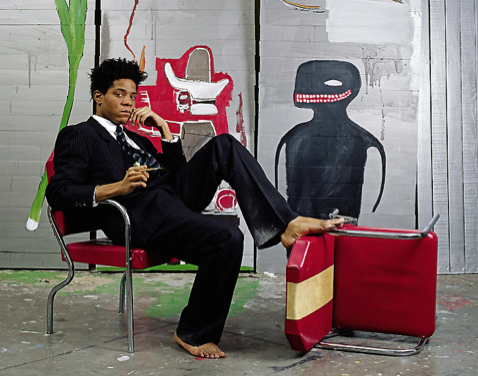 Jean-Michel Basquiat in his studio, Lizzie Himmel, 1985, Brooklyn Museum
Jean-Michel Basquiat wanted to be a celebrity: a friend recalled that "He always said he was going to be the next Warhol." He did become rich and famous, as his trademark paint-spattered Armani suits and bare feet became almost as recognizable as Warhol's wigs. Yet more than two decades after Basquiat's death, it is not the celebrity that matters, but the breakthrough of his art, as he combined the paint handling of Twombly, the art brut of Dubuffet, and the combine materials of Rauschenberg to create a new kind of painting that has inspired generations of young artists, white as well as black.
Related
Popular in the Community