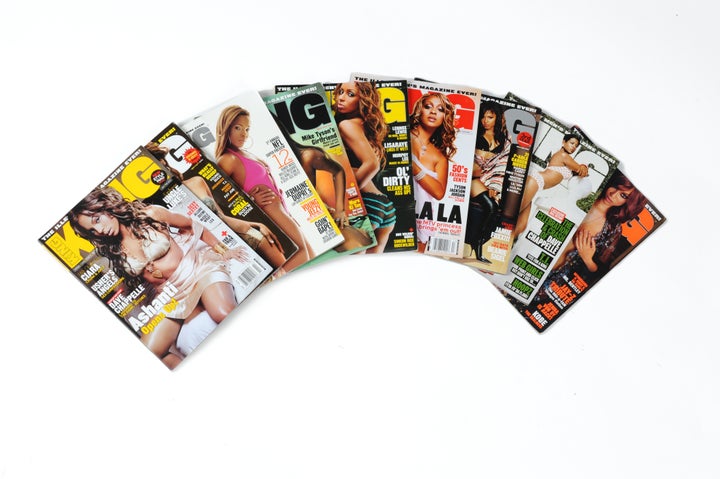 "We need to talk about KING," the Harris Publications exec told Datwon Thomas, editor-in-chief of XXL magazine and a founder and editorial director of KING, the men's lifestyle magazine.
It was early 2009. The economy had tanked and the magazine industry was in a tailspin. Magazines were folding. Advertisers were in full-blown fallout mode. And KING had gone through several rounds of layoffs. The writing was on the wall.
The executive told Thomas that KING was unsustainable, that advertising dollars had slowed to a trickle and that the next issue, its 51st, would be its last. KING was done.
For nearly eight years, KING, the self-proclaimed "Illest Men's Magazine Ever" had been Thomas' baby and a jewel in the Harris Publications crown.
It was an urban answer to mainstream lad mags like Maxim, FHM and Stuff, and was the closest thing there had ever been to a hip-hop equivalent of GQ, with lavish fashion spreads, A-list celebrities and video vixens who bared their souls and just enough of their bodies to arouse the curiosity of readers. It was the print manifestation of barbershop talk with the fellas: sports, gadgets, cars and plenty of curvy and scantily clad women, alongside deeper investigative pieces written from the perspective of the urban everyman, with swagger and college-boy humor.
KING gained a cult-like following, at once celebrating beautiful women of color and feeding the fetishization of the black woman's body.
"It was like your homeboy's magazine," Thomas said. "We took a bit of street savvy, wit, hood, academia -- we took it all and just put it into this dope project. If you saw the covers, you'd be like, 'All they want to do is look at this girl's ass.' But if you opened it, you'd be like, 'Wow, it's so much more than that.'"
In its first four years, KING's circulation more than doubled, from 132,851 a year after it launched to 271,298 in 2005, making it one of the fastest-growing magazines in America at the time, according to the Audit Bureau of Circulations, which tracks magazine sales. Then as the economy worsened, things fell apart.
But more than just shrinking ad revenue, it seems that ambition is what truly killed KING.
"For so long the publishers really didn't want the magazine to be as robust as it was," said Thomas, who is now the editorial director at Vibe. "I think the publisher really just wanted some girls. Throughout the years they would say, 'Y'all sure you don't want to just cut some of this stuff out?' It was always that little nudge."
While the brain trust behind the magazine -- which included a roster of urban magazine wunderkinds, including Thomas and Jermaine Hall, KING's last editor-in-chief -- was pushing the magazine to be as balanced and well rounded as it could be, insiders say Harris Publications saw the clearest route to profit as the one that went across the bubbly behinds of the women featured in its pages. The fewer bells and whistles and the more prominently placed booty, the better.
"The book was flying off the newsstands," said Hall, who is now Vibe's editor-in-chief. Hall joined the staff at KING as executive editor after the third or fourth edition and served as its editor-in-chief from 2006 until it was shuttered. "I'm sure in their minds, if they could get us to be way less ambitious, the profit would have been a lot more. That ambition wasn't cheap," he said, noting the expense of talented writers, photographers and lush fashion spreads.
"If we would have dumbed it down the way they wanted it to be, then it would have been a lot more profitable," Hall said. "Not that they weren't making a lot of money off it. They were."
This year would have been KING's tenth anniversary. After shutting down, it re-emerged in the winter of 2010 as The Women of KING, a shell of its former self and little more than a picture book of T and A. The KING of the early to mid-2000s, its heyday, is now the stuff of lore.
Former editors, writers and people affiliated with the magazine talked to BlackVoices about the rise and fall of KING, their high hopes for it and its unrealized potential.
"After the first few issues, I knew we were about to go on a run," said Adell Henderson, KING's West Coast editor from 2001 to 2008. Nothing like KING had ever been attempted on that scale. There had been black men's lifestyle magazines before, like CODE and Ebony Man, but they were for the older, more established set. KING aimed straight for the hip-hop cat in his 20s or early 30s with around-the-way sensibilities.
"KING came out of conversations with my boys in Brooklyn. It'd be like a Friday night, and the whole plan was to watch 'Def Comedy Jam' before we went out, and it would be all these snap sessions and getting on each other and talking about girls, and talking about cars and talking about what we wanted to do in life and talking about basketball ... I just wanted everyone to have that feeling," Thomas said.
In the years to come there would be glorious highs and indeed some fire. Many women blasted KING as exploitative and objectifying of black women. Internally the editors faced a constant struggle to balance the more provocative covers that were sure to sell at newsstands with greater editorial goals. And as KING's popularity grew, it became the unwitting pied piper of a burgeoning cottage industry of publications that showcased curvy women of color, including Black Men, Smooth and Show, which placed less of a premium on refined presentation or quality journalism.
There was a particular dance KING had to do to remain both relevant and competitive in that space: to be sexy enough for their base, but tame enough for advertisers and at the same time keep their distance from the stuff of the lesser regarded "booty mags."
"People aren't going to put you next to GQ. They're going to put you next to Smooth. There was an awareness of course that if your cover is some very classy, covered-up whoever ... how is that going to sell next to Smooth?" said Siobhan O'Connor, KING's managing editor from 2004 to 2007. "We were always aware of those challenges."
Over time, O'Connor said there was more and more pressure to compete on the newsstands. It began quietly to take a toll on some of the team, overachievers who had their eyes on challenging the most established mainstream men's lifestyle titles.
"The pressure became quite great to put ass on the cover because that might sell better," said O'Connor, who is currently an editor at Prevention magazine. "When you're optimistic, passionate, and ambitious -- and you believe in real journalism, which I think the editorial staff was -- it can be very demoralizing. It was very demoralizing. I got to a point where I had to sort of start questioning what I was doing there, which is really hard when you know that you have the best staff and the best intentions."
The black lad mags that were inevitably lumped together undeniably shared a common interest. As publications like Maxim and FHM flourished with pages filled mostly with rail-thin white girls, these magazines offered the antidote: a one-two-three of small waists, thick thighs and plump behinds. More "Brenda from the block" than Malibu Barbie.
"That's what our readers have come to expect from us,'' Thomas told the New York Times in 2004, as sales of KING were rocketing. ''They want to see the thick girls, the girls with a big backside.''
Not only did KING capitalize on the emergence of the so-called video vixen, it helped turn them from little more than accessories in rap videos to stars in their own right, launching the careers of models like Buffie "The Body" Carruth and Melyssa Ford.
Few women seized the moment during the KING era more than Carruth, whose neck-snapping 34-28-44 proportions made her a hood icon in 2005, when she first appeared in videos for rappers Tony Yayo and Juelz Santana. Her spread in KING was her first major magazine splash.
"If you were in KING, you knew you were really doing something," said Carruth, who has since traded modeling and videos for a career as a nightclub owner, fitness instructor and an Internet entrepreneur with her website, bootynomics.com. "Let's put it like this, you didn't have to just have a big booty to be in KING, you had to really be known, people had to be calling your name. So it was like that with KING, and the photo shoots were always classy, always clean, wasn't ever too raunchy or childish, like some of the other magazines."
KING's reputation for treating the nearly-naked women it photographed with class and respect preceded it, making reluctant beauties more willing to shed some of their clothes and inhibitions. This approach brought with it a certain responsibility.
"Temptation is great. I think that goes for a dude walking down the block, so imagine you're a dude walking into a photo shoot, and there's a girl or girls, no clothes on basically," Thomas said. "But when I was in that mode, it was all business. It was all like the ten crack commandments," he said, referencing a code of ethics from the Notorious B.I.G. song of the same name: "Don't get high on your own supply."
KING landed aspiring actresses, musicians and "it" girls, as well as big-name stars like Tyra Banks, Stacey Dash and Janet Jackson.
Tahiry Jose, the buxom ex-girlfriend of rapper Joe Budden whose first appearance in the original KING was on the cover of its very last issue, parlayed an appearance in KING into a promising career as an urban model and calendar girl.
"They showed a lot of respect," Jose said. "They did a good job of keeping it tasteful. It wasn't so much about if I like a man to smack me from behind, or my favorite sex position. They showed that you have a brain."
Bonsu Thompson, the editor-in-chief of The Source magazine who was a contributing editor at KING from 2003 to 2009, said what made KING so popular was the multiplicity in its messaging.
"It showed that women of color, women of curves could be celebrated, but we never lost the celebration of the man and his lifestyle and the grandeur that came with that," Thompson said, "or his need for good, quality journalism."
The formula worked. By the time the singer Mya hit the September/October cover in 2003, the buzz in the streets had gone from a drone to deafening.
Celebrities, musicians and aspiring actresses were clamoring to be featured in the magazine. Professional athletes were giving shout-outs and the KING moniker started to surface in rap lyrics.
"We created this quality magazine, which was mind-blowing to us because we were kids, man, we were just 26 years old," said Henderson, now a producer on "The Monique Show." "And to have so much power and influence, it was just an amazing ride."
There was perhaps no greater coup during KING's rise to success than landing Tyra Banks in 2004. It took nearly three years of phone calls, letters and sending flowers and candy on her birthday to get her to agree to do the magazine. It was a mission that began before the first issue ever hit the stands. During the design of the KING logo and mock-ups of early pages, the creative director used a picture of Banks from a spread in GQ as a place-holder.
Dennis Page, the publisher of KING and several other Harris titles, scoffed at the idea of landing Banks, Thomas said.
"He was like, 'Ha-ha, Tyra Banks, don't kill yourself trying to get her, because you're never going to get her,'" Thomas recalls.
From that moment, the pursuit was on. "That was like my NBA championship," Thomas said. "If I was able to get Tyra, even more so than Halle, more so than Beyonce, who everybody wanted at that time. Tyra was it. She represented mainstream beauty for black women, and I wanted to show that we could do that geared toward black men."
Three years in, she finally agreed. It set KING on an even steeper trajectory. "That was definitely the sense that we finally made it," Thomas said. While Tyra was KING's white whale, other big fish remained elusive.
"We didn't get Beyonce. We didn't get Serena. We didn't get Halle," Thomas said. "We pitched Beyonce four times with four incredible, different concepts; but I think it was that personal drive for me to get Tyra that really made me stick with it and get her."
In the issue, Banks explained why she finally agreed to do KING: "I really wanted to do KING because I feel like I do Maxim, I do FHM, I do Stuff, and I don't need to be turning my back on my people's same version of it. So that's why I really wanted to do it."
"That was like a feather in our hat," said Hall -- a tremendously expensive feather.
The average cover shoot for KING had cost between $5,000 and $8,000 at the time. Banks' travel alone, first class for her and her assistant, was more than $10,000. (An entire issue had cost about $60,000 to produce, $75,000 on the high end.)
The big money seemed to pay off, if only anecdotally. After Tyra appeared on the cover of the January/February issue in 2004, the circulation continued to climb during the next year, leaping from 246,905 that year to 271,298 the next. Those were solid numbers for a small, privately held company.
In hindsight, the grand Tyra moment seems to represent a turning point. KING was a major player on the scene, top of the heap and hitting all-time sales highs. But over the course of the next few years, the book would begin to lose circulation, go through a major power shift and enter one of the toughest economic environments in the history of the United States.
More than 428 magazines folded in 2009 alone, according to mediafinder.com.
On March 31, 2009, KING would join that list.
The beginning of the end seems to have come around 2006, shortly after Datwon Thomas stepped down as editor-in-chief of the magazine. Jermaine Hall, long a part of the editorial nucleus, would replace him as Thomas became the editorial director, largely stepping away from day-to-day operations.
Hall said that he found no fault in Harris Publications' decision because they were businessmen, and it was their prerogative to make business decisions.
"I was so focused on making that book into what I thought it should be," he said. "I think we all fought. At the end of the day, none of us owned KING magazine. We were all employees, every last one of us."
Page said that KING folded as a result of the recession and that advertisers had turned fickle when faced with tough economic times. "It was a very expensive book that just got impossible to do," Page said recently. "It's not a KING story, it's a media and magazine story, contrary to what anyone wants to tell you."
The liquor, rims and clothing advertisers that the magazine leaned on so heavily were hit especially hard during the recession. And former employees of KING and Harris Publications said there was reluctance and sometimes "laziness" on the part of the sales team, who never committed to courting more lasting, higher-end advertisers. But at the same time, more traditional advertisers were wary of the saucy content or of targeting the black male market at all.
"I think if you had asked Harris what they wanted the book to be, best case scenario, it would probably be what the book is now. Which is a way-scaled-down version, basically a shell of what the magazine was," Hall said. "For obvious reasons, it's a lot cheaper to produce. I think the team that we had in place was just a very ambitious team. For us to make a book like it would have just been a waste of our time."
After closing KING, Harris relaunched a version of the magazine, Women of KING, in the winter of 2010. They tapped Sean Malcolm, the former lifestyle editor be its editor-in-chief. The A-list celebrities are few and far between; they recently featured Nicki Minaj, who Malcolm said was his Tyra.
Most of the old team behind KING have landed in well-placed positions throughout the industry. They see each other at events and parties, sharing the occasional telephone call or grabbing a drink.
"You're the hot thing until you're not," Thomas said. "Only a few things stay hot forever."
With that, Thomas is working on a few yet-to-be-announced projects to bring back a new KING-dom for a new generation.
"The kid that I was talking to back then, I was 25, going on 26. I'm 36 now. If that kid has grown up with me, he's probably married and has kids," Thomas said. "I still want him to feel that he's cool, because he is."
Popular in the Community