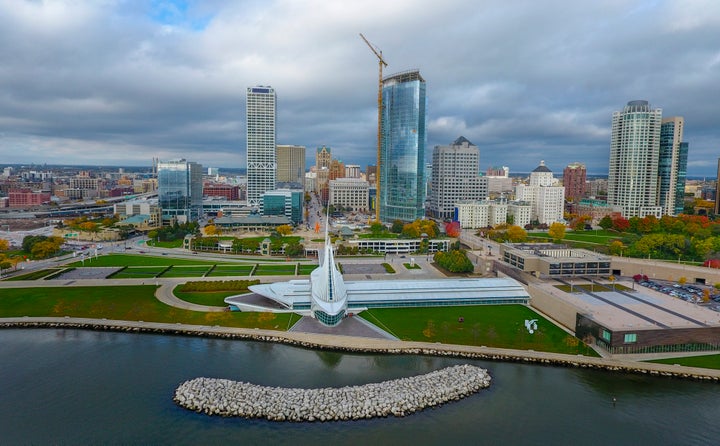 Harleys. Cheeseheads. Packers. Beer. Maybe even hard-working people with Midwest values.
That's what you might hear when you tell people you live in Milwaukee. Or you did. Now, increasingly, it's changing. The heart of Wisconn Valley. Regenerated downtown and leisure-drenched riverwalk. New NBA Milwaukee Bucks stadium. A center of advanced manufacturing. Home to hard-working people with in-demand skills. A city where we see firsthand the impact of the Skills Revolution ― where new skills emerge as fast as others become obsolete. A secondary city transforming itself.
That's what we mean when we say America's best-kept secret. And last year, as if you need more evidence, Milwaukee was named one of America's most misunderstood cities. Who knew?
Founded here almost 70 years ago, and 10 years ago moving our HQ from the sleepy suburbs back downtown, we became a major part of the renaissance of this thriving hub of Fortune 500s, global companies and local artisans. As an organization operating across the U.S. and in 80 markets around the world, we often relocate people to the city. We attract talent from Texas, California, Canada, the Netherlands and elsewhere to join this Midwest melting pot of cultural, ethnic and social groups of German, Polish, Irish, Italian and Hispanic communities, all of us fiercely proud of our hometown.
Here are five things you might not know about America's best kept secret:
1. Milwaukee Is A Digital Disrupter:
For decades, Milwaukee and manufacturing have gone hand in hand with a reputation as the workshop to the world. From motorbikes to machinery. Years ago, that would have meant dirty, dull, even dangerous work, but today the city is at the forefront of next-generation advanced digital manufacturing. Businesses like Rockwell Automation and now Foxconn are trailblazing a new industry that provides sustainable work for thousands ― provided people have the skills. To fill these rapidly transforming high-tech roles, we're looking to new talent pools, working together with Rockwell Automation in a ground-breaking new partnership to up-skill 1,000 veterans per year by 2018, investing in the future workforce and creating a pool of certified talent. Milwaukee companies together are making America as great as it's ever been. See the impact on individuals as well as employers.
2. Milwaukee Is A Hot City For Skilled Workers
When it comes to jobs, Wisconsin has much to celebrate. Unemployment hovers around 3.2 percent ― a 17-year low ― and the state has had a positive net hiring outlook over 10 percent for the past seven years, according to our MEOS Survey. Across the Midwest region, employment outlooks are on a level with or stronger than New York in professional and business services, manufacturing, construction, and leisure and hospitality. The appeal of lakeside living, lower rents and great jobs works for millennials, Gen Xers and boomers alike, and Gen Zs are arriving from in and out of state to learn-up at great colleges and universities like Marquette University, the University of Wisconsin network, Concordia University, MATC and more.
3. Demand For "Made In Milwaukee" Continues To Grow
Organizations are stepping up manufacturing efforts here on U.S. soil. The quest for increasingly specific skills brings many to Milwaukee for its combination of work-ready talent, business-friendly policies and economic development experts intent on the region's success. To create a sustainable pipeline of skilled workers for the future, we're working with companies to build the right-skilled advanced manufacturing workforce to help fuel America's growth. This is how we will get ALL people ready for a future of work that is more digital. Other states and sectors would do well to follow the upskilling trend. Plenty has been written predicting the future: more jobs, different jobs, less jobs, even no jobs. Few are telling people that they will need new skills and they will need them more often to stay employable for jobs we may not even have heard of yet. We can't afford to wait and see exactly what these skills might be. We need to build the plane while flying it too.
4. Milwaukee Is Becoming A Top Destination For Startups And NextGen Work
In 2016, Milwaukee saw a huge increase (145 percent) in venture capital funding for startups ― to $111.8 million. Thanks to our leading universities and thriving tech scene, co-working spaces and startup incubators are on the rise too. The combination of entrepreneurs and large companies seeking in-demand skills means Milwaukee is a top destination for people looking to work in new ways. This NextGen Work, which includes contract, freelance, temporary and part-time, appeals to 94 percent of workers in the U.S. And it's not just for millennials ― cash, control and skills development are priorities for all. Milwaukee is fast becoming a destination for NextGen workers looking to learn new skills, earn more and better balance work and home for long working lives.
5. Milwaukee's Youth Have Got It Covered
Tomorrow rests on the shoulders of the next generation. Milwaukee has one of the top 10 most youthful populations in the U.S., and in the years ahead it'll be these young people who will be powering the future of work. They're ambitious, energized and passionate. They have a will to succeed and a thirst for new experiences. We believe every organization has a responsibility to their local community and to take immediate action to get young people ready for work, so here in Milwaukee, we are partnering with organizations like Junior Achievement, the Boys and Girls Clubs and The Commons to nurture learnability and help young people gain valuable work experience.
Take a look at some of the young people who have experienced these programs firsthand, and I challenge you not to be inspired by their ambition.
I've lived in more than nine countries around the world, and this is the place that feels like home for me, my family and for ManpowerGroup. Today, Milwaukee is booming with new energy, investment and opportunity. From boom to rust and back to boom, Milwaukee is fueled by transforming industries that are retooling the city to compete on a global stage. It's an exciting time to be here, and we're committed to this community and looking forward to whatever the next 70 years hold. I am certain it won't be America's best-kept secret for much longer.