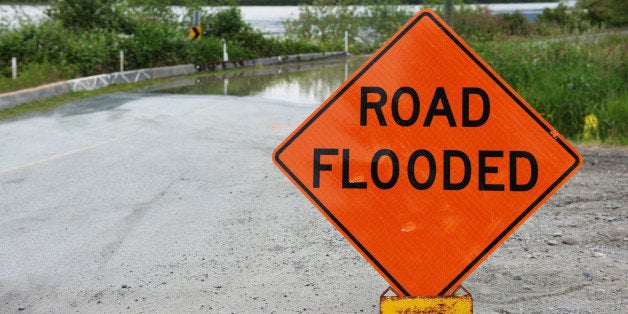 As a nation, the USA is no stranger to extreme flooding. Throughout the summer of 2014 much of the Midwest was submerged under 10 inches of rainfall, destroying crops and engulfing farms. The amount of rainfall was startling -- a month's worth over the course of a week -- and as a country, it's becoming apparent that much of America better get used to this. Flooding is increasing across the USA and it isn't just farmers who may suffer the consequences.
Flooding is the most common natural disaster and the number one weather-related cause of death in the country, resulting in around 70 deaths a year. In the past 25 years alone, the U.S. has suffered over $260 billion in damages due to flooding, an eye-watering figure. So what's behind the rise of extreme flooding? Where is going to be affected the most? And just how bad it is going to get?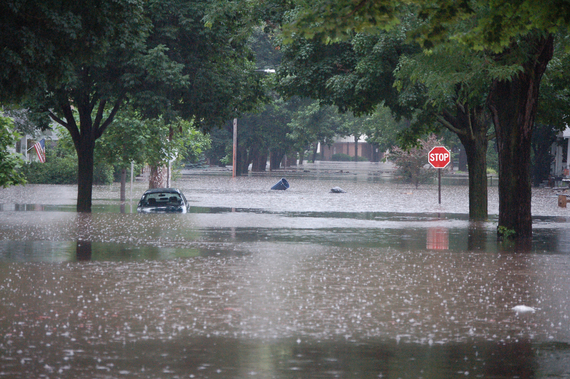 Image by US Geographical Survey
America's Midwest has been the worst hit by flooding in recent years. The flooding was so extreme last summer that high water levels caused a bridge between Minnesota and Wisconsin to close indefinitely. A state of emergency was declared in 35 counties in Minnesota and the Twin Cities recorded the wettest year since 1871. Aside from the catastrophic flooding last summer, torrential downpours in the Midwest caused 24 fatalities and $15 billion in damages in 2008.
As disastrous as these events are, they are by no means isolated; researchers have found that flooding has significantly increased in the Midwest over the past 50 years. After studying 774 stream gauges in 14 states including Iowa, Illinois, Wisconsin, Ohio, Minnesota, Kansas and Nebraska, it was determined that rivers are far more likely to burst their banks now than ever before. Interestingly, it is only the regularity as opposed to the intensity of the flooding that has increased.
While the study did not attempt to identify the precise reason for the increase in flooding, its conclusions were illuminating. The findings were not a result of localized weather but were in line with climate change, and in particular the view held by climate scientist about how global warming affects the hydrological cycle. A more temperate atmosphere holds more moisture which can lead to frequent and heavy precipitation. So, in a climate-changed world, we can expect a lot more of this kind of flooding.
Flooding in Coastal America
It isn't just the Midwest that's at risk though. There has also been a steep incline in coastal flooding. Last year, a report into encroaching tides and sea levels by the Union of Concerned Scientists found that most of the cities on the USA's east coast will see three times the amount of flooding by the year 2030.
While small tidal floods already affect many coastal towns, these usually only last a few hours and do not cause catastrophic damage. However, as sea levels rise the tidal flooding that will hit the eastern coast will become so prevalent and dramatic that many parts of the U.S. -- including the capital city -- could become uninhabitable within thirty years.
The mid-Atlantic coast will be the worst hit by the rising sea level. Atlantic City and Cape May, New Jersey could be hit by flooding 240 times a year, and Annapolis, Maryland and Washington, DC will see an estimated 150+ tidal floods a year. By 2045, certain areas of Wilmington, North Carolina will spend more than 345 hours a year underwater, while Baltimore's inner harbor is likely to be submerged for over 875 hours a year.
From the 52 communities that were analyzed in the study, one third can expect to experience tidal flooding over 180 times a year by 2030. As if that weren't bad enough, the intensity of the flooding will worsen too, with deeper waters infiltrating inland areas and endangering more people and properties.
So both inland and coastal communities in the USA must begin preparing for the rise of flooding. Flood proofing of both properties and neighborhoods is a must, and measures such as sea walls and natural buffers should also be considered. In the longer-term, the only real preventative solution to extreme flooding is to slow the acceleration of the rising sea level -- something that can only be done by reducing global warming pollution.
REAL LIFE. REAL NEWS. REAL VOICES.
Help us tell more of the stories that matter from voices that too often remain unheard.