"The rules apply to everybody, except when they don't." A cursory look at some headlines from last week reveals this to be the new American mantra, a burgeoning sense of individual "exceptionalism" that pulls at the very fabric of fair play. Nowhere is this more clearly articulated than in two cases currently winding their way through the court system.
Charee Stanley, a flight attendant for ExpressJet Airlines, filed a discrimination complaint with the Equal Employment Opportunity Commission last week claiming she was suspended for refusing to serve alcohol due to her religious beliefs. Stanley had recently converted to Islam, so she worked out a compromise with her supervisor where the other attendants would handle alcohol requests on her flights. After one of those attendants filed a complaint that this constituted an undue burden on Ms. Stanley's co-workers, the airline was forced to place her on administrative leave until she agreed to perform all the requirements of her job.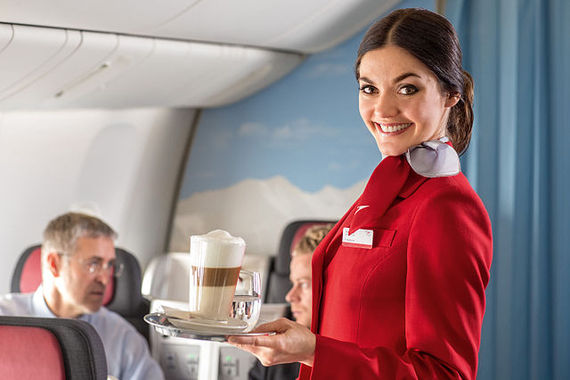 Photo by Austrian Airlines. This file is licensed under the Creative Commons Attribution-Share Alike 2.0 Generic license.
Lena Masri, an attorney with the Council on American-Islamic Relations, told CNN, "It's incumbent upon employers to provide a safe environment where employees can feel they can practice their religion freely." In other words, it's not enough to ensure the freedom of religious expression. No, Masri claims every employee must feel comfortable practicing religion on the job.
That's not an accommodation; it's a fundamental shift in reasonable expectation. Cherry-picking one's responsibilities based on religious beliefs is a slippery slope.
One need look no further than Kim Davis, the embattled clerk of Rowan County, Kentucky, who's refused to issue marriage licenses for gay couples. Ms. Davis is another religious convert who argues she shouldn't be expected to grant licenses that conflict with her Christian beliefs. U.S. District Judge David Bunning found her in contempt of court for her continued refusal to uphold the responsibilities she'd pledged to fulfill when elected. A reasonable accommodation was offered where one of her five deputy clerks would issue the disputed licenses in her place. Evidently, this wasn't enough to rid the smell of brimstone from her nostrils.
Ms. Kim wasn't refusing to bake a cake for a gay wedding; she'd run for public office on the promise that she'd actually do her job. Like Ms. Stanley, she can't pick and choose which sets of rules apply to her. While we have every right to refuse to do things that compromise our beliefs, we can't change our job descriptions until they match our beliefs.
This plague of individual exceptionalism threatens to turn the idea of personal accountability into an anachronism. Both women expect to be treated differently because they feel entitled to a different standard. When they were offered accommodations that didn't fully bridge the gap between the reasonable expectations of society and their own, they resorted to the courts to sanctify this religious entitlement.
Paul Harvey, professor of management at the University of New Hampshire, investigated the behavior of workers like this who self-identified as "entitled" in the July 2010 issue of the journal Human Relations. He found that individuals who identified themselves as "exceptional" tend to feel more frustrated and unhappy with their work lives than employees with a more objective view of their relative worth and contributions.
"Overall, the frustration experienced by entitled workers appears to stem from perceived inequities in the rewards received by co-workers to whom psychologically entitled employees feel superior." Even scarier, Harvey found supervisors who attempt to increase communication with these unsatisfied employees actually increase employee frustration rather than dampen it.
Ms. Stanley and Ms. Davis both suffer from inflated self-importance. When we opt-in to the American way of life, we enter into a social contract. While each of us is special, none of us merits special treatment.
This bloated sense of entitlement might be traced to a series of 70's children's cartoons created by the US Department of Education called "The Most Important Person." The lyrics say it all:
"The most important person in the whole wide world is you, and you hardly even know you. The most important person in the whole wide world is you, come on we'll show you. It's all about the things you feel and do, because you're the most important person in the world to you!"
US Department of Education (then known as the U.S. Department of Health, Education, and Welfare), "The Most Important Person" 1972. Hosted by The Museum of Classic Chicago Television, All Rights Acknowledged
Who can blame this generation for growing up with the belief that the world revolves around them?
The legitimate need to cultivate a healthy sense of self-esteem seems to have been hijacked to justify the child-like demands of those who feel the rules don't apply to them.
You can read more at RobertFWalsh.net and contact him at rob@RobertFWalsh.net or follow him on Twitter @RobertFWalsh.
Popular in the Community