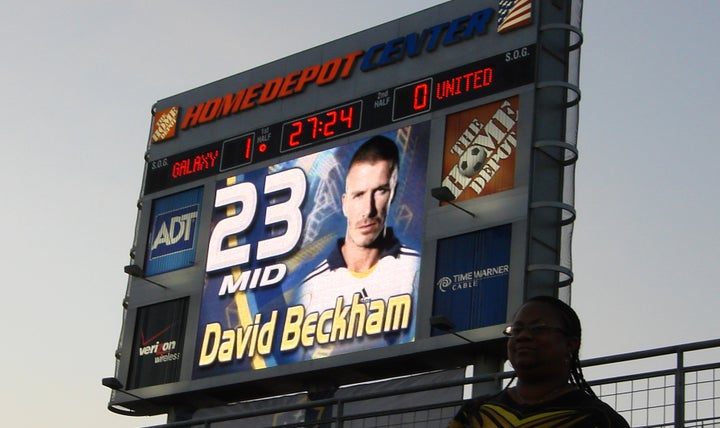 Soccer - The sport in the United States which continues to expand and develop despite the challenge of competing against those historically supported American sports, such as; Football, College Football, Baseball, Basketball, and Hockey to name a few.
However, the times are changing. With connections between American and European sports continuing to grow, along with the 2014 FIFA World Cup showing that U.S.A are no pushover when it comes to international soccer (USA reached the quarter-finals and attracted the largest amount of TV viewers for a U.S.A soccer match ever).
The question; is Major League Soccer finally ready to attempt to reach the financial heights, and popularity of Pro Football?
Statistics from therichest.com have shown that from 1985-2014 how the popularity rankings have changed. For example;
Pro Football is the most popular with 32% of Americans taking interest.
Baseball has fallen from 23% - 16% from 1985-2014
College Football is in at 3rd with 10% (unchanged)
Auto Racing has gone from 5% in 1985 to 7% in 2014
And finally, tied 5th…. Basketball, Ice Hockey and Soccer!
For many these final statistics may seem rather surprising, especially when you take into consideration the money that has previously been awarded and endorsed to some of the biggest names in basketball and pro football, i.e. Kobe Bryant, Allen Iverson, Ben Roethlisberger, Ndamukong Suh and once up on a time, Michael Jordan.
But, with men's soccer doubling in popularity since 1985, maybe it's fair to say that it may even double once again come 2030.
In addition to this, attendances at soccer matches have been gradually increasing over time. Some might say that this is down to the caliber of talent the league is now attracting with the likes of European giants such as Andrea Pirlo(Juventus to NYC), Frank Lampard (Chelsea to NYC), David Villa (Atletico Madrid to NYC), Steven Gerrard (Liverpool to LA Galaxy), Ashley Cole (Roma - LA), Sebastien Giovinco (Juventus to Toronto) and Robbie Keane (Tottenham - LA), all of which have now become faces and brand ambassadors for their respective MLS clubs.
All of the above have also carried with them interest from the U.K and Europe. Lampard being a Chelsea F.C legend, and Steven Gerrard being one of greatest footballers to have emerged from Liverpool F.C. It leaves us with no surprise to see that they have had an excellent effect on the popularity of the sport. And lest we forget about Mr. David Beckham - who since his LA Galaxy transfer in 2007- has been doing his utmost to promote the game across America.
Attendances for the 2015 season broke lots of previous records. There were record 161 fixtures that had sold out, which was an increase of 28 games the previous season. The average attendance for the MLS regular season games in the 2015 showed a 12.7% increase from 19,147 to 21,574. And an all time high was reached when 10 clubs averaged more than 20,000 per game, Seattle Sounders (44,247) NYCFC (29,016) and LA Galaxy (23,392) a few highlighted picks from the bunch. (Statistics from mlssoccer.com)
Last year also showed the strength of the MLS as the league climbed up to 7th place in the world rankings for pro league soccer attendances. MLS is now ranked higher than the French, Dutch, Argentinian and Brazilian top divisions. It's an astonishing statistic, especially when we consider the popularity of soccer in those other nations.
So, what about television rights? MLS had sold its media rights for matches to be broadcast on ESPN, Fox and Univision back in 2014.
The deals, which include ESPN and Fox paying a combined total of $75 million dollars per year, will coincide with Univision who will pay $15 million per year for the Spanish language broadcast.
It's new territory for the MLS - which is now in its 20th year as a professional soccer league – as these current media deals have now blown the previous media deals out of the water an astonishing five times over. In the eight season deal (2015-22) it should mean that Fox/ESPN will have paid a staggering $600 million dollars for their share of the rights, whereas Univision will have contributed $120 million dollars for their share of the split.
What Will Contribute To The Growth?
I believe the MLS has all the potential in the world to become one the biggest leagues in the world, but it will take an awful lot of time, and of course, money.
Over in the U.K the MLS has been catapulted to the forefront of a lot of peoples sporting attentions, and that growth started, and has gained speed, ever since the David Beckham move from Real Madrid LA Galaxy back in 2007. A deal that would see Beckham earn $250 million over the course of a 5-year contract.
The Galaxy have since shown how badly they've meant business through the manifestation of high profile players, and coaches that they have recruited since the Beckham move. Likewise, New York City FC have been going about their business in a similar fashion by recruiting some of the biggest stars that the game has to offer.
In fairness to Beckham, he has become a great ambassador for the sport in the U.S, especially with all his charity work and contributions in raising the soccer profile. His more recent MLS endeavours see him attempting to get his Miami based soccer team on the into the franchise, which as of late is still yet to get the official go ahead from MLS, according to Sports Illustrated.
But for California, New York, Washington and a lot of the other big states, it'll mean more than just splashing money to develop the game; it'll have to start at grass roots level in the schools and in the sports youth clubs. Inevitably this will mean less emphasis on those other popular sports (football, hockey, basketball etc), and that's arguably the toughest challenge of all.
REAL LIFE. REAL NEWS. REAL VOICES.
Help us tell more of the stories that matter from voices that too often remain unheard.