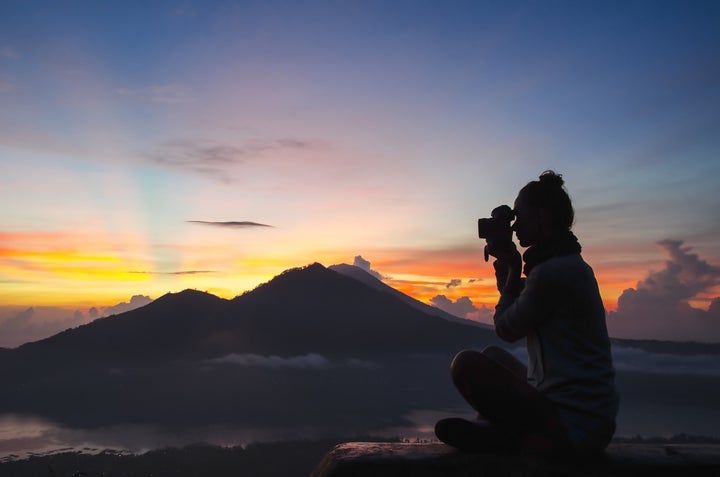 Consider me the anti-travel blogger.
It's an odd title to give myself, considering I've spent the past four years of my life pouring money, time and effort into my website, The Pin the Map Project.
Like someone who has scaled Mt. Everest just to realize they hate heights, it seems I have climbed this mountain of travel blogging just to realize I disagree with the idea of today's travel blogger.
There is an empowering movement happening right now: the rise of the anti-travel blogger. A trend marked by female bloggers who don't care if their hair is blow dried straight before hiking to Machu Picchu, who don't give a damn if their makeup is flawless when learning how to surf in Mexico, who write about social responsibility and important cultural issues over posts about what's in their carry-on bag.
It's the rise of a new era and one that will invariably split travel bloggers into two camps. Here's what to expect from this new breed of blogger.
They won't look like your average travel blogger.
The same floppy hats, the same twirl-worthy summer dresses, the same wanderlust shots paired with faraway looks; many travel bloggers are guilty of it (including myself).
While travel shots were once focused on destinations, today they are blurred backgrounds to photos that resemble fashion spreads. Today's female travel bloggers can create an impossible standard for women of how to look when seeing the world.
Sharing snapchats of their impossibly fresh face after a 14 hour flight and impeccably paired outfits while in the middle of the Amazon; the photos are beautiful but unrealistic. Enter the anti-travel blogger who dares to focus on the destination at hand, to share a photo of themselves with messy hair and a t-shirt in South America, who shows us it's OKAY to travel and not look like a model.
Anti-travel bloggers are sharing different content.
Many popular travel posts today seem eerily similar in content. X Reasons to visit X Destination, X Ways to Look Stylish Abroad, X Must-Have Travel Bags. While these sort of posts are a necessary evil of blogging, the anti-travel blogger is carving out a new niche by sharing posts that address socio, economic and global issues.
They're candid about what it means to be a travel blogger today.
In a sea of blog posts that speak to the "idyllic" lifestyle of travel writing, I came across one post that was brutally honest about the realities of quitting a job to travel the world. This author spoke candidly to financial hardships, the struggle to grow a following, the beauty of travel blogging and the cutthroat competition behind it.
The rise of such transparency in blogging is a breath of fresh air in an industry where people all seem to encourage their readers to drink the Kool-aid of becoming full time travelers. There is a reality to this world that is not always shared and this new crop of travel bloggers are making a point to expose it.
They're using their influence to inspire change.
Many travel bloggers have managed to achieve the holy grail of blogging: millions of followers, adoring fans, thousands of YouTube views and readers hanging off their every word. Whereas the power to impact change was once reserved for people of celebrity status, today a small town, 20-something blogger can inspire millions.
Imagine having a microphone to address the world; what would you say? Despite having an influential voice, many of today's top bloggers miss the opportunity to create change; choosing instead to highlight their favorite travel lipstick or poolside hotel. The anti-travel blogger is using their influence to shine light on sustainable practices, green travel and global issues that deserve your attention.
They're flawed and honest.
When I was a teenager, I remember reading women's magazine and feeling frustrated by the impossible perfection of other girls my age. Their hair, their skin, their clothes, their lives all seemed devastatingly unattainable and after turning one page too many I cut myself off from those publications.
In many ways, travel blogging reminds me of those women's magazines as bloggers seem to paint a picturesque image of every trip and destination.
As a full time traveler, I can tell you that I've been lost, sick, terrified and embarrassed while traveling. I chickened out of a tattoo appointment in Buenos Aires, I got lost in the medinas of Marrakech, I practically lived on a toilet in the Philippines...the list goes on. Travel is messy but that's the beauty of it and today's anti-travel bloggers are not afraid to be flawed.
They're shying away from the title of "travel blogger."
Because blogging is often considered an unpaid hobby, it's difficult for people to acknowledge someone who has turned blogging into a profitable career. The title of "travel blogger" can especially take on mythical proportions as people scoff at the idea of someone writing posts from a Caribbean beach and calling it work.
As it goes, more and more bloggers are striving to have their work defined outside of blogging. Be it contributing to other publications, launching their own travel shows, penning their own novels or designing their own products; this new breed is shaking off preconceptions and redefining what it means to be a blogger today.
Now before bloggers around the world rise in protest of this article, know that the work of any blogger demands respect, praise and understanding. I am constantly in awe of my fellow bloggers across all genres who have turned their passions into admirable careers and have inspired my own work.
It takes a certain type of bravery to put your thoughts and experiences on a public stage; and this article should not be mistaken for judgement of any blogger as it is merely an observation of a trend unfolding in the travel blogging space; a trend with too many variables and complexities to explore in one mere post.
Related