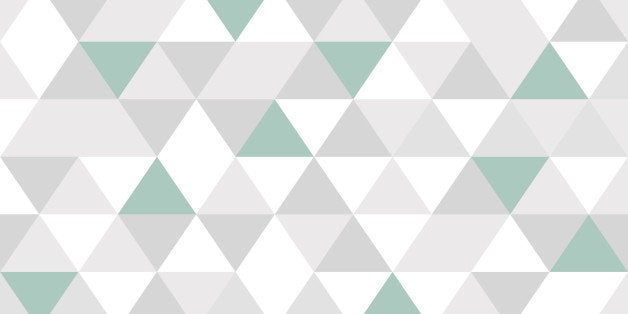 "Brands are literally dying looking for content that's a bit more authentic" says Mona Akhavi, Founder and CEO of Sidebuy, the Canadian-based data-driven platform that connects brands with over 10,000 influencers & bloggers across 150 cities in North America and the UK. The way consumers, discover, and consume content has completely changed; They don't want to look at any ads.
Over two hundred million people installed ad-blockers on their computer or mobile over the past year in the U.S., meaning buying habits have completely shifted. "People are always wanting to learn about a product through content reviews and recommendations these days," says Akhavi. That's why social media is so effective in driving purchases. Based on a study by global management consulting firm, McKinsey 'consumer word-of-mouth generates twice the sales compared to paid advertising', and 'sixty-one percent of consumers made a purchase after reading about it in a blog post. Akhavi firmly believes that if you're not targeting the right shoppers on social media, then you're doomed as a brand.

Image: courtesy of sidebuy
It's almost a game, finding exactly the social media platform that your consumer is on, and actually active on. Akhavi asked herself the question: Was it possible to find the perfect medium combining a good balance of content, promotion and sponsored placements? "That's how Sidebuy came about," she says.
The company that dominates the Canadian market only employs about ten people in Vancouver, Toronto, and LA, yet has control and reach to over 500 million audiences across social media. It was born from a methodology that figured out how many steps it takes for a brand to work with a blogger, then streamlining and automating that process. "From the moment you think 'I want to look for a blogger,' to the moment that you run a campaign, a sponsored ad, and actually look at what's been happening on social media, it's 20 steps," says Akhavi.
"I love the fact that I've built a company that combines fashion and technology. My two passions!," she says. "We actually have twenty-one categories of bloggers including nutrition, pets, health, all of that great stuff. Obviously the main category has been fashion and home décor."
Sidebuy manages to stay on top of a rapidly saturated market by connecting brands with the right people; micro-influencers, who have a deep reach within a specific category and lie within specific geographic areas.
"The content the micro-influencers produce resonates with the audience that follows them," says Akhavi. " You really relate to them, you think they're kind of cool, they have cool stuff, they go on cool travelling adventures." These people aren't out of reach, basically. They're people we look to for inspiration on a daily basis, someone just like you, but maybe that person has achieved something you hope for, or lives in a way that you admire.
"They're limited," says Akhavi. "These guys might not have a million followers, or a reach that a celebrity or a high profile blogger might have - limited meaning potentially 100k or 200k followers - but they're attractive to brands because they produce great quality material, in a genuine way."
Top model from Elite NYC, Natalie Ludwig, who walks the runway for Givenchy, Valentino, and Dolce & Gabbana is a prime example of an authentic influencer on Sidebuy's books; she has a high engagement on social media and her reach is growing within a specific demographic, those interested in luxury and haute couture fashion brands. As she moves to a more high fashion niche, her followers' interests move with her. It confirms how the 'three R's' Akhavi calls them, are so important for brands. Reach - defines the number of followers an influencer has across all social platforms. Relevance - describes the contextual context, and finally, Resonance - the metric that retrieves the amount of engagement an influencer gets, how many likes and shares. "This is what converts" says Akhavi. Analytics may be all that marketers or social media managers really care about, but "if I had one thing to say to marketers," she says, "definitely measure these three aspects of every single influential campaign that you do."
It makes a difference. If brands are targeting millennials for example, Facebook may not be the most effective platform. However Instagram, and the more recent Snapchat would be, even though the app has made sure that their API isn't trackable. It's a different type of exposure and it's how that age cohort are consuming content, which will continue to change as time moves forward.
One could say the content of a micro-influencer is more tailored to their audience, a niche, hyper-targeted audience, that supports and admires for a specific reason. For example the niche vegan space, the organic space. If that content doesn't resonate with the limited followers they do have, they run the risk of becoming alienated.
Marketers shouldn't be overseeing the micro-influencer; just because they aren't drawing in crowds of millions, doesn't mean they're not driving significant purchases. McKinsey predicted that 'digital marketing spending will increase by $22 billion in 2016 and will account for 50% of the overall marketing budget by 2019.'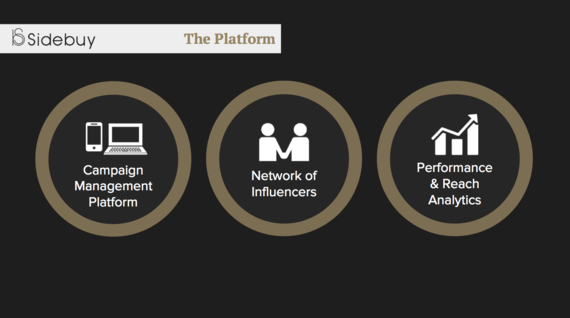 Image: courtesy of sidebuy

To enable this brand to blogger relationship to blossom, Sidebuy have created a platform consisting of three major components: a blogger's catalog, much alike personal media kit where influencers create profiles and connect their social channels. A filter, also known as the match-maker that allows for brands to search for influencers that fall within specific categories, and lastly the management campaign dashboard - and this is what Sidebuy are doing differently.
It can be a tedious back and forth relationship between the brand, the agency, and the influencer - with the agency being the go-between - but Sidebuy allow for brands to fully take control. The communication process is streamlined; things like money and assets, even ideas can be exchanged. "If you're looking for multiple micro-influencers and you've got a limited budget as a small or medium brand, you can come into the platform and actually use it faster," Akhavi explains. "I really focused on building a platform that basically makes working with an influencer more effective."

A recent success campaign was that of the popular designer clothing e-tailer, Revolve. The brand wanted to tap into the UK market and increase brand awareness through connecting with relevant bloggers and social media influencers. With the help of Sidebuy, Revolve managed to reach out to 1400 geo-targeted millennial influencers specifically interested in fashion and shopping, and had micro-influencers creating whatever engaging content they wanted based on a Revolve item. "It became really fun and effective for the brand because everyone put their own twist on it," said Akhavi. This idea of diversifying the message means that the brand are gaining maximum reach from many followers, yet the content that's generated is genuine; it suits each micro-influencer's style, as well as the interests of their followers. It's quality and quantity, in total reach. "To tell you the truth, the content created by the influencers reached over 200k of Revolve's target audience and their unique hashtag received a well above average impression of 814k," says Akhavi.
One major issue they've managed to crush is uncovering the fake follower. "This is something brands are actually worried about" she says. After all if you're spending your time and your money on influencer partnerships, the technology should be in place to weed those accounts out.
Though purchasing habits may have shifted to that of reviews and recommendations over traditional call to action advertising, the role of the influencer ties in perfectly with the standard brick and mortar retail store. The whole omnichannel is happening, but it's not mainstream, and you can't deny the human sense of touch. "It's interesting that all of these cutting edge e-commerce brands are starting a little brick and mortar touch point," says Akhavi. "Because I think the future will be the stuff you see on influencers social media feeds, and you're going to know it's going to be online, you're going to complete your purchase on mobile, but it's just a matter of touching." There will always be a desire for that touch point.
There's also a significance of unconscious memory when it comes to influencing purchase decisions. "In three months when you're actually buying that dress, these images of your favorite blogger styling it on vacation will come back to you. That's happening." The power of the influencer lasts, and the rise of the micro-influencer is important to recognize; it's highly targeted, genuine, and helps shape the way our world not only purchases, but values the retailer.
Popular in the Community