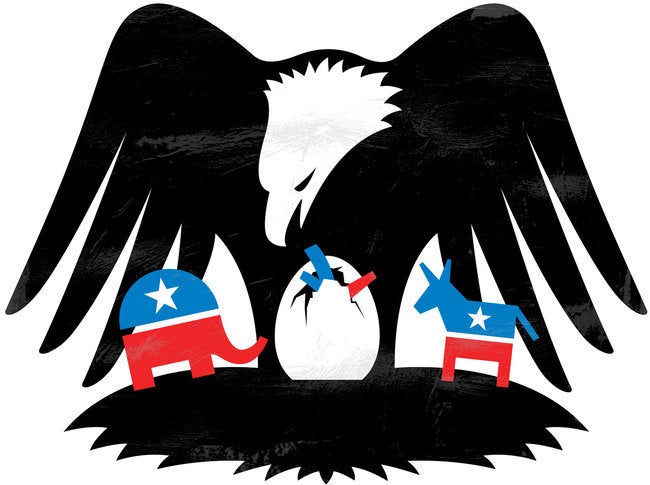 A political revolution has already been started in America, and people are becoming more awake and aware of their necessary role in fighting for change. With both major party candidates being extremely unpopular, bringing questions of their personal and political ethics to the forefront, the dissatisfaction of the current business-as-usual politics, and the refusal to choose "the lesser of two evils," more people than ever before are turning to third party candidates as a refreshing and viable alternative.
This election cycle, people are supporting third party candidates in record numbers. The two-party system is a symbol of the polarizing, divisive, either/or mentality that we have grown so accustomed to, which only serves to disconnect us from each other and the world. The two-party system is irreparably broken. Year after year, we are becoming more aware of voting irregularities and outright fraud, as we place our votes with wary consciousness, hoping that our votes count, wanting to believe that our voices matter.
America is a country that actually has more Independent and 'No Party' affiliated voters than either Republicans or Democrats; however, two-party politics have long dominated the political arena. If you believe what you have been taught, in both implicit and explicit ways, then you "know" that a third party candidate has a snowball's chance in hell at being elected president ... But is that really true? This mindset is a carefully constructed manipulation supported by the two-party system as well as the media, in order to discourage 'outsiders' from entering the presidential race and also, to discourage the American people from voting for those who do.
Third parties are overflowing with people literally trying to change the world. They are idealists, who inherently believe in challenging the status quo. They are also realists, who have had to jump through hoops and work harder than any of us could fathom, just to have the chance to represent the American people. They have the courage of their convictions, and only ask us to have the same. They hold us to a higher standard - to become active and involved, and to work alongside them in creating a future that we want for ourselves, the planet, and the world. Third parties inspire and motivate us to question our preconceived notions about government, elections, and our role in the political system. The truth is, with enough support, a third party candidate can win the presidential election.
Nevertheless, the system is set up in a way that makes it very difficult for third parties to even enter the presidential race. There are ballot access laws, which require third party candidates to petition each individual state in order to be allowed on the ballot for president. (It is anticipated that both Stein and Johnson will have received ballot access in all 50 states by the election.) Next, there is the question of having one's voice heard. The media has routinely denied third party candidates this exposure. In fact, they have also worked as operatives in reassuring the American people that a third party vote is "a wasted vote" and have psychologically influenced people into thinking that a third party candidate is at best an interloper and a nuisance, and at worst, a spoiler. None of this is true.
The way the two-party system operates is by a "winner-take-all" electoral college system, considered to be an archaic, overly complex, and problematic method, with each candidate needing to reach a certain number (270) of electoral college votes in order to win the election. There isn't a national presidential election; there are only individual state elections, and to complicate things a little further, we are not really voting for the president, we are voting for the electors from our respective states who will in turn vote for the president. Electors usually follow the popular vote, but they are not mandated to. Because the number of electors per state is proportional to the amount of delegates they have in the house and senate, there are only 5-7 states which actually determine who the president will be.
It is argued that anything more than two parties would destroy the proportion of numbers, which would lead to confusion and chaos, as no clear winner would emerge. As we have seen in previous elections, the two-party system is not infallible, and there have been times when the president was decided, not by the people, not by the electoral college, but by the supreme court. One could also argue that since the electoral vote, and not the popular vote, is what actually decides the presidency, then the popular vote doesn't actually matter at all. And if we agree that this is true, how do you think most Americans feel about the idea that their votes don't count?
Many Americans are demanding change in the way we vote. Ranked Choice Voting and The National Popular Vote have been put forth as measures to change the current system and to give the people's vote more power. However, the political establishment is terrified of both these measures. According to the National Archive of the U.S. Electoral College, there have been over 700 proposals within the last 200 years to change, reform, or eradicate this system.
This fear is evident by those who uphold both major parties. In the Republican Platform, 2016, it is stated that they "oppose the National Popular Vote Interstate Compact and any other scheme to abolish or distort the procedures of the Electoral College. An unconstitutional effort to impose National Popular Vote would be a grave threat to our federal system." (I.e., it could dismantle the two-party system, give more power to the popular vote, and make it easier for third party candidates to compete and win the presidency.)
"The most political decision you make is where you direct people's eyes. In other words, what you show people, day in and day out, is political ... And the most politically indoctrinating thing you can do to a human being is to show him, every day, that there can be no change." (Wim Wenders)
The more people recognize the truth of this quote, and how the American people have been manipulated through the two-party political system into believing it, the more people will reject what we have been taught, and we will free ourselves from our psychological and political chains by voting for third parties. It is a natural evolution of our mass consciousness to begin to see third parties as a viable option; it is reflected in the corrupt and broken two-party system and the number of movements within the last few years which have increased in frequency and magnitude, demanding change.
Refusing to vote for the major party candidates and instead supporting a third party candidate is a powerful step, and a step that millions of people have already taken, and are willing to exercise come November. This election cycle is not about Clinton or Trump. It is not about Sanders, Stein, or Johnson. It is about the American people, standing at a precipice, tested to their breaking point, testing their own strength, and deciding to stand united with third parties against the very system that has been tearing them apart, believing in the power that comes with a new vision, ready to embrace a new world.
Popular in the Community