For most people, Thanksgiving means the four f's -- friends, family, food and football. But for more than 35 million people who earn low wages, including a third of all single parents, Thanksgiving won't be the joyous day we see idealized in movies and television commercials.

Merely putting an average Thanksgiving meal on the table will cost many workers a full day's wage. Each year, the American Farm Bureau, publishes the cost of an average Thanksgiving meal. This year, for the first time, that cost has risen to more than $50, a very conservative estimate of the costs associated with putting on a Thanksgiving dinner when compared to pre-prepared meals at leading grocery chains such as HEB (for 6 to 8). For the millions of Americans earning low-wages it takes longer to earn a Thanksgiving dinner than it does to prepare it.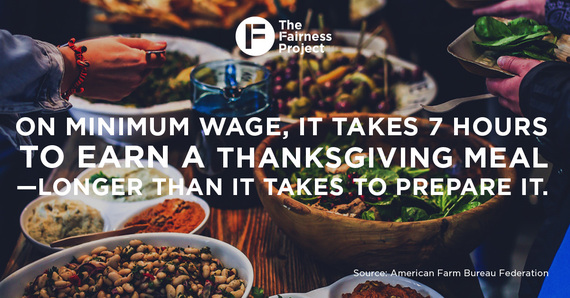 Furthermore, each year, the shopping craziness of Black Friday bleeds further into Thanksgiving Day forcing more and more workers to work on the holiday. Additionally, chaotic work schedules make it difficult for workers who earn a low wage to plan even short trips to nearby family to find time to relax and reconnect. The reality is minimum wage workers lucky enough to have paid time-off this Thanksgiving, will be busting their budgets and scrambling to make ends meet to provide holiday meals for their families.
It doesn't have to be this way. Low wages do not happen by chance -- they are a policy choice. Legislatures both at the Federal and State level continue to ignore this reality, choosing inaction despite the obvious and glaring inequality that faces our nation. This is why The Fairness Project is bolstering ballot initiative campaigns to raise the wage in states across the nation. By working together to support these initiatives, we can improve the lives of millions of Americans state by state and you can join us in this effort.
Of course, the struggle for millions of workers doesn't start or end on Thanksgiving. The cost of maintaining a decent standard of living in the U.S. is rising fast, much faster than wages. Basic costs such as child-care, health care, transportation, and housing have risen dramatically over the past few decades while wages have flat-lined. As a result, workers and families are saddled with debt and have little left to save and invest in the future.
This is not just bad for families, but bad for our economy, which to a large extent is driven by consumer demand. In other words, a thriving economy depends on the ability of these individuals and families to go out and spend on everyday items, gifts and services in their local economy. Or as President Franklin Delano Roosevelt once said, "The best customer of American industry is the well-paid worker." When wages are low and money is tight, low-wage and middle class families are forced to tighten their belts and cut back their spending, driving down demand and damaging our economy. Imagine the positive impact on small businesses around the nation if millions of workers had more money to spend this holiday season.
Thanksgiving is the perfect time to take real action to improve the lives of others. Too often we accept inaction and current realities because we feel helpless or hopeless to make positive change. In 2016, you can join The Fairness Project and our state partners to take action and help deliver raises to millions of Americans. For that, we'd be thankful.
Calling all HuffPost superfans!
Sign up for membership to become a founding member and help shape HuffPost's next chapter