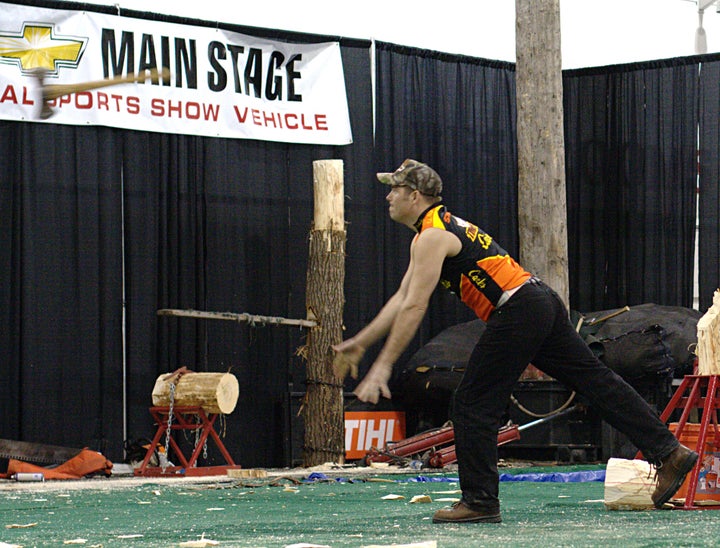 If you're interested in ax throwing then you may have something in common with Game of Thrones and Justice League actor, Jason Momoa. Ax throwing has historical links to Asian and European culture, being a competitive sport and recreational hobby. In recent years the unique hobby has begun "slicing" its way to increased popularity in North America.
Bad Axe Throwing has led the charge, opening ten locations in Canada since their 2014 inception. The company aims to make axe throwing a family outing where children and adults can enjoy the festivities. That's correct, children are able to participate in the "cutting edge" festivities. While the company does not have a strict age limit for participants, they employ a strength restriction from their website:
We do not have an age limit, but there is a strength restriction. If we feel that a person is not strong enough to throw the axe in a safe manner, then we will not let them throw.
The company offers everything from hosting birthday parties, corporate events, bachelor parties, and any other celebration that a group could imagine. Bad Axe Throwing understands that very few individuals have previous experience throwing an axe (at least safely) and offer basic safety and technique lessons, ensuring all parties remain safe and have an enjoyable time.
The first Bad Axe Throwing United States location opened in Chicago, Illinois on September 9th of last year. That's correct, when visiting the Windy City it's possible to learn how to throw an axe by professionals.
The company is said to have intentions of expanding to other locations around Chicago and plan to run an Axe Throwing League at each location:
Our axe throwing league will run for 8 weeks. You will be allowed to have practice throws and warm up (be there on time or early). For the first 7 weeks everyone will get at least 40 competitive throws per night.
Your score for each throw will be tallied and recorded. This will ensure that we're not ranking you based on who you go up against, rather, your skills at hitting the bullseye to get top scores. They will then make it to the Championship Tournament in week 8 to determine the Axe Throwing League Champion!
Watch To Learn The Proper Axe Throwing Technique
To keep up with Walter's journalism you can follow him @GentlemansHall on Twitter
Support HuffPost
The Stakes Have Never Been Higher
Related
Popular in the Community