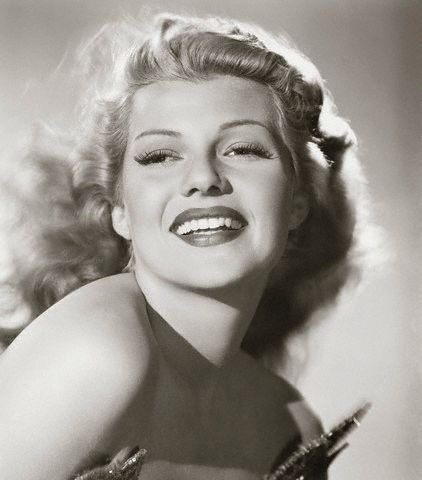 Rita Hayworth
Photo courtesy Corbis Images
"All I ever wanted was just what everybody else wants, you know, to be loved" said screen legend Rita Hayworth. On Tuesday night, October 27, 2015 The Rita Hayworth Gala was full of love for all the lives adversely affected by Alzheimer's disease. Since the New York, Chicago and Palm Beach galas began in 1984, 68 million dollars has been raised for the Alzheimer's Association programs for those living with the disease, families and caregivers giving access to critical care, support and resources.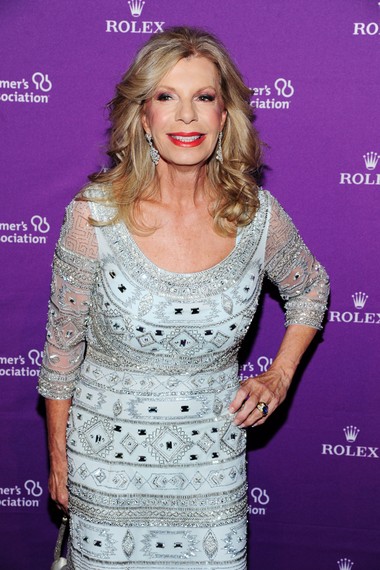 Gala Chair and Founder Princess Yasmin Aga Khan
Gala Chair and Founder Princess Yasmin Aga Khan recalls her mother Rita Hayworth's Alzheimer's diagnosis in 1981 that began three decades of dedication to the cause, "I was a caregiver for my mother and I met Jerome Stone. He was the founder of the Alzheimer's Association and my inspiration". The mission of the Alzheimer's Association is to eliminate Alzheimer͛s disease through
the advancement of research, to provide and enhance care and support for all affected, and to reduce the risk of dementia through promotion of brain health.
Thanks to corporate sponsor Rolex, the magnificent Cipriani 42nd Street was dressed in purple and the elegant black tie guests were greeted with cocktails and an open bar. Waiters pirouetted about with trays of carpaccio, shrimp, and other savories. The silent auction featured unparalleled luxury and access to the best such as a magical five day trip to Morocco first at Marrakech's Selman resort and later at Richard Branson's luxurious retreat Kasbah Tamadot, a private team plane ride with the Brooklyn Nets to a game in Detroit with an overnight stay at the four star Townsend Hotel and VIP seats or a private jet ride to see The Master Tournament in Augusta with premier access to a VIP Wheels Up breakfast, party and BBQ. Longtime Rita Hayworth Gala supporter Naeem Khan designed an amethyst beaded gown. Princess Yasmin donated her own turquoise and white gold chandelier earrings and an unique freshwater green pearl triple strand choker to the auction. Bids were placed by cellphone or one or the lovely ladies in black with iPads.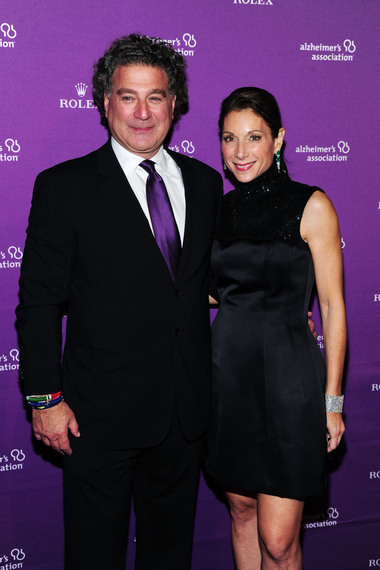 Irwin and Gala Chair Daryl Simon
Emcee co-host of "Today Show", Willie Geist made the night fun but kept everyone on message. The theme for the evening Our Future is Clear signaled aggressive campaigns to combat Early onset Alzheimer's with research, advocacy and awareness. Kimberly Williams- Paisley revealed her own challenge as a caregiver of her mother with early onset Alzheimer's disease. Gala Chair Daryl Simon triumphantly announced this year's event had netted over 2 million dollars. Daryl shares the victory, "My passion lies deep in the cause of the Alzheimer's Association, as a year and a half ago I lost my Mother to this devastating disease and never expected this intelligent, strong and accomplished woman who taught me so much, to receive a diagnosis of Alzheimer's disease.  After experiencing Alzheimer's firsthand, I am empowered to be a part of the mission to find a treatment and, ultimately, a cure.  My husband, Irwin Simon, my children and I are motivated to accelerate Alzheimer's research so that no one else has to go through the horrible journey my Mother did. Being among inspiring women who share a passion for this common cause is empowering and reminds me that we can make a difference, if we work together"
Michele and Larry Herbert accepted The Rita Hayworth Award for their substantial gift to create the Michele and Larry Herbert Younger-Onset Alzheimer's Research Fund to support critical research into gender vulnerabilities in Alzheimer's and why woman are disproportionately affected by this disease. The outspoken Michele explained,"I have been involved with the Alzheimer's Association Rita Hayworth Gala for 27 years.  After speaking with researchers and hearing through word of mouth about more and more women getting Alzheimer's at an earlier age, I decided to make women and Alzheimer's my priority. After hearing these stories for the last seven years, I approached my husband to create a research fund specifically for women.    I said to him, "if we don't do something, nobody else will."  We need to bring this issue into the light and out of the shadows. Since we created this fund a year ago, more and more families have been able to come forward and speak up about those in their families struggling with this terrible disease - and their own struggles too as caregivers and witnesses of this devastation. Now that the Michele and Larry Herbert Younger-Onset Alzheimer's in Women Fund has been created I know there are researchers that can benefit from this fund and help us find a cure!."
The Championship Award honored Barbara Smith and her husband Dan Gasby for publicly sharing their first hand experience of Barbara's early-onset Alzheimer's diagnosis. The glamorous pair are committed to fighting Alzheimer's and spreading hope and awareness. The couple have written a book, "Before I Forget" due to be released in January 2016.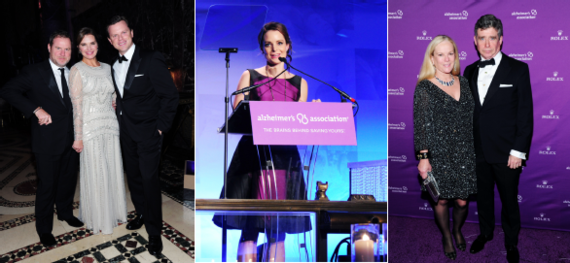 Chris Henchy, Brooke Shields and Willie Geist, Kimberly Williams-Paisley, Anne Hearst and Jay McInerney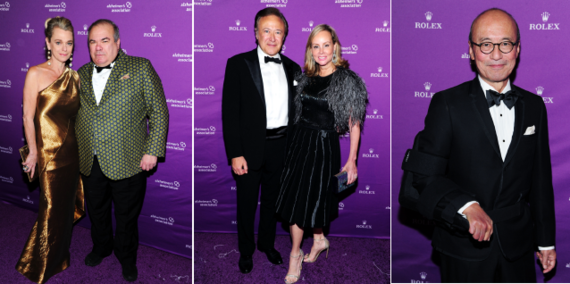 Debbie Bancroft and Hunt Slonem, Valentin and Yaz Hernandez and Harold Koda



Alexandra Lebenthal, Olivia Jordan, Brendan Shanahan and Jean Shafiroff
The dinner tables were festooned with bowls of lavender, white and pink roses, candles and generous wine glasses for Collalbrigo Pinot Grigio and Villa Ambrosia and champagne. Dinner was a starter of roasted beets, asparagus and goat cheese salad followed by Chilean sea bass or prime roast fillet of beef with roasted vegetables. Dessert was individual tiramisu or chocolate mousse cups with fresh mixed berries. High profile guests included Candace Bushnell, Robin Meltzer,Nicole Sexton, John and Margo Catsimatidis , Ray Kelly, Margo Nederlander, Karyn Kornfeld,Patty Smyth McEnroe and Prince Dimitri of Yugoslavia. DJ Donna D' Cruz spun hits that got people on their feet and on to the dance floor. A very good time for a committed fight of a world without Alzheimer͛s disease.
All Photos ​Owen Hoffman/Patrick McMullan Company
Calling all HuffPost superfans!
Sign up for membership to become a founding member and help shape HuffPost's next chapter