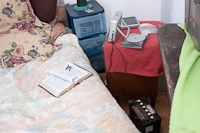 I didn't know you could play a Celine Dion CD off a car battery. But Mike Casper has figured out a way to do it. He's one of 20 or so residents of River Haven, a transitional encampment in Ventura County, California. River Haven has been around for four years, but recently Mike was among those who helped radically change it.
At the end of September, several hundred volunteers came to River Haven for a day, erected 19 pre-fabricated U-Dome residences from World Shelters, then had some pizza for lunch and moved on. Of course, the job wasn't over. Some people had to come back to rebuild the platforms on which the dome homes rested. Others brought flowers and resealed doors and caulked leaks. The U-Domes experience shows that you can get pretty close to building a village in a day, but it takes a longer commitment to make the village work for the residents.
Mike Casper has seen the "old" River Haven when it was just a tent city, a sea of mud and leaky canvas, and he helped put up the new River Haven, which looks something like a space village, particularly at night, when the interiors of the domes are lighted from within. Mike has refurbished a couple of propane grills for cooking, fired up the Honda generator to put a charge on the 12-volt car batteries that power his and other residents' DVD/CD players, and has even found some time for filing. That's right, filing. "Somebody donated these filing cabinets. I've been putting our stuff in them," he said. The idea amuses him. But he likes to keep busy.
Before he lost his house, Mike told me, he was a building contractor with a Beverly Hills clientele. Working with his hands comes naturally to him.
He's put his skills to work at River Haven, contributing to the community. Corliss Porter, the Clinical Director at Turning Point Foundation, was the project coordinator on the one-day U-Dome installation, and she's a key player in the ongoing administration of River Haven. She spent two rainy nights in a River Haven dome and found it pretty comfortable. "One little kerosene lantern warmed the place up even with wind," she said. But she's also spent more than two decades managing psychosocial rehabilitation services. The question that's occupied her all those years is this: "How do you create a sane community to support personal growth?"
Personal growth comes, she's found, when external structures are in place. "If the external structure is clear and fair, above all fair, that affects how people start working on their internal chaos."
A resident has found that if you hang up a few mementos, like your old grade school report cards, a dome can feel like home.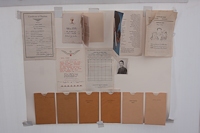 Put any of us out on the street, Corliss explained, and in two weeks or less our thinking becomes minute-to-minute. How do I get warm? Where do I go to the bathroom? Where's my next meal coming from? "People on the street have a basic form of PTSD. [Post-Traumatic Stress Disorder]. Some of them more, some of them less."
In that situation, you don't make decisions coming from your best emotional state. You can't focus on the problem -- it simply overwhelms you. But with some structure and a sense of community such as River Haven provides, you have a shot at staying focused, at transitioning, at beginning to heal.
Last year at River Haven, they started doing peer mediation training for residents. "It altered the community," Corliss said. "It shifted the way they attended to the problems and the community came along with it."
River Haven residents pay $250 monthly rent. They have to stay clean and sober, participate in community meetings, and keep looking for work. Finding work is tough in this economic climate. "A lot of people are out of work these days," Mike Casper told me. He's keeping busy. There's still a lot to do at River Haven, now that the new refrigerator that runs on propane has been donated.
Calling all HuffPost superfans!
Sign up for membership to become a founding member and help shape HuffPost's next chapter