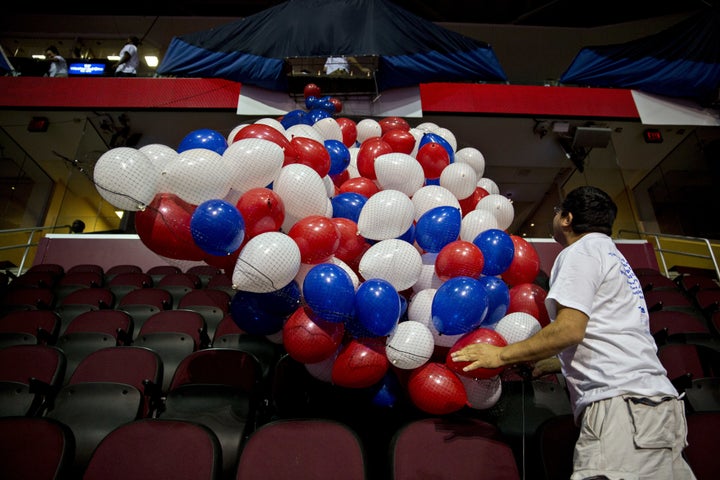 My name is Chase. I volunteered at the 2016 Republican National Convention because I wanted to make a difference. And, as I write this at an altitude of 65,000 feet, soaring over international waters alongside key members of a major political party, I can safely say that I made a difference.
It all started when I was placed on Team Blue. Our mission was to mass-inflate blue balloons that would rain from the ceiling of Quicken Loans Arena following Donald Trump's acceptance speech on Thursday.
You can infer the objectives of Team Blue's rivals, Team Red and Team White. The first team to inflate 50,000 balloons of their respective color would be awarded an age-old RNC tradition: the honor of physically assaulting the convention's first heckler.
Team Blue operated at a breakneck pace — some of us affixing balloons to helium tank nozzles, some of us tying knots on the balloons, some of us exploiting Ohio's open-carry laws and shooting down our opponents' balloon progress. It was in the heat of the moment that our three factions lost sight of our original goal to inflate 50,000 balloons. We now aspired to fill 50 billion.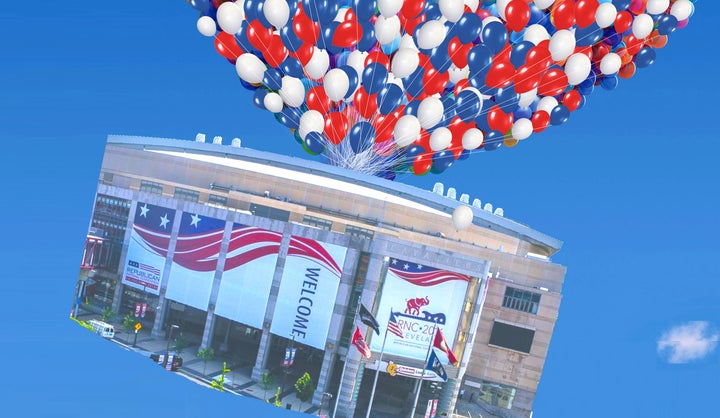 The first few minutes of flight saw a near-complete loss of electricity, as we became disconnected from all power sources. This initial ascension prompted confused reactions that ran the gamut. Mike Huckabee took off his shirt and started screaming, "The rapture is underway!" Joni Ernst quickly debunked Huckabee's theory, pointing out that no Heaven-bound carrier would have Reince Priebus aboard.
Rudy Giuliani proposed that, if the aerial arena needed to clear a mountain range, volunteers like myself could be jettisoned to create a lighter load. Evidently, at a certain elevation, his #AllLivesMatter platform transforms into #SomeLivesMatterMoreThanOthers. Giuliani's proposition never made it to Donald Trump. The presumptive nominee was too busy reveling at the fact that, with a total construction cost of $100,000, the Quicken Loans Arena was the cheapest thing he's even flown in.
No one knows where our convention will land. We can only hope to touch down in a country that treats illegal immigrants with more respect than any of us would. Thank goodness our nominee hasn't spent the last year spewing hateful rhetoric that might alienate us from the rest of the world, resulting in hostility upon arrival in the foreign countries toward which we are currently descending. Wait a minute …
Calling all HuffPost superfans!
Sign up for membership to become a founding member and help shape HuffPost's next chapter
BEFORE YOU GO
PHOTO GALLERY
What To See In Cleveland Before Rioters Burn The Motherf—ker Down